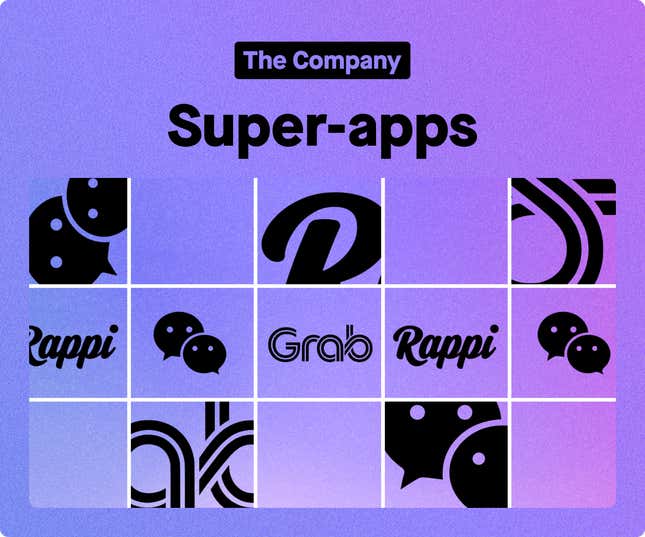 Hi Quartz members,
In developing countries around the world, hundreds of millions of people experience the internet via a single app on their smartphones. These so-called superapps allow their users to do virtually everything: message a friend, hail a ride, shop online, apply for a loan, and even file for divorce. While the internet giants of the developed world may be obsessed with web3 and the metaverse, the rise of the superapps prove there's a huge demand for basic services, reliably provided.
WeChat, the world's first superapp, launched in China in 2011. Although it started as a messaging app, by 2013 WeChat began supporting digital payments and soon sprawled into a slew of finance and business applications. By the mid-2010s, similar apps had sprung up across southeast Asia and India. In recent years, they've begun to appear in Africa and Latin America.
The countries where superapps have taken root generally share a couple of key traits. They're places where internet penetration has recently surged, creating a brand new app market that one company can swoop in and capture, without having to fend off established competitors. Most people in these countries access the internet through low-end smartphones with limited storage space, which makes consolidating many functions into one app all the more important.
So far, superapps have failed to catch on in the US and Europe—but the biggest app developers in the West are starting to take cues from WeChat and its ilk. Facebook and Instagram are building out their shopping features, as is TikTok. WhatsApp is testing out a yellow pages-style business directory in Brazil and a payments and credit function in India. Snapchat is the farthest along among US-based apps; it now features a selection of mini-apps that allow users to play games, book event tickets, and shop for clothes without ever leaving Snapchat.
The incentives to develop a superapp are only growing as smartphones become more private. In April, Apple rolled out an update to its operating system that effectively stopped apps from tracking users' every move on their smartphones; Google has also given Android users more control over their privacy. These developments make it harder for app developers to sell targeted ads. That could push apps that used to rely on ad dollars into offering new features like payments or shopping to tap into new sources of revenue.
The future of the internet in the developed world, in other words, may soon look a lot like the tried-and-true model that superapps have been building in developing countries.
---
By the digits
1.26 billion: Monthly active users on WeChat, making it one of the most-used apps on earth
87%: Share of the South Korean population that uses Kakao, the country's superapp
32 gigabytes: Standard storage on low-end Oppo smartphones, the most popular mobile devices in China
465 MB: The average size of a single app, which must compete for storage space alongside gigabytes dedicated to photos, music, messages, and the phone's operating system
$15: Wages a courier might earn after a 15-hour day delivering goods for Rappi, a Colombian superapp
---
The anatomy of a superapp
For many in China, WeChat combines the services of Facebook, What'sApp, Amazon, PayPal, Tinder, and Google Maps, to name a few. Today, WeChat—whose Chinese name, Weixin, means micro messages—has around 1.3 billion active monthly users.
As the use of smartphones took off in China, WeChat, launched by Chinese gaming giant Tencent, became popular in part because it was free and because of functions that helped strangers connect, including one that matches people who are shaking their phones at the same time. The app went on to roll out a digital wallet, which together with Alibaba's Alipay, now dominates the country's mobile payment space. It also launched a search service, and a groundbreaking "mini-program" function that constitutes an ecosystem of online services capable of meeting most users' daily needs.
But the convenience provided by WeChat comes with risks. As is the case for other Chinese internet companies, the app has to give the government almost unfettered access to its user data. This has turned the app into a perfect surveillance tool for authorities, who have arrested users for criticizing the government even in private chats. Meanwhile, China's sweeping antitrust crackdown has also forced the app to allow users to access external links from its rivals.
---
Apps to watch out for
Dozens of apps are now emulating the superapp model that WeChat pioneered. These are some of the most prominent examples:
🇮🇳  Paytm: India's superapp started out as a tool to buy prepaid cell phone minutes before expanding into payments, financial services, travel, movie ticketing, fantasy sports, and e-commerce.
🇸🇬  Grab: Based in Singapore, Grab operates in eight southeast Asian countries, offering ride hailing, food delivery, payments, and financial services like loans and insurance.
🇮🇩  GoTo: This Indonesian superapp, which contributes 2% of the country's GDP, was born out of a merger between delivery and ride-hailing app Gojek and e-commerce platform Tokopedia.
🇨🇴  Rappi: Based in Colombia, Rappi offers delivery services, payments, games, and music streaming in nine Latin American countries.
🇰🇪  M-Pesa: Kenyan telecom giant Safaricom launched mobile payment app M-Pesa in 2007; it now offers payments, e-commerce, games, education, news, and job listings and plans to expand into ticket booking and delivery.
---
The trillion-dollar question
Why haven't superapps caught on in the US and Europe?
First, in the US and Europe, internet and smartphone penetration have been slowly growing over decades, which gave many different software developers time to jump into the app market and claim a small corner of it for themselves. Those early developers focused on making specialized apps for a single purpose, and they've since aggressively developed and defended their virtual turf. It's tougher to conquer multiple sectors of the app economy in a market where there are already established players with loyal user bases in every niche.
The second stumbling block is antitrust regulators, who have become increasingly aggressive in their attempts to rein in big tech companies in the US and Europe. Regulators are now more likely to scrutinize an established giant like Facebook if it tries to dominate a new area of business.
---
Persons of interest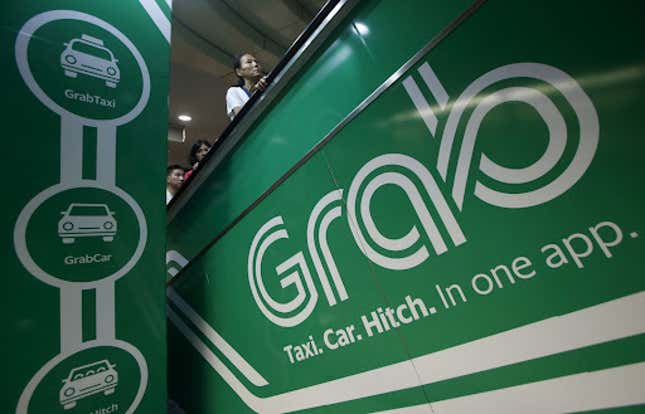 Grab founders Anthony Tan and Tan Hooi Ling met at Harvard Business School, where they struck up a friendship after sitting together in a class. (Anthony, the more diligent student, let Hooi copy his homework.) Anthony was heir to the Malaysian auto manufacturer Tan Chong Motor Holdings, which his grandfather founded and his father ran as CEO; Hooi also grew up in Malaysia as the daughter of a stockbroker and a civil engineer.
The idea for the ride-hailing app that would become Grab grew out of Hooi's experiences taking cabs as a woman in Kuala Lumpur. She never felt safe, she told Bloomberg's Emily Chang. On late-night taxi rides, she would text her mom the car's license plate number, the driver's name, and regular updates about her location. In 2012, she and Anthony launched Grab—an app that would vet drivers and digitally track where cars and passengers were at all times—as a way to make hailing a ride feel more secure.
By 2018, Grab had expanded from Malaysia to seven neighboring countries, bought out Uber's struggling southeast Asia operations, and launched a payment system and delivery service. Throughout Grab's rapid growth, the founders eschewed the Uber model of simply launching in a city and daring local governments to shut them down; instead, they worked out deals with regulators ahead of time to head off conflicts. Grab's founders have also appeased regulators by framing their mission as a form of "nation building" by creating jobs and expanding internet access. So far, it's working: There have been few regulatory spats to hinder Grab's growth.
---
Keep learning
---
Have a super end to your week,
—Nicolás Rivero, tech reporter (a super user of the Quartz app)
—Jane Li, tech reporter (who has spent hours browsing articles on WeChat everyday)
---
One 🧐 thing
Big tech companies in the US may not have developed superapps yet, but many of them are pursuing a similar concept through the operating systems they control. Apple and Google, which provide 99.7% of all smartphone operating systems on earth, pre-load every phone using their systems with their own apps for messaging, payments, entertainment, and so on. Amazon has pulled a similar move with its voice assistant, which allows users to do everything from messaging a friend to calling an Uber to online shopping just by talking to Alexa. Finally, Facebook's vision for the metaverse is essentially one giant superapp that Mark Zuckerberg controls, as Scott Galloway argues in a Nov. 24 essay for New York Magazine.