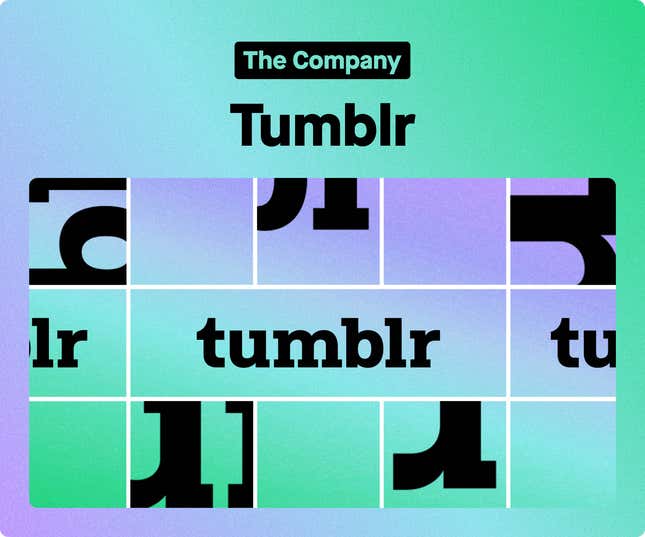 Hi Quartz members,
From a UX standpoint, Tumblr is unpleasant—its app is buggy, its site search tool near useless, and its ad-targeting engine barely functional. The feed is chronological, posts are undated, and users are pseudonymous. And yet those users still (affectionately) call Tumblr their favorite hellsite (Tumblr staff included).
Tumblr's clunkiness is a feature, not a bug. And after nearly a decade of running on fumes, the site is now crawling out of obscurity. Over the course of the pandemic, Gen Z flocked to Tumblr; as of early 2022, 61% of its new users, and nearly half of its active users, are under 24. Tumblr today has more daily active users than WordPress, its professional sibling, has per month, according to a spokesperson. Revenue has also reportedly jumped by 55% since July 2021.
Historically speaking, the Tumblr user base's fervent hatred of monetization has made the site difficult to run and profit from. Business models that work elsewhere aren't effective on Tumblr: After shunning ads for several years after launch, it finally tried programmatic advertising (automated ad targeting), with awful results. Even monetization efforts for Tumblr creators, such as the subscription feature Post+, caused major backlash; the pilot creator received death threats. Those transparently looking to make money on the platform—influencers, celebrities, and brands/corporations—are often cyberbullied off it.
So why is Tumblr's popularity—and revenue—surging? In an age of hyper-personalized algorithms and widespread data harvesting, the site offers a respite from Big Tech's constant surveillance and monetization. Using it feels like a step back in time to when the internet was actually fun.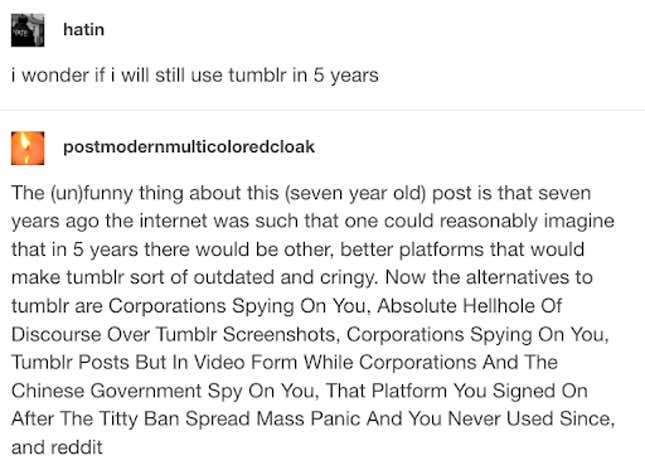 ---
Brief history
2007: David Karp and Marco Arment launch Tumblr.
2013: Yahoo acquires Tumblr for $1.1 billion.
2016: Tumblr is valued at $290 million, one third of its purchase price.
2017: Verizon acquires Yahoo, and founder David "daddy" Karp departs Tumblr.
2018: Tumblr bans porn.
2019: Verizon sells Tumblr to Automattic for less than $3 million.
2022: CEO Jeff D'Onofrio quietly leaves Tumblr.
---
The center of the woke internet
Social justice and fandom go hand-in-hand on Tumblr. The site introduced many of its users—a large portion of whom were marginalized youth, including girls, people of color, people with disabilities, and LGBTQ people—to social justice concepts, using aesthetic GIFs and fanfiction.
Young people's engagement on Tumblr is shaped by "users—often self-identified as both progressives and fans—speaking from their own lived experience and through shared popular discourses of feminism, antiracism, queer or gender studies, and postcolonialism," Allison McCracken, an American culture & media professor at DePaul University, wrote in a 2017 paper. "For many youth, Tumblr has become an alternative, tuition-free classroom, a powerful site of youth media literacy, identity formation, and political awareness that often reproduces cultural studies methods of media analysis."
It's not perfect: The social justice dialogue can be earnest and sincere, but also shallow. Fans sometimes package social justice theory into cringey fandom references, or adopt social justice language for fandom arguments (e.g., to justify canceling someone else for liking a "problematic" pairing). Cancel culture discourse was frequent on Tumblr before it spread elsewhere on the web. That progressive culture also drew ire: 4chan trolls waged a spam war (one of many) against Tumblr as early as 2010.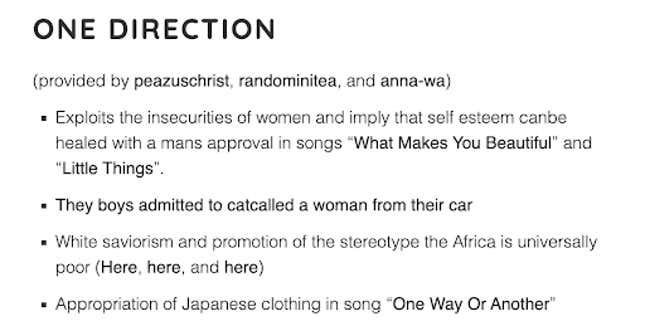 ---
By the digits
543 million: Tumblr blogs
$1.1 billion: What Yahoo paid for Tumblr in 2013
<$3 million: What Automattic paid for Tumblr in 2019
20 billion: Monthly page views in 2012
312 million: Site visits in December 2021
61%: New Tumblr users who are Gen Z
1 in 4: Users that identify as LGBTQ
---
Business woes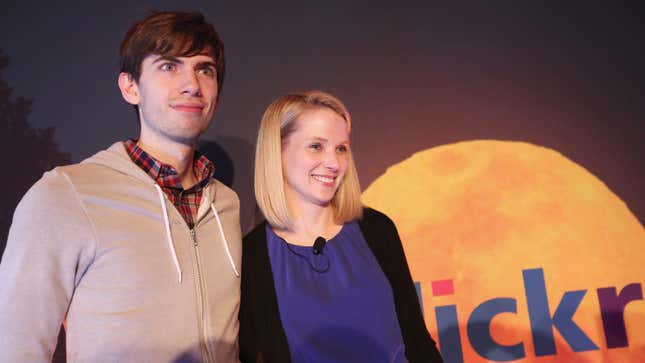 Tumblr has been notoriously bad at making money. In the site's early days, founder and former CEO David Karp was known to be "openly hostile" to traditional ads, Mashable reports. Instead, the site experimented with selling themes, allowing artists to sell prints, or selling sponsored spots, none of which became significant revenue streams.
When Tumblr was sold to Yahoo in 2013, it had just $16 million on hand. Yahoo CEO Marissa Mayer famously promised not to screw it up, but fumbled hard. One exec said Tumblr would be the "new pdf," showcasing a wild lack of understanding of the site's function and appeal. Mayer also publicly set a sales goal of $100 million by 2015—a figure that many inside the company considered not "even remotely close to attainable," a source recalled to Digiday in 2017.
Yahoo and Verizon both failed to monetize Tumblr, so they sold it. But the independent publishing company Automattic seems like a better fit. CEO Matt Mullenweg told The Verge Automattic will continue experimenting with ads on Tumblr, while also looking into upgrades, like WordPress's freemium model, and e-commerce capabilities. In February 2022, Tumblr introduced an ad-free subscription plan for $5 a month. But largely, they're just going to leave it alone.
"It's just fun," Mullenweg told the Wall Street Journal in 2019. "We're not going to change any of that."
---
How to lose friends and alienate people
In 2018, child sexual abuse material was found on Tumblr, which caused Apple to temporarily remove the app from its app store. In response, the Verizon execs in charge of Tumblr at the time banned adult content. But Tumblr's algorithms were woefully unequipped for content moderation, and frequently flagged innocuous posts as NSFW, like a boot-scrubbing design patent or a screenshot of the Tumblr homepage. In the six months after the ban took effect, Tumblr's traffic reportedly dropped by 30%.
The ban didn't just depress new visitors—it also alienated much of Tumblr's user base. For many LGBTQ youth, Tumblr was the place to find representation and explore their sexualities via GIFs or fan art.
"Porn set side-by-side with not-porn empowered queer people to explore the full breadth of our interests in one scroll," columnist John Paul Brammer wrote in the Washington Post. "It gave us the freedom to create and present a version of ourselves that didn't minimize our sexuality, which we are so often pressured to do offline."
Tumblr's 2019 sale to Automattic didn't change this policy. But the new leadership left Tumblr alone, rather than trying to juice the platform for user data, engagement, money, or specifically optimized content: "We're not telling people how to behave, not telling them what to do or how to comport themselves here," then-CEO Jeff D'Onofrio told the New Yorker in January. That's one of the strongest appeals Tumblr offers today.
---
Keep learning
---
Best wishes for an offline end to your week,
—Jasmine Teng, associate membership editor (favorite (fake) post is the Down with Cis bus)
---
One 🤦 thing
DashCon was a real-life Tumblr convention planned in 2014 that turned out to be a spectacular flop/scam due to poor planning, low attendance, and lack of funds. Panelists weren't paid for their flights, hotel rooms, or appearance fees, leading some to walk out. Disappointed attendees were offered an extra hour in the ballpit as consolation.​​