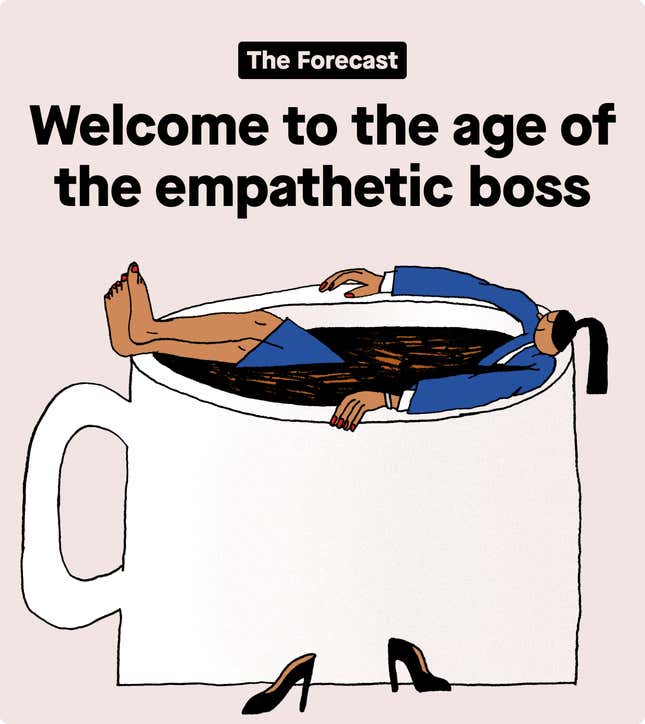 Hi Quartz members,
With the fraud trial of Theranos' Elizabeth Holmes, the age of the girlboss—of individual ambition disguised as feminist empowerment—has come to a decisive end. Welcome, now, to the age of the empathetic boss.
The pandemic has added a fresh sense of urgency to conversations about the importance of extending compassion and understanding to employees. Over the last year and a half—whether workers were attempting to shepherd kindergartners through Zoom school, mourning loved ones lost to covid-19, dealing with trauma from police shootings of Black people, or grappling with anxiety and depression after months of isolation—many leaders came to realize that it was impossible to ask people to put aside their non-working lives from 9 to 5.
Now the onus is on managers and executives to treat employees as people first—a mindset that may not come naturally for leaders who've been indoctrinated by hustle culture. "The difficulty is [that] companies want to model this attitude, but aren't necessarily prepared or willing to deal with slight decreases in productivity," Anne Helen Petersen, coauthor of the book Out of Office, said on a recent episode of Marketplace.
---
The rise of corporate empathy
Empathy had gained a growing business fan base in the years leading up to the pandemic. Microsoft CEO Satya Nadella frequently promotes empathy as the key to innovation, while Facebook COO Sheryl Sandberg sought to create a culture in which employees could openly share their personal lives at the social-media giant. Ford Motor Company memorably introduced "empathy bellies" as a way for engineers to better understand the experiences of pregnant women while driving. And empathy is a cornerstone of the design thinking process that many entrepreneurs adopt when dreaming up new products and business models.
Today, empathy trainings and workshops are on the rise across many industries, from doctors donning virtual reality headsets that mimic patients' conditions to executive coaching for leaders who need a little help in the interpersonal department. Studies show that empathy trainings are indeed effective in helping people to better understand others' points of view, though it's safe to say that results may vary depending on the particulars of the training.
Empathy is so popular, in fact, that it's in danger of becoming an empty corporate buzzword. At the same time, it really is a crucial skill for managers. Research shows that people get worse at empathizing as they gain power, becoming less concerned with others' welfare and less able to take others' point of view.
This means that as someone ascends the corporate ladder, their ability to understand others (or even desire to do so) is likely to deteriorate—unless, perhaps, they work at a company that consistently makes empathy a top priority.
---
What kind of empathy do managers need?
Psychological researchers typically distinguish between three kinds of empathy:
Emotional empathy, or feeling what others feel
Cognitive empathy, or the ability to understand others' perspectives
Empathic concern, or the compassionate response that inspires us to help others
For workplace purposes, it's important to have cognitive empathy (so a boss can understand why a new employee might feel deeply embarrassed about making a small mistake) and empathetic concern (so the boss can correct the mistake in a way that's both helpful and sensitive).
Emotional empathy, however, may be less useful. For one thing, according to psychologist Daniel Goleman, a surfeit of this kind of empathy can lead to burnout: "You're just letting the other person's emotions overwhelm you rather than metabolizing them," he tells Quartz.
Moreover, psychologist Paul Bloom argues in his book Against Empathy that emotional empathy is a "poor moral guide." Bloom says it can actually perpetuate the inequitable treatment of others: "It's far easier to empathize with those who are close to us, those who are similar to us, and those we see as more attractive or vulnerable and less scary." Managers who base their decisions on how moved they are by an individual employee's plight may not extend the same consideration to other, equally deserving workers.
---
Why empathy matters
There are three big reasons why empathy advocates say the trait will be essential to the future of work.
1. Work is volatile. Decades ago, "you'd learn one set of skills and then you repeat them forever," says Bill Drayton, founder and CEO of the global nonprofit Ashoka, which provides support for social entrepreneurs via grants and fellowships. Now companies have to navigate disruptions ranging from the pandemic to globalization and automation—and it's up to managers to help workers adapt."You cannot make change if you don't have cognitive empathy-based living," says Drayton. If leaders aren't able to understand and predict the problems others face, "you will hurt people. You have no way of not doing that, because you don't understand the environment."
2. Power dynamics have tilted in employees' favor. In a tight talent market, companies need to exercise empathy in considering what changes they can implement to encourage employees to stay put. Burnout, a frequently cited factor for people contemplating leaving their jobs, can only be addressed if managers are able to empathize with the stressors employees are dealing with. Similarly, leaders will be more likely to understand the importance of job flexibility if they're able to take the perspective of workers who have demanding caregiving responsibilities or insufferable commutes.
3. Empathy is essential to inclusion. Many workers, particularly young ones, want to bring their whole selves to work—which can mean anything from  coming out as trans at the office to sharing information about their mental health or wearing the clothing and hairstyles that most authentically expresses their identities. Some managers got a crash course in the necessity of the whole-self workplace during the Black Lives Matter protests last year, as the emotional toll of racial injustice on Black employees became impossible (and unethical) to ignore.
For managers to keep up with the times, it will be necessary to seek out employees' perspectives on what they need to experience a more inclusive workplace. "If you authentically want to demonstrate empathy you have to 'Do unto others as they would have done unto themselves,' Jennifer Moss, author of the book The Burnout Epidemic, wrote for Harvard Business Review last year. "That requires stepping outside of your own needs, assessing and removing bias and privilege, actively listening to your people, and then taking action."
---
We know you've got options for where you get your news. Tell us about yourself, why you read Quartz, and what you're obsessed with by taking our audience survey and you'll be entered for a chance to win a $250 Amazon gift card. Take the survey.
---
Keep learning
Against Empathy: The Case for Rational Compassion (Paul Bloom)
Is your empathy exhausting you? (Quartz)
Should we be testing doctors for empathy? (Quartz)
A first-time manager's guide to empathetic leadership  (Quartz)
A short history of empathy (The Atlantic)
---
🔮 Prediction
For companies, there are clear benefits to having more empathetic managers. According to a recent survey of nearly 900 US employees from the global nonprofit Catalyst, organizations with empathetic leadership have:
More creative employees. "61% of people with highly empathic senior leaders report often or always being innovative at work, compared to only 13% of people with less empathic senior leaders," the report says.
Higher employee engagement. Nearly three-quarters of employees who worked for empathetic leaders said they felt engaged at work, compared to 32% of those with less empathetic leaders.
Lower attrition rates. White women and women of color were much less likely to consider leaving their jobs if they felt their company respected their individual life circumstances.
---
Sound off
How empathetic is your boss?
They don't care about me at all
I'm my own boss and I totally empathize with myself
In last week's poll about online pseudonyms, just 41% of respondents said they would use their real name on everything.
---
Have a great week,
—Sarah Todd, senior reporter, Quartz at Work (owner of one extremely empathetic dog)
---
One 🤔 thing
Want to be more empathetic in your daily life? Start by asking questions. "For me, the core of empathy is curiosity," Jodi Halpern, a psychiatrist and bioethics professor at the University of California, Berkeley, tells the New York Times. "It's what is another person's life actually like in its particulars?"