Dear Quartz members—
We just launched a new feature for you that we plan to do weekly: PowerPoint presentations prepared by our newsroom. The first is a detailed look at the jobs of the future, and tomorrow we plan to publish a presentation on Facebook's Libra cryptocurrency, the outlook for it and what it could mean for business.
Our bet is that you'll find these presentations an efficient way to get up to speed on important topics. And we're also giving you the original PowerPoint files, so you can grab slides from these presentations for inclusion in your own—we've designed them to be easily reformatted and simply laid out if you need to modify them to fit your own style.
Please share any feedback about what would make these presentations more useful—or topics you'd like to see us cover—by emailing us at members@qz.com.
Here's one sample slide from the future of jobs presentation: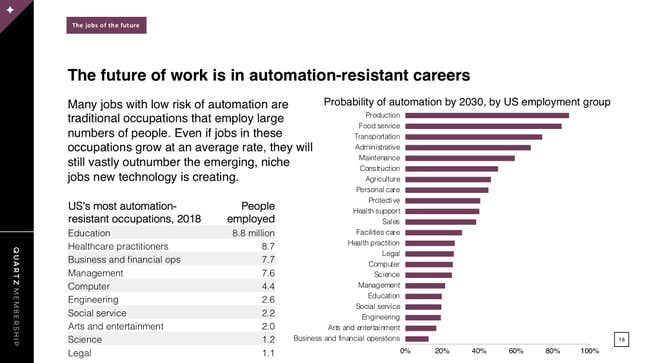 And here's one from the Libra presentation publishing tomorrow: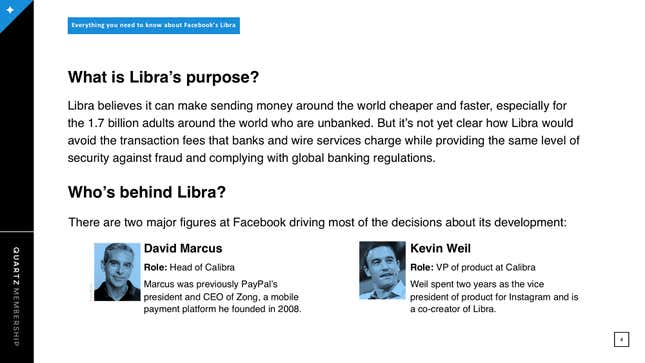 The purpose of the corporation
You're likely aware that this week the Business Roundtable, an association of top US CEOs, formally abandoned the principle that managers' and corporate boards' paramount responsibility is to shareholders. In its place, the CEOs propose that a company has a broader responsibility to society, which it can better serve if it considers all stakeholders—such as customers, suppliers, employees, and their communities—in its business decisions.
Quartz readers had a lot of thoughts  about this—you can read their comments here. Here are a few excerpts:
"When nearly 200 influential CEOs can agree on the need for change, it could be a sign the change was long overdue. The fact is, business cannot succeed if society fails." —Punit Renjen, global CEO at Deloitte
"While the creation of this statement seems reactive (and overdue), in spirit, it sounds reasonable. But like others I'm somewhat skeptical about what this means for action. When there are conflicts between increased margin and serving these articulated responsibilities, what will these companies do?" —Rajesh Bilimoria, innovation advisor and adjunct professor at NYU's Stern School of Business
"This redefinition of the corporate purpose has been changing and expanding the role and expectations of board directors for years now. Certainly, with the Business Roundtable's coming on board, I'd expect that trend to only accelerate." —Donna Wells, founding CMO at Mint.com
"This is a genuinely important development. It creates a clear reference for ensuring the value of a company is determined not strictly by what might be happening day to day with its stock price, but by what it is contributing to the overall health and wellbeing of society, and the natural systems we all depend on."—Joseph Robertson, global strategy director at Citizens' Climate
You can join Quartz global finance editor Jason Karaian and Quartz at Work editor Heather Landy for a member videoconference call on this topic—the purpose of the corporation—today at 11am ET / 4pm BST. We'll meet at our usual location, and welcome your questions. If you'd like to call in, you can reach us at the following numbers:
UK 0800 014 8469
USA 866 226 4650
For all numbers, the access code is 722 994 440.
You can send any questions or thoughts for Jason and Heather in advance to members@qz.com. To add our complete schedule of conference calls to your Google calendar, click here.
Also, in case you missed it, we finished publishing our field guide to autonomous vehicles. And we released a new documentary film for members about the questionable behavior of opioid manufacturers outside of the US, and held a launch event in our NYC headquarters. Our field guide next week goes deep on China in Africa.
Have a restful and productive weekend!
Best,
Kevin J. Delaney
Editor in chief, Quartz
kdelaney@qz.com