Dear members—
It's nearly impossible to overstate the massive scale of SoftBank's Vision Fund. The $100 billion fund is nearly 1,000x the size of the median venture capital fund, and it's using its size to reshape startup financing. This week's member-only presentation is all about the Vision Fund's investments and how they're working out.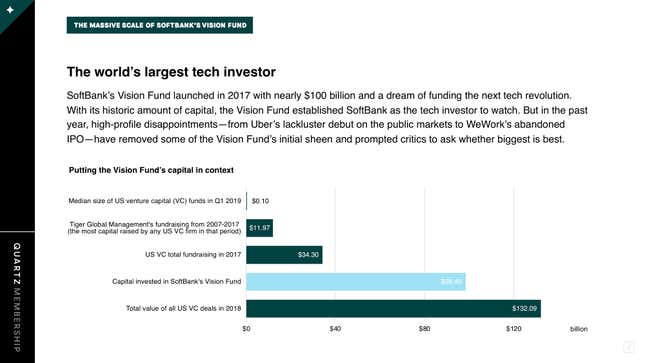 Of the startups in the Vision Fund's initial portfolio, at least 45% are valued at $1 billion or more, reports Quartz's Dasia Moore, author of the presentation. Seven are ride-hailing startups, including decacorns Uber and DiDi Chuxing. The fund's portfolio also shows heavy investment in artificial intelligence.
However, many of the Vision Fund's highly-valued unicorns have struggled with the transition to the public market. As of this writing, Uber, Slack, and Vir Biotechnology have all seen their stock prices fall since going public. Most dramatically, WeWork's valuation plummeted in recent months, from $47 billion to $10 billion, and in September the company called off its IPO. SoftBank had to come to the rescue with more capital.
You can download the presentation here and you can view all of our presentations, which we produce exclusively for members, here. They're designed to give you a fast read on a topic, which you can reformat and edit as you wish.
WORKING LESS, SOCIALIZING MORE
Americans work least in December, compared to other months of the year, according to an analysis by Quartz's Dan Kopf. Instead, they spend more time socializing and cooking.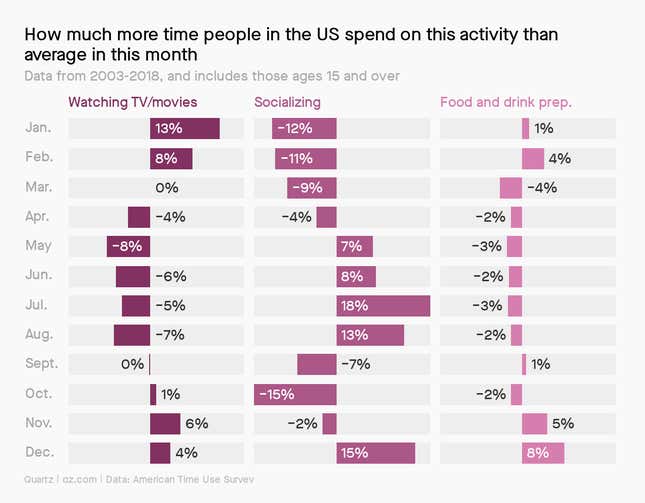 Some of our members responded on the Quartz site and app to say that work shouldn't crowd out family and friends the other 11 months of the year. "Work and output are not always the same thing," wrote member Ian Greenleigh. (That reminded me of our recent story about Microsoft Japan's experiment with a four-day workweek.)
If you want to know if you're working more or less than average in December, compare yourself to others using this interactive (which relies on US data).
A REFRESHINGLY BORING TECH IPO
Bill.com, which recently filed to go public, is unusual for a modern tech company. It has no scandals, no exaggerated view of its potential market, and its founders don't plan to maintain control. It's just a boring, solid tech company, write Helen and David Edwards in their member-only analysis.
Their bottom line: "We think the long-term prospects of the company are positive and give investors good exposure to the ever expanding, cloud-based tech stack serving [small and medium-sized businesses]."
We asked the Edwards to analyze all the big tech IPOs as they've rolled out to market this year. Their calls have been remarkably prescient. They were highly skeptical of WeWork a month before the company abandoned its public offering, for example. You can read all their analysis of recent tech IPOs here.
CONFERENCE CALL SCHEDULE
Fri., Dec. 6, 11am ET: Quartz science and health reporter Katherine Foley and science editor Katie Palmer will discuss the costs of dementia, and how to limit them. They'll cover why dementia represents such a large part of the cost of aging, why its prevalence is only going to rise, and how early detection could help everyone involved.
We'll be taking questions and comments live on the video conference call at this time, accessible at the usual location. You can also send questions in advance to members@qz.com.
If you'd like to dial in, use the following numbers:
UK: 0800-014 8469
USA: 866-226 4650
For all of the numbers, the access code is 722 994 440. And you can find recordings of our past video calls here.
With best wishes for a relaxing and thought-filled weekend.
Walter Frick
Membership editor, Quartz