Dear members—
Tens of millions of viewers are tuning in to watch other people play video games competitively, and it's becoming big business. Global esports revenue is expected to reach $1.1 billion for 2019, according to a report by Newzoo, a gaming analytics firm—mostly from advertising and sponsorships.
As esports becomes more popular, it is creating a new kind of sports star, and both the gaming industry and professional sports franchises have taken notice.
Quartz's latest presentation charts the rise of esports from a novelty in the early 1980s to a billion-dollar business today. (Fun fact: Alex Trebek hosted the pilot episode of Starcade, an arcade game show that TBS aired starting in 1982.)
We also cover how esports teams and players make money, and why several US pro sports franchises have bought esports teams—including New England Patriots owner Robert Kraft, Los Angeles Rams owner Stan Kroenke, and the owners of the Philadelphia 76ers.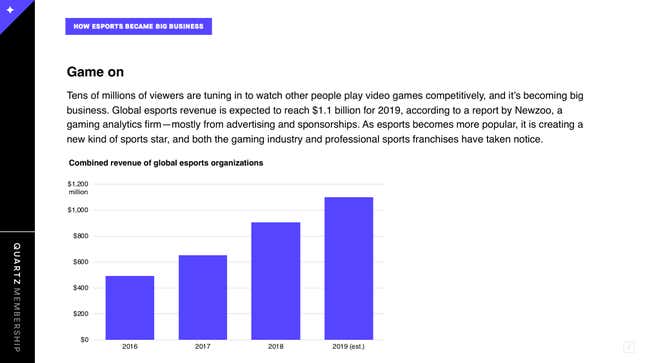 You can view all of our presentations, which we produce exclusively for members, here. They're designed to give you a fast read on a topic, which you can reformat and edit as you wish.
FINTECH HYPE
I hope you've enjoyed this week's field guide on the fintech unicorns and their prospects. Nubank, Paytm, Ant Financial and other fintechs have exploded in value, despite the fact that many of them have pretty traditional business models. Can they sustain their valuations?
Join Quartz's future of finance reporter John Detrixhe and global finance and economics editor Jason Karaian on a call at 11am ET today to discuss the fintech investment boom and how it will alter the financial landscape.
We'll be taking questions and comments live on the video conference call at this time, accessible at the usual location. You can also send questions in advance to members@qz.com.
If you'd like to dial in, use the following numbers:
UK: 0800-014 8469
USA: 866-226 4650
For all of the numbers, the access code is 722 994 440. And you can find recordings of our past video calls here.
With best wishes for a relaxing and thought-filled weekend.
Walter Frick
Membership editor, Quartz