Tens of millions of viewers are tuning in to watch other people play video games competitively, and it's becoming big business. Global esports revenue is expected to reach $1.1 billion for 2019, according to a report by Newzoo, a gaming analytics firm—mostly from advertising and sponsorships. As esports becomes more popular, it is creating a new kind of sports star, and both the gaming industry and professional sports franchises have taken notice.
Quartz's latest presentation unpacks the rise of esports, charting its rise from a novelty in the early 1980s to a billion-dollar business today. We cover how esports teams and players make money, as well as which games are most popular.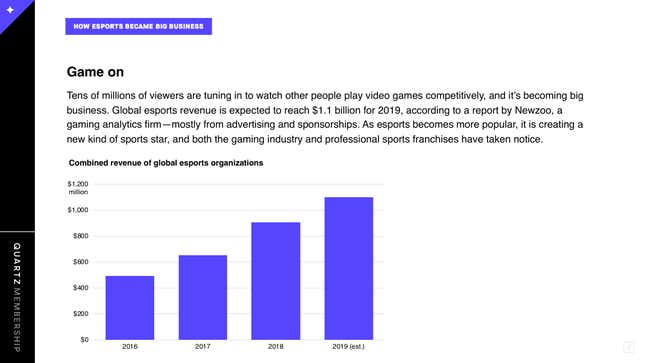 The history of esports can be traced back to 1982, when TBS began broadcasting an arcade-themed gameshow called Starcade, in which teenagers competed in arcade games with the chance to take one home. (Alex Trebek hosted a pilot episode.) Today, esports is far more than a novelty. About 100 million people watched the League of Legends world championship in 2018, roughly as many as watched that year's Super Bowl. Professional sports franchises have taken notice. The Philadelphia 76ers have bought esports teams and are providing them access to training facilities —and they're not the only ones. New England Patriots owner Robert Kraft owns a team, as does Los Angeles Rams owner Stan Kroenke.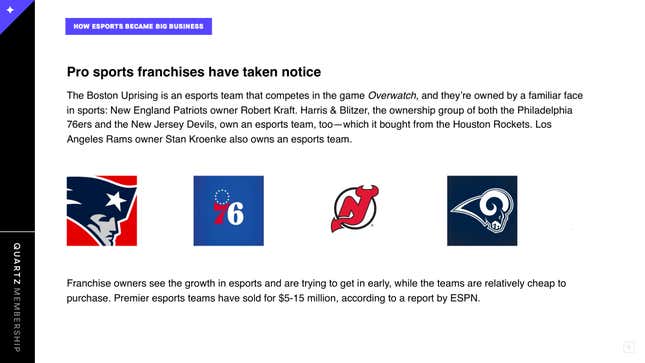 The professionalization of esports training is overdue. Many players worry about the toll that long hours of training sessions can take. Esports athletes typically retire by age 25, due to burnout and sometimes carpal tunnel injury. The owners of some teams are responding to these issues by limiting practice hours, encouraging exercise, and providing regular access to trainers and sports psychologists.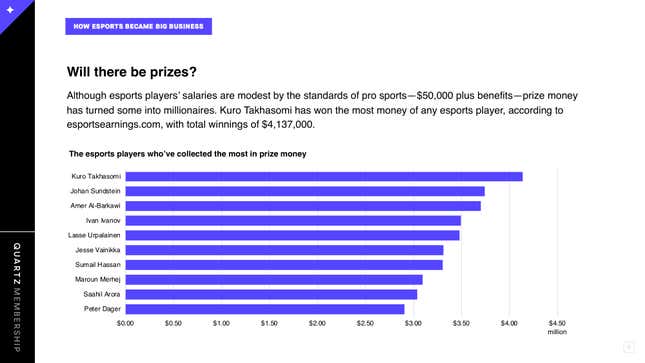 Although esports players' salaries are modest by the standards of pro sports—$50,000 plus benefits—prize money has turned some into millionaires. Kuro Takhasomi has won the most money of any esports player, according to esportsearnings.com, with total winnings of $4,137,000.
To see all of the slides, you can view the PDF version or download the PowerPoint file, which includes our sources and notes. This is one of an ongoing series of member-exclusive presentations, which you can read, reformat, and use as you wish.
Please share any feedback about what would make these presentations more useful—or topics you'd like to see us cover—by emailing us at members@qz.com. These presentations are an exclusive benefit for Quartz members. We'd love it if you'd encourage any friends or colleagues who express interest to become a member so they can access them too.