Dear members—
The World Health Organization has praised China for its swift response to the coronavirus outbreak, which has included drastic measures like putting an entire province under an effective quarantine and building a hospital in just 10 days. Yet, for nearly a month after the first documented case, the local government kept the public and the world in the dark.
That response fits a pattern: The Chinese government is adept at responding to crises but bad at identifying them in the first place. This special episode of Because China on the response to the coronavirus explains why that is.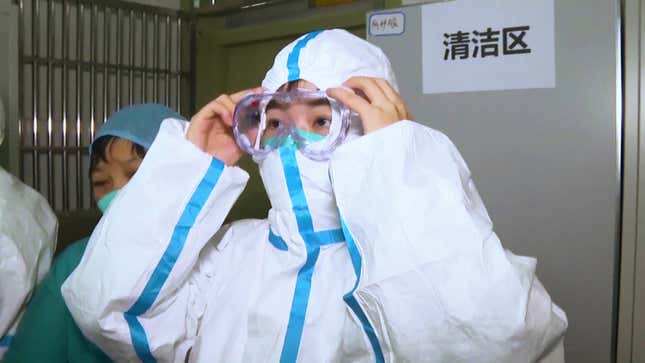 As a Quartz member, you can watch the entire two seasons of Because China here.
QUARTZ PRESENTS
Microsoft is 45 years old and remains one of the most valuable tech companies in the world. But today's Microsoft is fundamentally different than the one that dominated the software market in the 1990s, as Quartz's Dasia Moore explains in this week's presentation for members.
As recently as 2013, software licensing accounted for more than 80% of Microsoft's revenue. Today, the company's focus is on software-as-a-service and cloud infrastructure and services. And it's investing aggressively in R&D; its leadership doesn't want to miss the next big shift in computing the way it did the transition from PCs to smartphones.
The presentation charts the history of Microsoft, from its famous antitrust case to its changing leadership and business model. It even covers some notable Microsoft failures you might have forgotten about: the Windows Phone OS and the Zune MP3 player.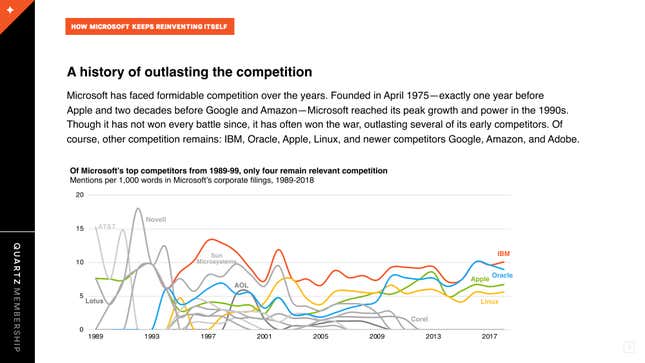 You can view all of our presentations, which we produce exclusively for members, here.
THE VC BOOM
Join Quartz contributor Dave Edwards for a conference call today at 11am ET all about his field guide on the VC boom. He'll discuss how venture capital was transformed over the past decade and what the next decade holds. Plus, he'll explain why today's VC model is accelerating inequality.
We'll be taking questions and comments live on the video conference call at this time, accessible at the usual location. You can also send questions in advance to members@qz.com.
If you'd like to dial in, use the following numbers:
UK: 0800-014-8469
USA: 866-226-4650
For all of the numbers, the access code is 722 994 440. And you can find recordings of our past video calls here.
With best wishes for a relaxing and thought-filled weekend.
Walter Frick
Membership editor, Quartz