"When we win a Golden Globe, it helps us sell more shoes," said Jeff Bezos in 2016. That quote sums up the scope of Amazon's ambitions: everything it sells helps it sell even more of something else.
This week's field guide is a comprehensive look at Amazon's impact on retail, and in his state of play, Quartz reporter Marc Bain lays out the ingredients of Amazon's dominance. The e-commerce juggernaut is still far smaller than Walmart in terms of revenue, but about half of US shoppers begin online product searches on Amazon's website, according to surveys. And it is particularly dominant in areas like books, toys, and electronics.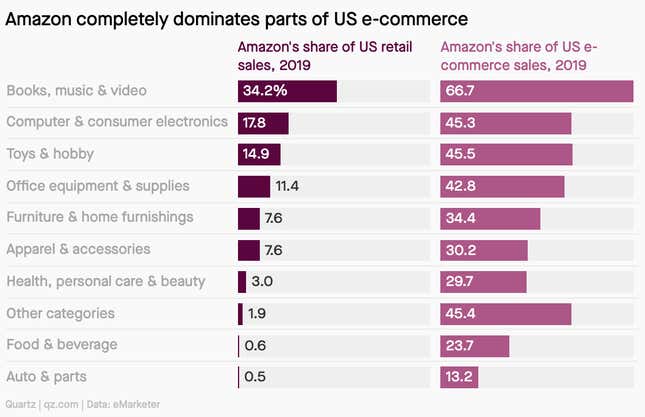 Although Amazon's strength is in online sales, it's expanding into physical retail, too, through its acquisition of Whole Foods and its Amazon Go stores. But there is one area where the company hasn't lived up to its outsized ambitions. Amazon originally predicted that international sales would reach 50% of revenue. That hasn't come close to happening and in this piece Marc explains why not.
Elsewhere in the guide, contributor Lawrence Ingrassia explains how direct-to-consumer brands are avoiding Amazon—but are forced to rely on Google and Facebook instead.
Finally, don't miss this chart-filled post by Marc and Dan Kopf on all the ways e-commerce has changed both retail and the labor market. Can you guess which types of stores have grown the fastest over the past decade and which have declined the fastest?
TO DISCUSS WITH FRIENDS OVER DINNER…
The average Amazon package gets to your door 2.7 days after checkout. For the rest of retail, the average is 5.6.
Walmart is still more than twice as large as Amazon in terms of total revenue.
Amazon said last year that it had already sold more than 100 million Alexa-equipped devices.
The average Amazon order is $44, compared to $84 for the rest of e-commerce. But Amazon orders are more than twice as frequent.
Let us know what you think of the guide and what else we should be covering at members@qz.com.
Best wishes for a productive week,
Walter Frick
Membership editor, Quartz