Dear members—
This has been a painful week for communities across America, following the brutal killing of George Floyd by police in Minneapolis last week. As antiracism protests have broken out across the world in response to police brutality, we've published several pieces examining the economic effects of racism. One of them, by Quartz's Michelle Cheng, charts the stark difference in unemployment rates between black and white residents of America's cities: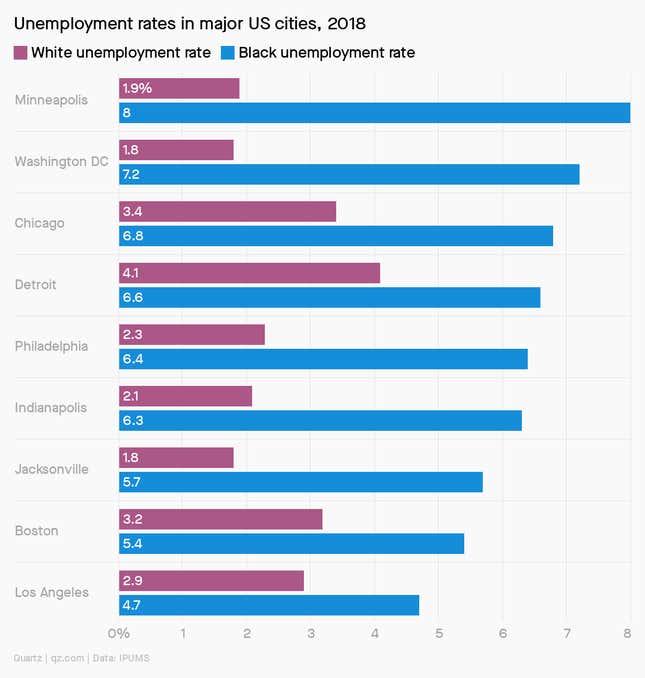 "When you see these numbers, there's a drag of racism in the market somewhere that is preventing prosperity from being shared," Andre Perry, a fellow at the Brookings Institution, told Michelle.
As dramatic as the chart above is, the reality is even worse, as Dan Kopf reported in another piece this week. "Whenever you see an employment rate for black men you know it's BS," University of Chicago economist Derek Neal told Dan. "On any given day 7-8% of young black men are incarcerated and those people are not counted."
Data like these have historically been co-opted to justify racist narratives and policies. As Brookings' Perry has written elsewhere, "An enduring white supremacist myth claims brutal conditions in Black communities are mainly the result of Black people's collective choices and moral failings… But there is nothing wrong with black people that ending racism can't solve."
Here are a few other pieces we published this week about race, economics, justice, and protest in America and beyond:
GEN Z
Gen Z—typically categorized as anyone born after either 1995 or 1996—has never known life without smartphones and social media. And with the help of social platforms, teens have managed to wrest power away from brands and traditional cultural gatekeepers. Companies hoping to appeal to this demographic will have to follow Gen Z's lead.
Our new presentation for Quartz members is all about Gen Z's influence on businesses and culture, from their concern over climate change to their interest in secondhand clothes. If you enjoy the presentation and want more, check out our field guide: What Gen Z wants. You can see all our presentations, which you're free to modify and reuse, here.
CORONAVIRUS UPDATE
We're continuing to update our Coronavirus Living Briefing, the quickest way to catch up on the pandemic's economic effects around the world. Here are a few of the updates from the past week:
Best wishes for a safe weekend,
Walter Frick
Membership editor, Quartz