Hi [%first_name | Quartz member%],
It's a Saturday morning, and after brushing your teeth while listening to Spotify, you decide to play some League of Legends, while intermittently checking Farfetch to see if that cute pair of boots is on sale. Later, you're chatting with a friend on WeChat when a Reddit notification on Tesla grabs your attention.
All of these experiences are linked by the massive financial reach of one company: Tencent, the social media and gaming giant behind super-app WeChat. As the most active investor among China's leading tech firms, Tencent has been called the "SoftBank of China"—and it has global ambitions to match.
But first, a recap: America's pastime (retail trading, not baseball) is going global, Amazon is taking aim at one of its few remaining rivals, and CBS just can't quit making cop shows. "WFA" (work from anywhere) is the new WFH, but don't let that stop you from developing an office crush. China's ban on the BBC? Worse than it sounds. China's new market for trading carbon? It has some kinks to work out. China's box office? Hollywood movies no longer needed.
Your most-read story this week: Everyone should worry that Indians aren't taking their second vaccine doses. And most relatable member goes to the reader of Four ways to talk to vaccine skeptics. (Spoiler: None of the ways is "with condescension.")
Okay, now quit playing League of Legends. No, not five more minutes! We're talking about Tencent.
---
An investment empire
Japan's SoftBank is perhaps best known for its $100 billion Vision Fund; Tencent, too, has been expanding its reach with capital. Since establishing an investment unit in 2008, the company has put money into 861 startups (link in Chinese), according to Chinese data provider ITjuzi. Alibaba, Tencent's strongest Chinese rival, invested in 566 companies over the same time period. One 2019 report found that Tencent actually invested in more unicorns than SoftBank itself.
Not even the pandemic has slowed Tencent down. Last year, the company joined more than 170 funding rounds for startups, according to ITjuzi. Among its success stories: A 21.6% stake in short-video app Kuaishou, whose shares rallied 161% in their Hong Kong market debut this month.
Kuaishou epitomizes Tencent's investment strategy. Unlike Alibaba, which likes to make concentrated bets on companies where it can retain control, Tencent prefers to acquire minority stakes in many startups, including some of its smaller rivals. (The company actually has its own short video product, Weishi.)
Through its investments, Tencent has managed to break into multiple industries in a major way. The company is the largest shareholder in China's second largest e-commerce platform, JD.com, with which it also co-invested in London-based Farfetch last year. By taking stakes in top video game developers like Riot Games and Epic Games, Tencent has likewise become the world's largest gaming firm; it now draws more than 30% of its revenues (pdf) from gaming. The company also took a 5% stake in Tesla in 2017.
As of January 2020, Tencent had invested in more than 70 companies that ultimately went public, and 160 of the companies it invested in had achieved unicorn status (a $1 billion valuation), according to president Martin Lau.
"I have said before, investing is one of Tencent's core strategies, as well as a key business segment," Lau told the company's investees (link in Chinese) at a conference last year. "We will continue to expand the company's investments to put more focus on areas like smart retailing. We will also enhance our overseas investments to showcase Tencent's strength on the world stage, and to connect more with overseas entrepreneurs."
---
Under the Tencent tent
🚗 Tesla: Tencent acquired a 5% stake in the carmaker in 2017.
🎮 Riot Games: Tencent took full control of the League of Legends developer in 2015.
🕹️ Activision Blizzard: Tencent has a minority stake in the Call of Duty developer.
🤹‍♂️ Epic Games: Tencent acquired a large minority stake in it in 2012.
📲 Snap: Tencent bought 12% of the messaging app in 2017.
💻 Reddit: Tencent led a $300 million funding round in the platform in 2019.
🎧 Spotify: Tencent Music and the Swedish streaming service bought stakes in each other in 2017.
🎼 Universal Music: A Tencent-led consortium owns a 20% stake in the firm.
---
A brief history
1998: Tencent is established by tech worker Pony Ma Huateng and four of his friends in Shenzhen. The team develops OICQ, instant messaging software modeled after ICQ, similar chat software developed by three Israeli guys.
2000: America Online, which bought ICQ in 1999, sues Tencent for OICQ's domain names, which it says infringe on ICQ's intellectual property. Tencent eventually shuts down OICQ's websites, and Ma later changes OICQ's name to QQ to avoid further scrutiny.
2001: South African e-commerce firm Naspers invests $32 million in Tencent to acquire a 46.5% stake. (In 2019, Naspers spun out its Tencent stake into a subsidiary called Prosus, which is now worth around $271 billion.)
2004: Tencent lists in Hong Kong for HK$3.70 per share ($0.47), making it one of the first Chinese tech companies to be traded there. As of Feb. 18, 2021, the company was trading around $96 per share.
2011: Tencent rolls out new product Weixin, arguably China's most influential online communication tool. Months later, the company renames the English version of Weixin as WeChat in a bid to expand in overseas markets.
2013: WeChat launches WeChat Wallet, an embedded mobile payment tool. It's a major step on WeChat's path to becoming a "super app" that allows users to do everything from paying bills to buying insurance and booking flights.
2014: Tencent starts to invest more aggressively. The company buys into China's car-hailing giant Didi Dache, booking website Tongcheng, service app Meituan-Dianping, e-commerce giant JD.com, and leading Chinese film studio Huayi Brothers, among others.
2020: In August, US president Donald Trump issues executive orders banning WeChat in the US on national security grounds. However, the ban is never carried out.
---
By the digits
1.2 billion: Monthly active WeChat and Weixin users.
$925 billion: Tencent's market capitalization as of Feb. 18. In 2017, Tencent became the first Asian tech company to reach a market cap of $500 billion.
91,875%: Increase in Tencent's share price since its listing in 2004.
600,000 yuan ($92,915): The price at which Pony Ma was reportedly willing to sell Tencent in 1999, when the company was struggling to turn a profit (link in Chinese).
$6.3 billion: Tencent's revenue from gaming in the third quarter of 2020, 33% of its total revenue for the quarter (link to pdf).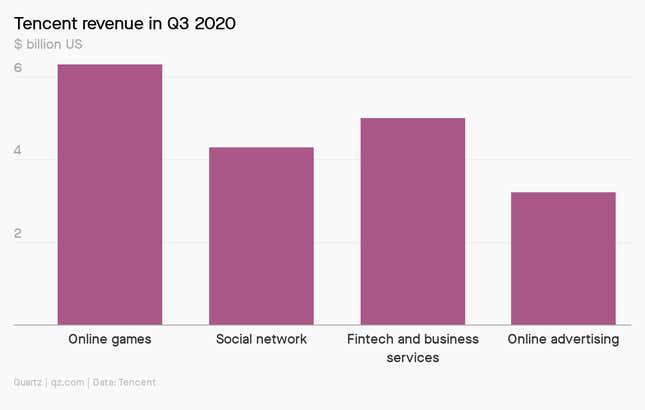 ---
Washington vs. Beijing
Despite Tencent's steady revenue growth, two uncertainties remain for its future expansion: tech policies in Washington and Beijing.
US president Joe Biden is expected to adopt a less chaotic approach than his predecessor when it comes to China, but the new administration has still signaled that it will maintain a tough stance. In a recent interview with CBS, Biden said there won't be conflict between the two countries, but there will be "extreme competition." And even though Trump's WeChat ban was never enforced, the Biden administration is reviewing it, and plans to give an update within two months. Until then, the app's fate remains unknown.
Scrutiny from within China could be even more challenging. After Beijing signaled its willingness to crack down on big tech firms late last year, a frantic sell-off in Chinese tech stocks wiped nearly $300 billion off the collective market caps of Tencent, Alibaba, and a number of other top-league players. This month, Beijing finalized anti-monopoly rules that require tech giants to stop certain behaviors—such as forcing sellers to use only their payment services—putting fresh pressure on Tencent. Douyin, ByteDance's Chinese version of TikTok, has also filed a lawsuit against Tencent for alleged monopolistic practices, and is demanding 90 million yuan ($14 million) in compensation.
Even when it's on Beijing's good side, Tencent must worry about China's sweeping power over homegrown companies. The government's ability to censor sensitive content on Tencent platforms has been repeatedly laid bare by organizations like the Citizen Lab, while Tencent simultaneously risks getting caught up in infighting within China's Communist Party. Earlier this month, a Tencent executive was detained by authorities for the alleged unauthorized sharing of WeChat data with a former law-enforcement official who is under investigation for violating the Party's rules, according to the Wall Street Journal. Tencent said the executive was detained over "personal corruption" and the case has no relation to WeChat or Weixin.
---
Keep reading:
---
Thanks for reading! And don't hesitate to reach out with comments, questions, or companies you want to know more about.
Best wishes for an expansive end to your week,
Jane Li
China tech reporter