Hi Quartz member,
About a year ago, Chinese electric vehicle startup NIO, one of a number of startups optimistically described as "China's Tesla killer," was on the verge of collapse after burning through hundreds of millions of dollars. But with help from an ambitious city vying to become a Chinese EV hub, and rising consumer demand, 2020 became NIO's comeback year. The startup's shares rose more than 1,000% on the New York Stock Exchange, marking the latest reversal of fortune in its short life.
NIO's improved circumstances signal that some of China's Tesla challengers are starting to taste success. But now they face increasingly aggressive competition on their home turf from the firm that inspired them in the first place—with Tesla's Shanghai Gigafactory up and running, the US car maker led new energy vehicle sales in China last year for the first time.
But first, a recap: Derek Chauvin received a guilty verdict that you really should be talking about at work. Experts explain how to deal with your anxiety about returning to the office. The US and China could actually get along over climate change. Did bitcoin hit its peak with the Coinbase IPO? Why in the world is Amazon opening a hair salon? And why does it keep failing at video games? And why do you keep failing at getting a bike? Asked and answered.
Your most read story this week: India's Covid-19 crisis has gone from bad to catastrophic in just a fortnight. And most relatable member goes to whoever is reading The secret to being witty, revealed. For every good joke we make, a few bad ones end up on the editing room floor.
Okay, now fasten your seatbelt. We're charged and ready to go.
---
Blue Sky coming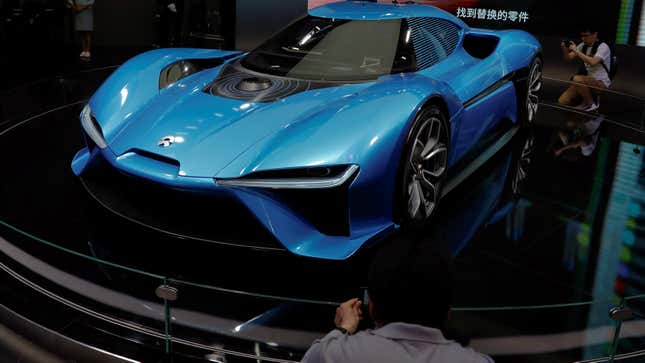 Founded in 2014, NIO's Chinese name is Weilai, or Blue Sky Coming. The name is also used by Beijing to reference its push for cleaner energy to combat severe air pollution problems. Spurred by the government's new concern around cleaning up the air and generous subsidies for electric manufacturers, several other premium Chinese EV startups such as Xpeng and Li Auto also launched at around the same time as NIO. The firms soon drew interest from both venture capital and tech firms, with NIO backed by Tencent and Xpeng by Alibaba.
Early on, NIO focused on high-end SUVs, intending to serve China's swelling ranks of upper-middle-class buyers who need cars that can accommodate the whole family, even on journeys around the country, since smaller cities can have bumpy roads. After years of rapid growth, SUVs caught up (link in Chinese) with sedans and accounted for around half of China's passenger car market in sales in 2020.
But, despite the rising sales of its three SUV models, NIO's 2018 IPO in the US raised only half of the $2 billion it hoped for amid China-US tensions. In 2019, its recall of 4,800 of its flagship SUVs over fire concerns strained its finances and reputation. It was hammered further by China's move to unwind subsidies, which hurt EV sales, leading its net loss to widen from $1.3 billion in 2018 to $1.6 billion in 2019. By the end of that year it was laying off workers and the outlook seemed bleak.
However, last April, around $1 billion funding from several state-owned entities in the Chinese city of Hefei, the capital of Anhui province, offered NIO a precious lifeline. The deal makes sense for NIO and the local government. The company has used Hefei-based automaker JAC Motors as its contract manufacturer, and the city has been gearing up to become China's EV manufacturing hub by recruiting other companies such as Volkswagen, which said it would build an EV plant in the city late last year. In July 2020, NIO also got a credit line for about $1.5 billion from six state-owned Chinese commercial banks.
Despite the state support, its overall deliveries still lag far behind those of Tesla. The US company sold over 137,000 Model 3s in 2020 in China alone. NIO delivered just 95,701 vehicles between 2018 and March this year, leaving some to doubt it can ever be "China's Tesla." Still, at this week's Shanghai Auto Show, co-founder Qin Lihong said the company has set up a sales team for Europe, and will soon detail its plans for expanding there this year.
Within China, Tesla's strongest competition is actually coming from a US-China joint venture aiming at the other end of the market: budget buyers. Despite only going on sale in July, the Wuling Hong Guang Mini EV, jointly produced by state-owned SAIC Motor, Wuling Motor, and General Motors and priced at around 28,800 yuan ($4,400), became the second-best selling EV in China last year after the Model 3, according to official Chinese data. In January and February, it skipped ahead of the Model 3. The secret to "killing" Tesla may not be prestige after all, but price.
---
By the digits
5,715.28 m (18,751 ft): Altitude driver Chen Haiyi reached by driving a NIO ES8 to the Purog Kangri glacier in Tibet, the highest altitude ever achieved by an EV
$65.9 billion: NIO's market cap as of writing
635: Number of registered Chinese EV makers as of 2019
16.3%: Stake Tencent held in NIO as of July 2020—it also holds a stake in Tesla
50: Number of part-time jobs NIO founder William Li worked during his university years (link in Chinese)
$5.4 billion: Amount of funding NIO has raised to date
$784.2 million: NIO's net loss in 2020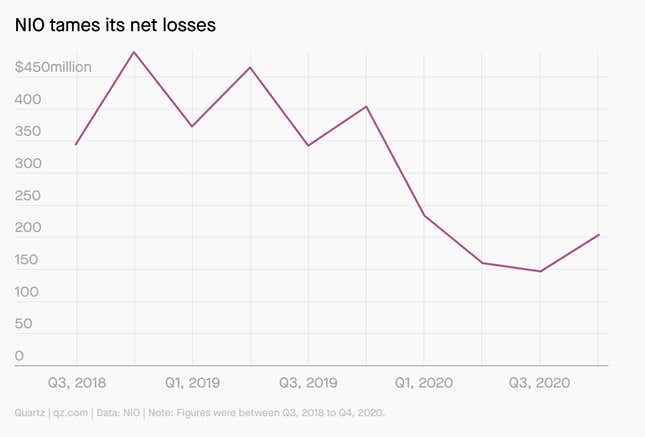 ---
Using Tesla to improve "China's Teslas"
Some saw NIO's bailout by state-owned entities as a sign that despite pulling back from massive subsidies, in favor of a credit system, China is still willing to spend to help its EV champions. Yet there are just as clear signs that China doesn't intend all of its hundreds of registered EV firms to survive—just the fittest.
Enter the catfish.
Since 2018, when China made it possible for foreign EV manufacturers to open their own factory in the country without a local partner, Chinese authorities appear to be providing a "bureaucratic tailwind" to the California-based company.
In 2019, Tesla was the first foreign car maker to set up a wholly owned factory under the new rules, and is now looking to produce around half a million cars in its Shanghai factory this year. The company was also able to secure large loans from Chinese banks to fund its growth. The result is that China is now Tesla's second largest market worldwide.
The logic of China's warm welcome for Tesla isn't hard to understand: The country's officials have said they need a "catfish"—using the metaphor of an aggressive fish gobbling up its lesser rivals—to invigorate the country's highly crowded EV space, which has over 450 registered EV manufacturers, according to the Center for Strategic and International Studies, a Washington-based think tank. Beijing also hopes that by encouraging the development of the likes of Tesla, it can showcase its openness to foreign investors.
---
NIO's secret weapons
One major advantage NIO has over Tesla is its battery swap program, which takes users only minutes, or even seconds, to put a fully juiced battery in their vehicles, instead of having to wait hours for a recharge. The company also allows customers to lease batteries at a price starting from $150 every month, which means they can enjoy a lower vehicle purchase price. A Tesla China executive has said that the company has no plans to adopt such a strategy.
In addition, NIO's premium SUV models like ES6 are considered by some Chinese users to have a more futuristic design and more luxurious interiors than Tesla's cars. The ES6, for example, has front row seats with a massage function, a feature that is often cited as an example of NIO's better understanding of Chinese consumers who value such services.
Another example of this market know-how is NIO's fancy private clubhouse-like showrooms that offer membership perks, such as a drop-off area for children, that have proven to be a big attraction for customers who want a premium experience. The firm's consumer-centric approach helped to cultivate a group of loyal fans, some of whom formed a chorus that sings about the virtues of the company's models at its annual events. This passion has contributed to NIO's rising deliveries, which reached 20,060 in the first quarter, a new record for the company.
But NIO's approach also means it has to splash cash on the fancy programs. The company has yet to make a profit, and it posted a worse-than-expected fourth quarter net loss of $204 million last year, despite a 133% growth in revenues during the period year-on-year.
Tesla, on other hand, had its first profitable year in 2020 partly thanks to its surging sales in China, and an industry association expects Tesla to further increase its sales in the country to 280,000 this year, making it harder for NIO to catch up even assuming it can maintain its sales momentum.
---
Person of interest
"[Tesla cars are] like the clothes fashion models wear on the catwalk. It's not the same. They may be beautiful, but you can't wear them every day," —NIO founder and CEO William Li Bin
The 46-year-old Chinese entrepreneur, who herded cattle (link in Chinese) with his grandpa when he was a child, is now worth around $5.6 billion and is dubbed the "Elon Musk of China." Li discovered his interest in entrepreneurship as a student at the prestigious Peking University in Beijing, where he co-founded his first company, a sort of data center. In 2000, he founded Bitauto, an information provider for the auto industry. Li furthered his understanding of the segment as a reporter working for the company, which was listed in the US in 2010 and was taken private by a group of investors led by a Tencent affiliate last year. Overall, Li has invested in more than 40 companies in the auto industry, including bike-sharing startup Mobike.
---
Pop quiz
Which one of the following brands is not a Chinese EV maker?
BYD
Zotye
Contemporary Amperex Technology
Aiways
Chery
Wuling Hongguang
Answer at end of email.
---
Keep learning
---
Answer 🔑
The answer to the quiz is Contemporary Amperex Technology, which is a Chinese EV battery maker and a supplier to Tesla in China. If you're saying "Well, it's EV adjacent at least," we'll go ahead and award you half credit.
---
Thanks for reading! And don't hesitate to reach out with comments, questions, or companies you want to know more about.
Best wishes for a fully charged end to your week,
Jane Li
Tech reporter