[qz-guide-hero id="434624040″ title="💡 The Big Idea" description="As e-commerce makes up a bigger part of companies' sales, retailers are reassessing what brick-and-mortar stores are good for."]
---
The billion-dollar question
Is this the end of brick-and-mortar stores?
We understand why you're asking that question. Because of Covid-19, the e-commerce surge of the past year was astounding, and experts believe a lot of the digital shopping habits consumers picked up during the pandemic are here to stay. Online shopping siphons sales from many brick-and-mortar shops, making many stores less productive.
The reality is, stores aren't going away. As virtual as our lives have become, we're still physical bodies operating in physical spaces. Stores remain an indispensable way for us to interact with products and brands, and the commercial areas where they cluster can still be vital social spaces. Stores are convenient, too—in some cases a more convenient way to shop than buying an item online and waiting for delivery.
But the way companies use stores is evolving as technology alters the way we buy things.
---
By the digits
800,000: US stores that could close by 2026, according to UBS
16%: US retail sales done online at its 2020 peak
36%: UK retail sales done at its 2020 peak
>50%: Estimated 2021 retail sales done online in China
17,000: Square feet of the outdoor turf field at Dick's Sporting Goods' "House of Sport" concept store
---
30-second case study
Target has done well during the pandemic—in the year ending Jan. 30, the company's sales grew by more than $15 billion, greater than its previous 11 years of growth combined. E-commerce may have fueled that growth, but its stores are still very involved.
It's embracing its brick-and-mortar stores as logistics hubs for its online orders. Its stores fulfilled 95% of its sales—online and offline—in the quarter through the end of Jan. 2021.
Stores were also essential in keeping its e-commerce sales profitable. John Mulligan, Target's chief operating officer, said it's about 90% cheaper when a customer picks up an online order in store rather than Target shipping it to them from a warehouse. (It can also have a smaller carbon footprint since the drive tends to be shorter and may happen in a more efficient vehicle.)
---
Watch this!
CBRE, a large commercial real estate and investment firm, predicts handling the growing tide of online returns will be one of the big jobs for its imagined "hybrid store of the future," both shopping destination and miniature fulfillment hub.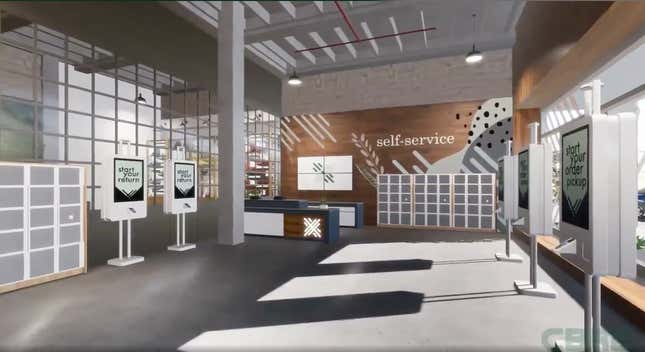 ---
Charting 2021 store openings
This year, as some retailers were closing stores, others are opening more. They're hoping the business strategies that allowed them to weather the pandemic will be viable in the future, even as e-commerce becomes a mainstay of most other businesses.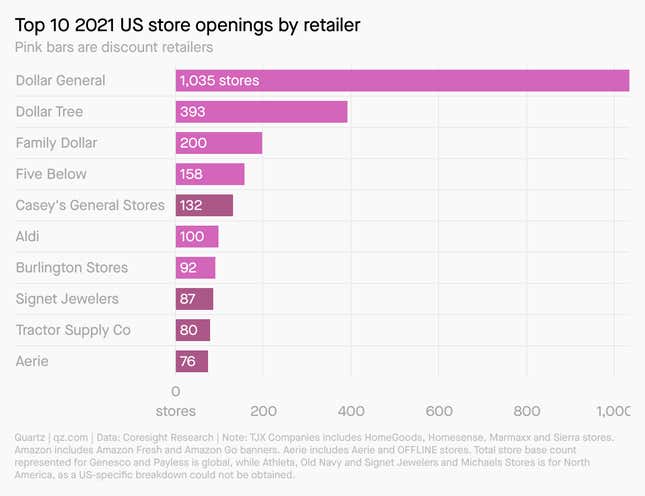 ---
What are future stores good for?
There's no doubt the way companies use stores is evolving as technology alters the way we buy things. Here's a look at some of the changes happening in our physical shopping spaces.
📍 Logistics hubs. Shoppers want to be able to buy an item online and pick it up at a nearby store, sometimes without having to get out of their car, or see an item in store and easily buy it online later—with fast shipping. It's pushed retailers to stop treating e-commerce and stores as separate businesses with separate inventory and separate management systems.
🤳 Immersive brand experiences. While the store's value as a point of sale is diminishing as more sales move online, experiential retail, where the store environment is an attraction in itself, is getting more important.
ℹ️  Touch points for existing customers. Stores are still vital places for shoppers to see and touch products firsthand, or to learn about an item or the brand behind it, even if they're inclined to then leave and buy the item later online. In these cases, customer service, whether it's answering questions or helping with returns, may be the primary role of the store, while selling stuff is secondary, changing the role of the sales associate.
🔭 Acquiring new customers. Stores create a "halo effect," boosting a retailer's web traffic and sales in the surrounding area.
---
Fun fact!
Sales per square foot is the metric retailers use to determine the value of a store. But that may soon be obsolete. E-commerce is siphoning sales from brick-and-mortar retail; stores are taking on additional roles in the new shopping ecosystem that's emerged, and their value beyond being a point of sale is moving to the forefront. Retailers are borrowing metrics from media, valuing stores based on "impressions" and email addresses collected.
---
📚 Read the field guide
Five ways stores are evolving as e-commerce takes off
What companies counting on in-person shopping have in common
---
📣  Sound off
Do you think you'll visit stores as often in the future?
Definitely—some things you just can't do online
In last week's poll about genetic medicine, a whopping 80% of respondents said they were excited about the new wave of gene-based pharmaceuticals. We hope it lives up to your high expectations.