The e-commerce surge of the past year was astounding. Because of Covid-19, shoppers turned to the internet to buy everything from groceries to sporting goods at rates that would have taken years to reach under normal conditions. Experts believe a lot of the digital shopping habits consumers picked up during the pandemic are here to stay, even if e-commerce sales moderate some as life eventually returns to normal.
It doesn't sound great for stores. Online shopping has been siphoning sales from brick-and-mortar shops in countries such as the US and UK for years, and it looks set to continue, making many stores less productive. UBS, an investment bank, predicts roughly 80,000 stores could close by 2026 in the US alone as online shopping grows even more common.
It's the beginning of the end for brick-and-mortar shops, right?
Well, no. In 2020, e-commerce in the US peaked at about 16% of retail sales. In the UK, internet sales rose to 36% of total sales at the end of the year. Even in the midst of a pandemic, consumers in these countries have been making the majority of their purchases in stores.
The situation is a bit different in Asia. Not having built out as much physical shopping space, the retail industries in China and other countries were able to leapfrog right into online shopping as the consumer classes exploded. Rates of online buying are already much higher and growing fast. The research firm eMarketer forecasts e-commerce in 2021 will account for more than half of retail sales in China, including products and services, and about 29% in South Korea, compared to 15% in the US and around 13% on average across western Europe. Yet even Chinese e-commerce giant Alibaba sees stores as a crucial element in the retail ecosystem, imagining a future where e-commerce and tech-enabled brick-and-mortar shops, from supermarkets to local convenience stores, work seamlessly together.
The reality is, stores aren't going away. As virtual as our lives have become, we're still physical bodies operating in physical spaces. Stores remain an indispensable way for us to interact with products and brands, and the commercial areas where they cluster can still be vital social spaces. Stores are convenient, too—in some cases a more convenient way to shop than buying an item online and waiting for delivery.
But there's no doubt the way companies use stores is changing as technology alters the way we buy things. Here's a look at some of the ways our physical shopping spaces are evolving:

Stores are doubling as logistics hubs
"Supply chain and fulfillment have been extremely linear for the last hundred years," says Rob Garf, vice president and general manager for retail at Salesforce, which provides companies with technology to manage their customer relationships. Fulfillment is the term retailers use for packing, shipping, and ultimately delivering a customer's order. "Now it is more of a hub-and-spoke model, and that hub in many cases is the physical store," Garf says.
Shoppers want to be able to buy an item online and pick it up at a nearby store, sometimes without having to get out of their car. Or they see an item in store and want to easily buy it online later—with fast shipping. It's pushed retailers to stop treating e-commerce and stores as separate businesses with separate inventory and separate management systems.
One retailer leading on this front is Target, which said its stores fulfilled 95% of its sales—online and offline—in the quarter through the end of January. Stores were also essential in keeping its e-commerce sales profitable. John Mulligan, Target's chief operating officer, said it's about 90% cheaper when a customer picks up an online order in store rather than Target shipping it to them from a warehouse. (It can also have a smaller carbon footprint since the drive tends to be shorter and may happen in a more efficient vehicle.)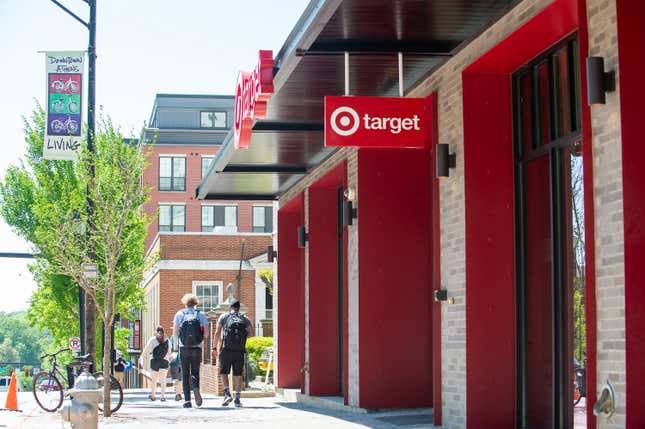 And stores aren't just useful for getting products to customers. CBRE, a large commercial real estate and investment firm, predicts handling the growing tide of online returns will be one of the big jobs for its imagined "hybrid store of the future," both shopping destination and miniature fulfillment hub. John Morris, head of the industrial and retail practice at CBRE, says retailers generally estimate it costs them half as much to process a return for an online purchase if the customer brings it to a store rather than shipping it back. It saves on transportation, in part by letting them collect items and send them back up the value chain in one shipment, and tends to result in fewer lost or damaged goods. (It also gets customers in the store, where they might make another purchase.)
One challenge for retailers is figuring out how to make a store do double duty without compromising the experience for shoppers while keeping costs down. Retail real estate is expensive compared to industrial warehousing, so the space handed over to e-commerce fulfillment has to be carefully considered. Retailers will still have to rely on regional distribution centers, and not every store will be an ideal fit for handling logistics.

Stores are ditching their one-size-fits-all mentality
Remember when a company would drop stores of identical size with the same selection everywhere? Those days are over. "Retailers are having to have a range of formats in their arsenal as they think about how to go to market," says Praveen Adhi, a partner at McKinsey who leads the consultancy's retail operations in the US. "It might be big stores, small stores, much more localized assortment in stores. But it has to be different because the economics of putting a giant box everywhere don't hold up."
Companies including Macy's, Nordstrom, Walmart, Target, and others have rolled out smaller stores in recent years as they move away from malls or into urban areas where space is scarce. At the same time, there's also been growth of giant experience-centric palaces, like the new "House of Sport" concept store outside Rochester, New York, by Dick's Sporting Goods. It includes a rock wall for climbing and a 17,000-square-foot outdoor turf field. Nike has a range of store formats, including its smaller Nike Live concept, focused on serving the local community in urban neighborhoods, and its huge, immersive flagships, which are expansive in their selection and cater to tourists and locals alike.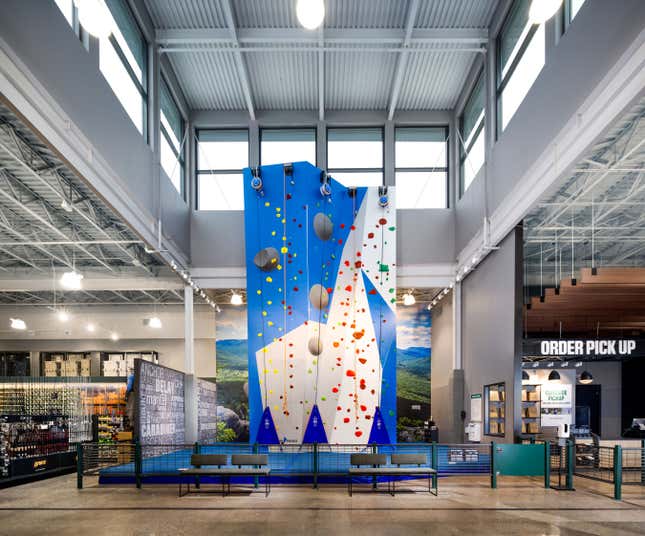 Similarly, some stores are more valuable as logistics hubs than others. It can depend on the store's street location, where it sits in a geographic region, and how effective it would be at shipping to customers from its inventory, CBRE's Morris says.
It also matters what the retailer's brand image is and what message it wants to communicate with a store, like in-and-out convenience versus an environment customers will want to explore. "In the same way that Cirque du Soleil would start by saying, 'Let's figure out what the show is and then we'll figure out how big a tent we need,' retailers have to do the same thing," says Doug Stephens, a retail futurist and author of Resurrecting Retail: The Future of Business in a Post-Pandemic World.

Stores are moving beyond product sales
"Physical stores are more important than ever before," Stephens writes in Resurrecting Retail. "But not for the distribution of products." While the store's value as a point of sale is diminishing as more sales move online, experiential retail, where the store environment is an attraction in itself, is getting more important. But the shift goes deeper than retailers throwing in a coffee shop or bolting on other in-store diversions.
"The trend is going towards experiential, but it's experiential in a lot of different ways where you're really creating a partnership in my life rather than just a place where I go to buy something," says Mina Fader, managing director of the retail research center at Wharton. Fader notes that Petco, which sells pet food and other items, also offers grooming and veterinary care; Best Buy, an electronics retailer, has troubleshooting and repair services.
Stores are also still vital places for shoppers to see and touch products firsthand, or to learn about an item or the brand behind it, even if they're inclined to then leave and buy the item later online. In these cases, customer service, whether it's answering questions or helping with returns, may be the primary role of the store, while selling stuff is secondary. That changes the job of sales associates. "Now it's really a question of the store associate understanding what the product is," Fader says, and to "be more of a partner with the customer in making the sale."
Stores are also becoming an invaluable media channel, Stephens argues. Under the old paradigm, retailers used media advertising to prod shoppers down the marketing funnel to a point of sale, which is to say a store, where they could make a purchase. But now everything is the store, from e-commerce to an Instagram post with a "buy" button. Brick-and-mortar locations coexist alongside them, still selling but just as often driving consumers to other shopping channels. The International Council of Shopping Centers, a global trade association, has found stores create a "halo effect," boosting a retailer's web traffic and sales in the surrounding area.

Stores are getting a technological makeover
Technology's transformation of shopping isn't limited to e-commerce. "You're going to see a huge adoption and acceleration of things like the role of technology in the store," says McKinsey's Adhi. Retailers understand the need to make their stores more productive, he says, and the technology to do so is "finally ready for showtime."
The flashiest examples tend to be customer-facing: digital screens that change their display based on who is in the store or what the customer in front of them is holding, or smart mirrors that use augmented reality to let customers virtually try on makeup or jewelry. A number of companies are also making their apps part of the in-store experience, letting customers find products or reserve fitting rooms through the app on their phone. Beauty retailer Sephora allows shoppers to book in-store makeup consultations through its app. The makeup artist can log the makeup used into the customer's profile so they can easily buy any products they liked later.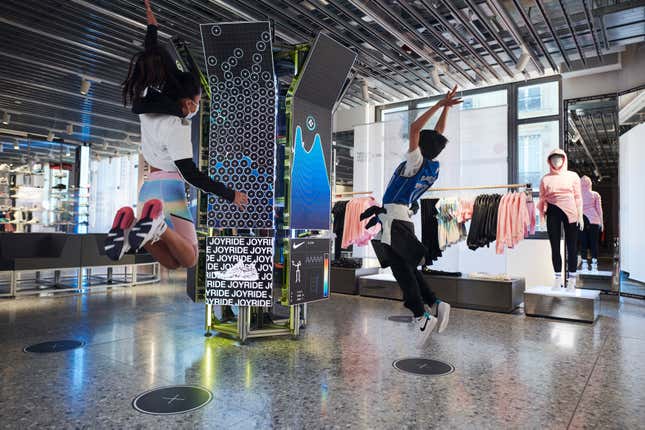 Sales associates in stores are also using technology to serve customers from home and maintain relationships with them, letting them know of new products that might interest them or being available to answer questions. "There are a lot of conversations happening over messaging or FaceTime and other digital mediums," says Arpan Podduturi, Shopify's director of product for retail.
Companies are also using technology, including automation, to handle stockroom and back-office jobs such as managing inventory, payroll processing, and labor scheduling. Companies are rolling out automated storage and retrieval systems in their back rooms to pick items for e-commerce fulfillment, for instance, according to CBRE's Morris.
These tech upgrades allow store staff to focus on other tasks, like helping shoppers. "On average, across most formats, I'd say the non-customer-facing work is about 70% of the labor in the store," Adhi says. "What most retailers are trying to do is take that 70% and get that number down to as close to zero as possible so you can redeploy that."

Stores are attracting new occupants
Some of the big changes to hit stores in recent years are about the companies that have them to begin with. While department stores and mall-based retailers are shutting doors, digitally native retailers such as Allbirds, Casper, and Away have been opening them as a cost-efficient way to find new customers and build strong relationships with them.
"When I talk to merchants on the Shopify platform, there's a lot of optimism about [physical] retail today," says Podduturi. "What makes it special is it's face-to-face. It is pure direct-to-consumer…they look at [physical stores] in the context of their entire business and it really does complement a lot of what they're doing online."
These retailers may also treat stores differently than legacy retailers. "Some of them will want physical storefronts at different points in time," says Sucharita Kodali, an e-commerce and retail analyst at market research firm Forrester. "They'll want to go to where their customers are, but they don't want 10-year-long leases. They don't necessarily even need to be in malls. They're very good about organically promoting themselves. They just want a space that looks cool that's easy for people to access. It's almost the food-truck-ification of physical retail."
Kodali predicts some of the biggest new store tenants will be consumer packaged goods companies looking to connect directly with customers in a way that creates a lasting impression. Kellogg's, Nespresso, M&Ms, and Chobani are among those that have opened shops or cafes in recent years.
Pop-up stores keep growing more popular as well, and large retailers are getting creative with their space by offering square footage to partners that can draw traffic. Last year, department store Kohl's struck a deal with Sephora to put a mini Sephora store inside 200 Kohl's locations, while Macy's teamed with clothing resale platform ThredUp.
The pandemic undoubtedly hit stores hard, but it's clear it hasn't stopped them. Landlords with space to fill are looking to make deals with tenants, and a new generation of retailers is seizing the opportunity. "The amount of new stores that our clients tell us they're planning is actually as big as it's ever been," Morris says. "And a lot of these brands are maybe ones that very few of us have ever heard of before."