Less than a mile apart, two extravagant new shopping destinations have opened in New York City. One, by Levi's, sits right in Times Square, surrounded by the area's flashing screens and rush of pedestrians. The other, Nike's, is located on a tony stretch of Fifth Avenue, across the street from Cartier and a short walk from Rockefeller Center.
The stores themselves are vastly different in their look and feel, but they have a lot in common. They're "concept" stores, flagships for their brands and an attempt to dissolve the boundaries between online and offline shopping. They represent a shift happening in the way both companies sell their products, putting a heavy emphasis on one-to-one connections with customers, and customized products. Being physical spaces that surround you, they can be immersive in a way that an online experience can't—at least not yet. They're theater in the form of shopping spaces, where Nike and Levi's stage-manage their customers through a narrative about the brand itself.
Traditionally Nike and Levi's have done most of their business as wholesalers, peddling their sneakers and jeans to retail stores that offer them alongside other brands. That arrangement has worked great for decades. It got their products in front of shoppers without the brands needing to build and maintain a vast network of stores. But a lot of those retailers are now struggling, and online shopping has made it easy for brands to sell to shoppers directly.
Besides, why would Nike or Levi's want to be just one label among several, in a store whose main priority is to promote its own brand?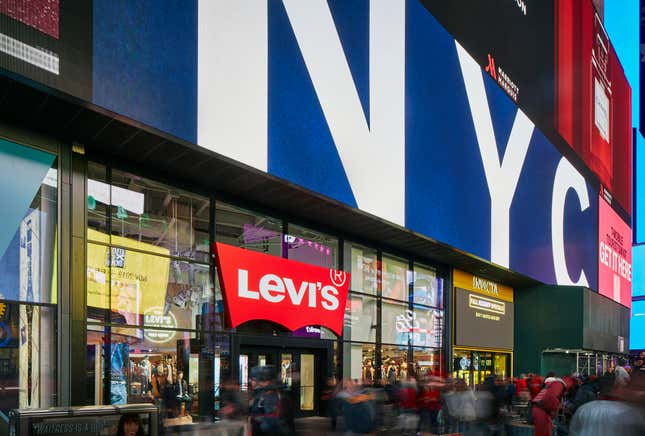 These new stores are part of the play by Nike and Levi's to take more of their business—and their stories—into their own hands. And despite all the dire warnings about the "retail apocalypse," they point to the reasons that brick-and-mortar stores are still important. They may be the best marketing trick the brands have.
Welcome to Nike world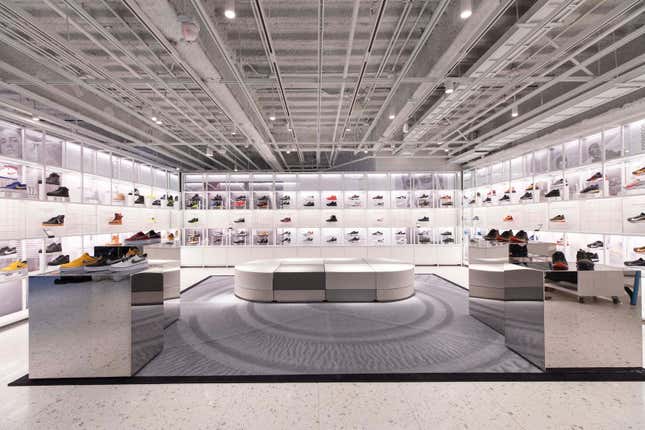 At Nike's new six-level, 68,000-square-foot space, the idea of transcendence through sport is everywhere. It's in the veritable shrines to Serena Williams and LeBron James; in the carpets on the fifth floor studio knitted with the finish times of runner Shalane Flanagan; and in the deconstructed model of the Zoom Vaporfly 4%, the style Eliud Kipchoge wore during his attempts to finish a marathon in less than two hours. (He hasn't yet, but he's close.)
"What I see in this store, and I hope you do too, is the most experiential and immersive expression of the Nike brand," said Heidi O'Neill, president of Nike direct, during an interview at the store. "It's not just about a moment to come into a store and transact. I hope that when consumers come in the store they actually feel the Nike brand, that they feel the values of the Nike brand."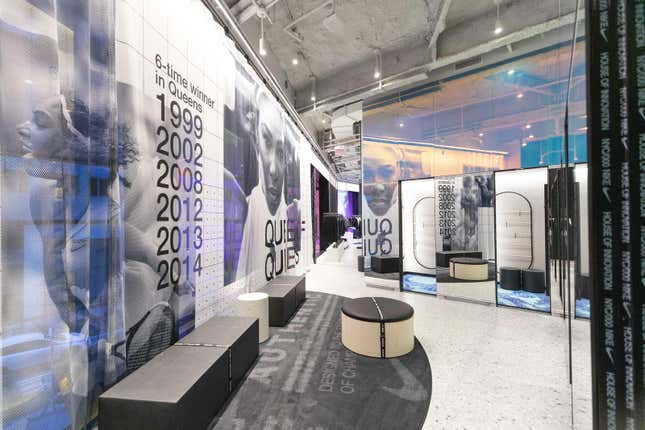 In the store's fourth floor "sneaker lab"—the largest collection of in-season Nike sneakers anywhere in the world—every sneaker has its own individual pedestal and lighting. It's a cross between museum exhibit and luxury boutique that treats every shoe like an art object, one you can buy.
There's also an area where you can dip-dye select sneaker styles, or swap out their laces to quickly make a shoe your own. More in-depth personalization is available too, with an appointment. A tailor shop equipped with trained designers can even work with you to make custom clothing.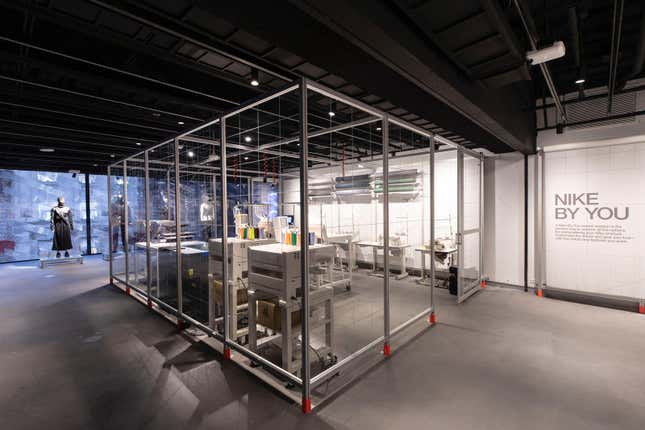 To take full advantage of the store requires downloading the Nike app onto your phone. It will recognize when you're on site, and let you do things like add items to a fitting room, which a store associate will then put into an actual fitting room for you. You'll be notified once your stuff is ready.
You can check out through the app, without having to ever interact with someone if you don't want to. There are kiosks on each floor where you can drop off hangers and pick up a bag. (Of course if you're more comfortable checking out with an associate—Nike calls them "athletes"—you can do that too.)
If you're a member of Nike's loyalty program, NikePlus, you can reserve items whenever you want via your phone, and then pick them up in-store in a locker that you access, again, with your phone.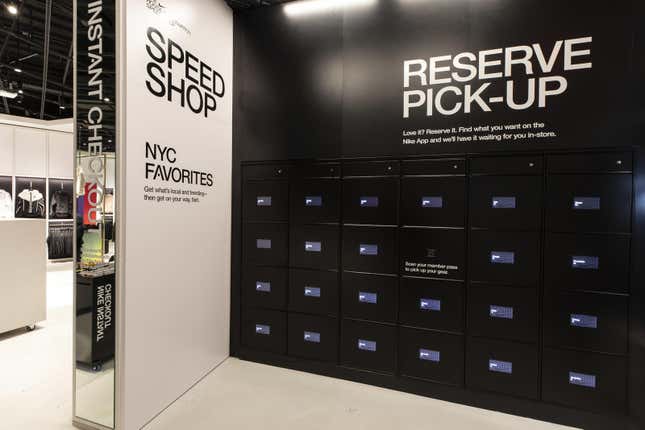 The narrative throughout is this: Nike is about athleticism, design, technological innovation, and serving you with the products you want, however you want to buy them.
The United States of Levi's
The new, nearly 17,000 square-foot flagship Levi's store is the brand's largest in the world. It also houses the largest tailor shop in Levi's store fleet, which will be staffed from opening through close—8am to 1am—to draw all those unsleeping tourists and night-owl New Yorkers marching through the area at all hours.
Again, customization is key. Around the tailor shop is a bar with stools that swing out, and mounted on that bar are iPads. "This is basically all about inspiration, and this will be version 1.0, call it, of what we're doing through the personalization and customization experience," said Marc Rosen, Levi's executive vice president and president of direct-to-consumer, on a tour of the new flagship.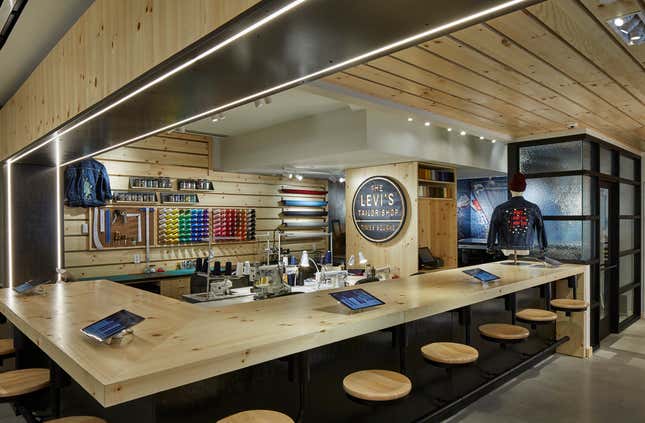 On the iPads, you can see how products would look personalized, say by putting studs on a denim jacket, or adding patches to a pair of jeans, or distressing them, and then you can have the tailor shop make it. Levi's is exploring how to make the experience accessible even if you're not in the store, imagining that you might be able to video chat with one of the tailors to customize a product and have Levi's ship it to you.
As is fitting for the iconic American denim brand, the heart of the Levi's store is the jeans, and most of them are down a level. To get there, you descend an escalator to a platform overlooking the retail floor, before hopping on another escalator to get to the shopping floor. (This is a feature, not a bug: Levi's deliberately designed it as two separate escalators rather than one, so that you have to pause a moment on the platform.) From the platform you see a digital screen that may show images of New York, or of the punk band The Ramones in their Levi's, or of people wearing Levi's atop the Berlin Wall as it came down, centering Levi's as a part of this cultural history. There are couches, so you can stop if you want—Rosen hopes you will—and just hang out.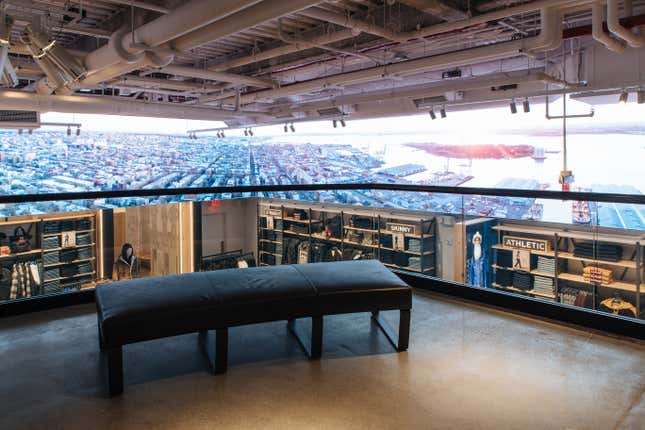 On the floor, Levi's has arranged the jeans by fit, and because there are so many available, it has a pictorial guide showing how each looks. At each fit station, there are tops and jackets that might pair well with that look. Around the store are pictures of women and men of different sizes, races, and ethnicities in their Levi's.
A whole section is dedicated to the 501, the style that effectively launched the company in 1890 (pdf). It includes a wall that serves as a periodic timeline of the 501, with jeans authentic to the details of that period hanging for sale below. It starts with miners in 1890, and runs through Marilyn Monroe in a pair of Levi's, and Marlon Brando looking cool in Levi's in The Wild One.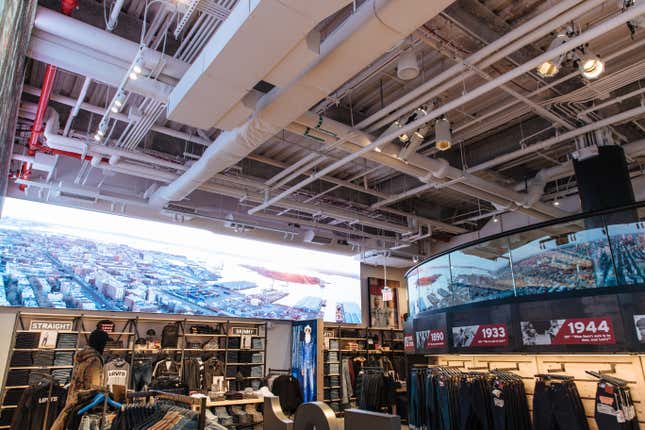 At various points around the store are spots where a sales associate can check out customers. One thing both Nike and Levi's know: People hate waiting in lines to make a purchase.
Levi's, the store suggests again and again, stands at the center of culture, to borrow a favorite phrase of Levi's. It's democratic, and it's also personal.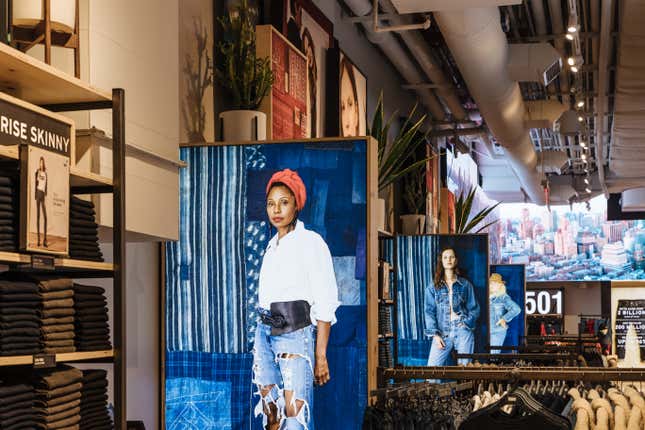 The brand experience
In her anti-branding polemic, No Logo, the author and activist Naomi Klein described the way advertising in the age of mass-manufacturing shifted away from a focus on product attributes and "toward a psychological/anthropological examination of what brands mean to the culture and to people's lives." The new Nike and Levi's stores are as much about what the brands mean and the roles they can play in the lives of their customers as they are about being a place to actually buy products.
Stores have always done this to some degree, of course, but the brand-temple feel of these new stores is only becoming more pronounced as brands that focused on wholesale in the past invest more in selling to customers directly.
"I think the combination of flagship stores like this, along with our online experience, gives us the opportunity to tell our brand stories in a much more powerful way," Rosen noted. "So we're only trying to tell one story in this store, and I think that's probably the main difference."
As for the theatrical aspect of it all, it's more than just a figure of speech. To celebrate its flagship opening, Levi's set up a stage in the store and had performances by different musical artists. And at the Nike store, the entryway is actually modular: The floor panels can be swapped out, and there are rafters that lights can hang from. Nike can literally turn the store into a stage.