[qz-guide-hero id="434624563″ title="💡 The Big Idea" description="The next wave of social media platforms is here."]
---
We're experimenting with a new format today, with more of the guide right here in your email. Let us know what you think at the bottom!
---
State of play
There are two opposing theories of competition among social media platforms. One holds that social networks are inherently faddish: Kids don't want to be on the same platforms as their parents, and newer, cooler options are bound to pop up and supplant their predecessors eventually. The other says that social networks are inherently sticky: Everyone wants to go where their friends and their favorite influencers already are, which means that large, established incumbents with lots and lots of users will always have an advantage over upstart rivals.
For years, the second theory had the upper hand: Facebook and its subsidiaries dominated the sector and seemed willing and able to buy up or copy any competitors that crossed their path.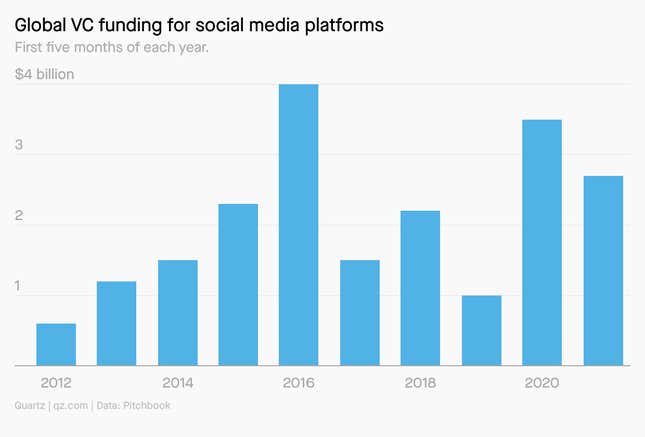 But now the momentum seems to be shifting: New, independent social media platforms are starting to proliferate—and thrive—after a few dormant years. TikTok and Clubhouse are the most visible new entrants, but dozens of other nascent contenders are hoping to follow in their footsteps.
Why now? There are a few possible factors that help explain the new faces in the field:
Regulators spooked Facebook by stepping up antitrust enforcement. Wary of attracting negative attention, the social media giant has eased up on its usual practice of buying up potential competitors, giving them time to develop on their own.
Users have embraced new content formats and no one platform can do everything well. Apps like TikTok and Clubhouse filled unserved niches (short video and live audio, respectively) that the major platforms left vacant.
Incumbents lost users' trust. Facebook and Twitter have borne the brunt of the blame since 2016 for amplifying misinformation, snooping on user data, and applying inconsistent moderation standards, leaving people more willing to try out a new option.
The pandemic left people feeling bored, lonely, and eager to find new ways to connect via social media.
Whatever the reason, we're about to find out which theory is right. The challengers could continue to grow, carving out their own niches or even stealing market share for Facebook. Or the giants could win again.
---
Platforms to keep an eye on 👀
The challengers: These young multi-billion dollar platforms are nipping at the heels of social giants that grew up in the late 2000s and early 2010s.
Tiktok: China's first globe-spanning social app has cemented its place alongside US-based competitors like Facebook and Twitter.
Clubhouse: With just 10 million users, the year-old audio-only platform generated major buzz during the pandemic and has spawned copycats from almost every major social media player. (More on that below.)
Discord: After turning down an acquisition offer from Microsoft, the audio- and text-based chat platform is eyeing an IPO.
Experiments to watch: These nascent platforms are testing users' appetite for new content formats that haven't been packaged together in exactly the same way by the reigning social networks.
---
Brief history
2004: Mark Zuckerberg drops out of Harvard and launches Facebook.
2005: Two University of Virginia students launch Reddit with $100,000 from Y Combinator.
2006: Two ex-Google employees launch Twitter as a side project while building a podcasting tool.
2009: WhatsApp is founded. Facebook would later buy it and guide its growth to 2 billion users.
March 2010: Pinterest launches in an early beta mode.
Oct. 2010: Instagram is founded. Facebook would later buy it and guide its growth to 1 billion users.
2011: Snapchat is founded. Facebook would later make an unsuccessful attempt to buy it, followed by a more successful attempt to hamstring its growth by copying its "story" feature.
2012: Vine, the last major platform of the early social media era, is founded. Twitter would soon buy it and kill it.
Of the newer challengers mentioned above, Discord was founded first, in 2015. It wasn't until 2018 that the app began seeing explosive growth—and, as with TikTok and Clubhouse, Discord was catapulted into further popularity during the pandemic in 2020.
---
Clubhouse copycats
Seemingly every social media platform wants to be Clubhouse now. Facebook, Twitter, LinkedIn, Spotify, and Reddit are developing their own features to mimic the live audio chat rooms that made Clubhouse famous. And while many of them are attempting, unconvincingly, to position their copycats as all-new inventions, Slack CEO Stewart Butterfield dropped the artifice and flat-out announced on Clubhouse that he intended to steal Clubhouse's idea. Among the copycats, Twitter Spaces seems to have gotten off to the most promising start, although there are some kinks to work out.
We've put together a list of all the Clubhouse competitors here.
---
Charting Facebook's dominance
Facebook owns four of the world's most popular social platforms, illustrating the extent to which the company was able to consolidate its power over social media over the past decade.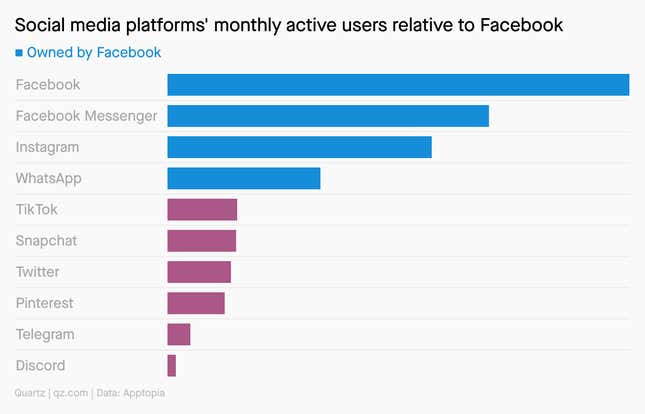 ---
📚 More in this field guide
What is a social media platform anyway?
Can social platforms succeed without moderation?
What makes a social platform cool?
---
Reading list
Instagram, Facebook, Snapchat, TikTok: The social shopping race (Vogue Business) The world's biggest social media platforms are sprinting to reinvent themselves as e-commerce businesses.
Facebook, Twitter and a future of social that's increasingly audio (CNBC) The pandemic created an unexpected boom for podcasting and live audio content, opening the door for Clubhouse and Discord and spurring new investments from Facebook, Twitter, and Spotify.
We need more video games that are social platforms first, games second (Techcrunch) Video games are morphing into virtual worlds where players can just hang out, regardless of whether they're racking up achievements or beating the final boss.
There Are No New Social Networks (The Ringer) This piece from 2017 explores how fervent copycatting drove social media into a period of dull stagnation.
The Stickiest, Most Addictive, Most Engaging, and Fastest-Growing Social Apps—and How to Measure Them (Andreessen Horowitz) The famed venture capital firm lays out its argument for a broader definition of "social media" and the numbers that meaningfully convey which platforms are growing and which are stagnating.
---
📣  Sound off
What'd you think of this email?
In last week's poll about business and racial justice, 49% of respondents said there hasn't been much progress. We hope the coming years will be better.