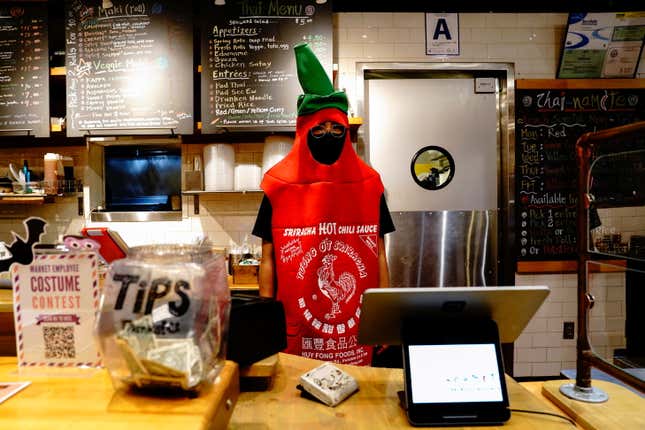 Should you keep investing in Big Tech?
It's gettin' hot in herre
Huy Fong Foods' sriracha sauce—bottled in the instantly recognizable plastic bottle with a green squeeze cap and a large rooster logo—has inspired numerous tattoos, songs, merch, and even a custom Lexus car.
Everyone from TV show host Alton Brown to venture capitalist Chris Sacca stocked up bottles of the iconic hot sauce amid the "#srirachapocalypse" in 2013, when Huy Fong's factory was ordered to shut down for emanating odors so spicy they were a "public nuisance."
In 2022 and 2023, there has been an even bigger #srirachapocalypse, during which Huy Fong has claimed that the red jalapeño peppers used to make their version of sriracha have become unavailable due to supplier issues. Many small businesses have had to switch to less familiar, and beloved, hot sauces, and some devotees have resorted to paying far above normal supermarket prices for bottles on resale sites like eBay.
The company has reportedly spent no money on advertising—it's earned its fabled status completely by word-of-mouth. "Run free, my child, and spread the sweet, spicy gospel of truth," the company's website reads.
Few know the American origins of the iconic "rooster sauce." Come join the club. No free bottle of Huy Fong sriracha included.
---
By the digits
18,000: Sriracha bottles (of varying sizes) Huy Fong has the capacity to fill every hour
100 million: Pounds of chilies it uses every year
16: The number of hours Huy Fong's factory typically runs per day
9.9%: Its share of the US's hot sauce market
15: Bottles of Huy Fong sriracha Mai's, a popular restaurant in Houston, Texas—home to one of the largest Vietnamese communities in the US—goes through each day
$86.50: Price for a two-pack of Huy Fong sriracha at a Texas Walmart in July of 2023, as reported by the San Antonio Current
17 ounces: Amount of sriracha in each bottle
$31.50: Price for a 28-oz bottle of Huy Fong sriracha on Walmart.com

---
Origin story
The original sriracha sauce—a mix of chili peppers, distilled vinegar, garlic, salt, and sugar—was created by Gimsua Timkrajang and Thanom Chakkapak more than 80 years ago in the port town of Si Racha, Thailand. Though it began as a homemade recipe, friends and family soon encouraged them to sell it commercially. The family eventually began distributing it under the brand Sriraja Panich, which was bought by Thai food manufacturing giant Thaitheparos in 1984.
But the man responsible for inspiring much of the American mania for sriracha is Chinese-Vietnamese immigrant David Tran. In 1979, amid the Sino-Vietnamese War, Tran fled Vietnam on the Huey Fong and settled in Los Angeles the following year. He began his operation by grinding peppers by hand and selling the hot sauce from his blue Chevy van.
Soon enough, the hot sauce gained traction, especially among Asian restaurants. Just six years later, he was able to move his operations from a small shop in Chinatown to a 68,000-square-foot factory in Rosemead, California.
Today, the brand has maintained its cult following through its (once) cheap price and simple recipe. "Make a rich man's sauce at a poor man's price," Tran told the LA Times in 2013.
---
Quotable
"Hot sauce must be hot. If you don't like it hot, use less. We don't make mayonnaise here."
---
Pop quiz
Which of the following is not an alternative to Huy Fong sriracha currently on the market?

A. Flying Goose sriracha sauce
B. Three Mountain sriracha sauce
C. Texas Pete Sriracha Cha! sauce
D. Hidden Dragon sriracha sauce
The answer to the quiz is at the bottom of this extra-spicy email.
---
Fun fact!
The sauce is literally out of this world: A bottle of Huy Fong sriracha has made it on the International Space Station.
---
Watch this!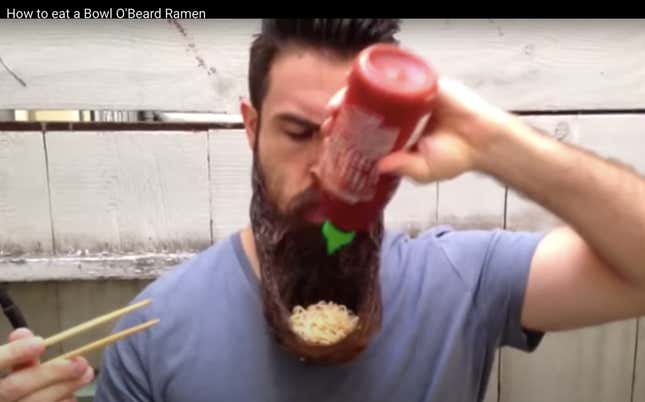 I'll stick to bread bowls

One superfan devised a creative way to eat sriracha-doused noodles—using his beard as a bowl. Watch, if you have a strong stomach.
---
Charted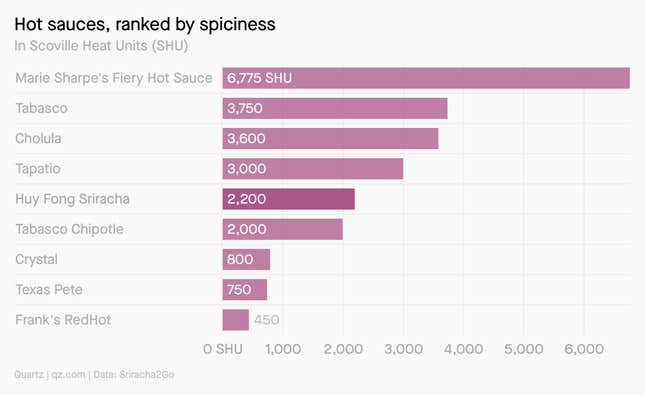 Spicing things up
The Scoville scale ranks how spicy peppers are by the amount of capsaicin they contain. Huy Fong's sriracha measures at around 2,200 units.
By comparison, the hottest pepper in the world, the Carolina Reaper, comes in at more than 2 million units. It's so spicy that it even sent someone to the ER: the man experienced severely painful headaches for several days after eating one (he was fine).

---
Poll
How big of a sriracha fan are you?
I add sriracha to my sriracha
I'm a casual fan
Sriracha is too spicy for me 😔
 Cool off with a refreshing dip in our poll.
---
💬 Let's talk!

In last week's poll on De La Rue, an overwhelming majority of you said the Maldives' watercolor-finish rufiyaa notes are the best-looking De La Rue banknotes, and we wholeheartedly agree.
🤔 What did you think of today's email?
💡 What should we obsess over next?
---
Today's email was written by Jasmine Teng, and edited and produced by Annaliese Griffin.
The answer to the pop quiz is D. There is no Hidden Dragon sriracha sauce—yet.