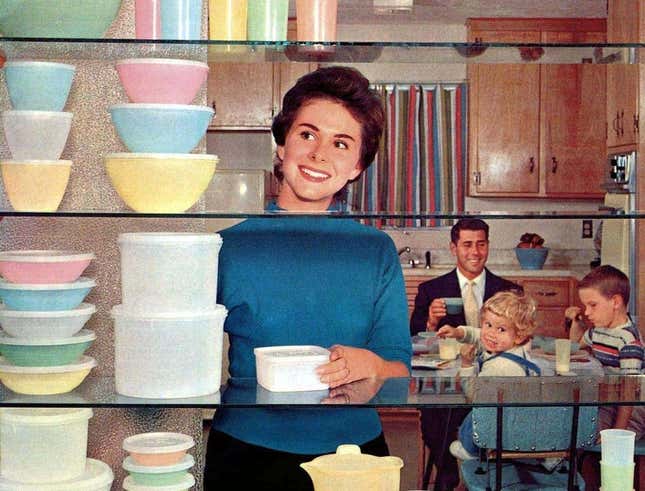 Put a lid on it

In the late 1940s, chemist Earl S. Tupper sealed his vision for a new kind of houseware—a storage container that snapped shut like a paint can. A former World War II engineer who developed plastics for the US Army, Tupper had spent his postwar years modifying polyethylene for the modern household. His invention: toppable bowls that kept food fresh, all made of lightweight, pastel-pretty plastic. But while his eponymous Tupperware earned accolades from the design world, it wasn't moving off store shelves.
Why a tightening of credit conditions could lead to a weak economy
That's when Tupper learned that a single woman's sales operation was out-delivering department stores. Under the home-party marketing strategy of a certain Brownie Wise (more on her later), Tupperware took off. Poly-plastic containers and lids began to stack up in kitchen cabinets across America. In three years, Tupperware sales skyrocketed to today's equivalent of $275 million. As it turns out, partying with products can turn a pretty penny.
Now people are stocking up on the sealing containers again—this time in the markets, as amateur investors and seasoned short sellers trade Tupperware up to meme-stock status.
So why did the bowl sets once swapped in living rooms end up sweeping the stock exchange? Let's take a look under the lid.
---
By the digits
77: Number of years Tupperware has been in business
20,000: Number of Tupperware dealers, distributors, and managers by 1954, eight years out from its start
3.2 million: Number of people individually selling Tupperware today, with 600,000 "active" sellers, according to the company
100+: Pieces in the Tupperware collection at the Smithsonian National Museum of American History
27: Years the company has been publicly traded, after making its stock market debut in 1996
50%: How far Tupperware shares plunged in April 2023, to their lowest price in history, after the company announced it was in danger of collapse
400 million: Number of times shares changed hands in the last week of July 2023, likely its highest weekly volume ever, after meme stock traders jumped on the brand
300%: How much Tupperware shares surged that month
97%: How far the stock remained below its all-time high
---
Origin story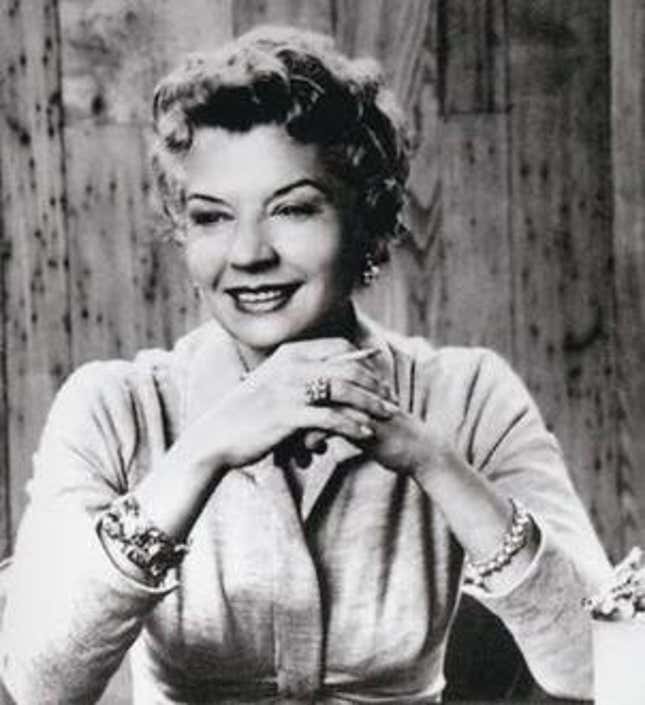 The grande dame of direct selling

Depending on who you consult, Brownie Wise was either an unlikely titan of the homewares industry or exactly the person to inspire a domestic revolution. A divorced single mother with an eighth-grade education, a 40-year-old Wise was living with her own mother, raising her son, Jerry, and selling Stanley brooms to bring in money in the late 1940s.
That's when she picked up the plastic containers she would stack into an empire. But in contrast to the traveling salesmen who turned up on doorsteps, Wise had pioneered her own practice: she wouldn't hold presentations. She'd hold parties.
To sell Tupperware, Wise enlisted party hostesses, who would receive free products for opening their homes—and social circles—to her. Wise wheeled out games, like one that had the women write newspaper ads to sell their spouses ("Husband for sale. Balding, often cranky, stomach requiring considerable attention!"). She held raffles, with winners landing trinkets from her own wardrobe. She would pass around the goods, too: One regular party trick involved tossing a Tupperware bowl filled with water to show off its novel airtight seal. Then she'd take orders.
By the early 1950s, Wise was ordering more than $150,000 worth of Tupperware a year (about $1.9 million today) for her and other women she'd recruited to sell. When he heard about the woman selling out his wares, Tupper tapped Wise to become his vice president of marketing. It was an unprecedented executive role for a woman at the time.
Under Wise, sales soared. She didn't stop at parties, either. She cooked up tactics like Tupperware Jubilee, a four-day sellers' festival where sellers wore bowls for hats and jumped into activities like digging up buried treasure. She wrote a weekly column in the company magazine; she published a self-help autobiography. She became the first woman on the cover of BusinessWeek.
Meanwhile, Tupper was starting to feel his products were being overshadowed. When a corporate buyer suggested they wouldn't commit to a company with a woman executive, Tupper fired Wise. She'd get $30,000 in compensation. He'd sell the company for $16 million.
But Wise's legacy endures, having sold women on the idea that they could move up in the world without leaving the house. She managed to build a business within the confines of the cult of domesticity—and subvert it from the inside.
---
Quotable
"My mama done told me / When I was in pigtails / My mama done told me / 'Hon, we're havin' a party / A Tupperware party / We're gonna have us some fun…'"
—Singer, Florida citrus ambassador, and eventual anti-gay activist Anita Bryant in a performance at the 1964 Tupperware Jubilee in Orlando
---
Take me down this 🐰 hole!
Tupperware's direct-sales dynasty

But Wise's sales model wasn't all raffles and singalongs. Her living room parties left a legacy that changed the very course of domestic direct sales. Today's product parties have also been co-opted by a certain kind of company: multi-level marketing organizations (or MLMs), which allow independent contractors to sell products directly to customers, then recruit more sellers and (crucially) earn commissions on their sales.

Say a seller begins her business with her Herbalife smoothies, her LuLaRoe leggings, or her Young Living oils. That seller recruits others to her team to join up, start selling merch, and, yes, kick back a portion of her proceeds to the ol' team coach. The recruit recruits more sellers. The recruit's recruit recruits more. The team map starts to take on an uncanny shape—something, well, triangular in form. Or perhaps: pyramidal?

MLMs take on the tenets of the Tupperware model, using social networks to sell and recruit—and primarily to women, who make up an estimated three-quarters (pdf) of the direct-sales industry. But while coaches at the top can land blingy branded SUVs, company cruises, and thousands—or tens of thousands—of dollars off commissions below them, things look different at the bottom. Nearly half of people who join MLMs end up losing money on them, sometimes to the tune of five figures or more.
---
Watch this!
"Hear that whisper? That's Tupperware's airtight promise to keep food's flavor fresh."

See how mid-century admen addressed America's housewives with this 60s-era Tupperware commercial.
---
Fun fact!
Tupperware has transcended borders and social classes: Even Queen Elizabeth II was said to have eaten her cornflakes from a Wonder Bowl. We do not know whether she burped it first.
---
One 🤑 thing
Meme-stock makings

Now Tupperware itself is abuzz again, this time as a meme stock, or a property that draws investors not because of its inherent value, but its virality. Once it's clear a company isn't doing well, retail traders swarm the shares in an attempt to subvert short sellers; stocks climb and crash. It's market gamification made for the social age.

That's the case with Tupperware, whose stock prices surged this summer. In April, the company announced it was in danger of collapse. Prices plunged to their lowest in history. But by early August, Tupperware shares soared over 700%—not thanks to any change in the company's business model, but to meme investors.

If Tupperware is to follow the fate of meme stock veterans like GameStop or Bed Bath & Beyond, though, hitting meme status is no salve for financial woes.
---
Pop quiz
Which of these is not a real Tupperware product that made it to market?
A. The Tortilla Keeper, a cylindrical safe haven for fresh Mexican fixings
B. The Tupper Canoe, a plastic barge for child's play
C. The Millionaire Shakers, an atomic-age salt and pepper stand for economic aspirants
D. The Circus Caddy, a tent-shaped carrying case for picnic and party snacks
We invited you to our party at the end of this email, where you'll find the answer as a free gift, just for attending!
---
Poll 
In what shape are you keeping your Tupperware cabinet?

🥣 Minimalist: I Kondo'd my kitchen long ago
🥣🥣 Mediumalist: I hold on to a moderate set of storage containers
🥣🥣🥣 Maximalist: It's mismatched bowls and lids all the way down
Answer this question to keep our poll results very fresh!
---
💬Let's talk!
In last week's poll about wet bulb, we asked how you plan to ride out the climate crisis. 17% of you said you can't, 74% of you said nobody can, and 9% of you said you're hoping your underground bunker will do the trick. Best of luck to us all.

🤔 What did you think of today's email?
💡 What should we obsess over next?
---
Today's email was written by Gabriela Riccardi (drowning in takeout containers), edited by Morgan Haefner (always forgot her Tupperware at work) and produced by Susan Howson (definitely thought a Tupperware party was something else for, like, 30 years).
The correct answer to the pop quiz is D., the Circus Caddy. But Tupperware did sell a Carousel Caddy, an early-sixties product made for the age of the TV dinner. The two-tier carrying set held half a dozen Tupperware tumblers and room for snacks, all designed for easy porting from the kitchen to the entertainment room.