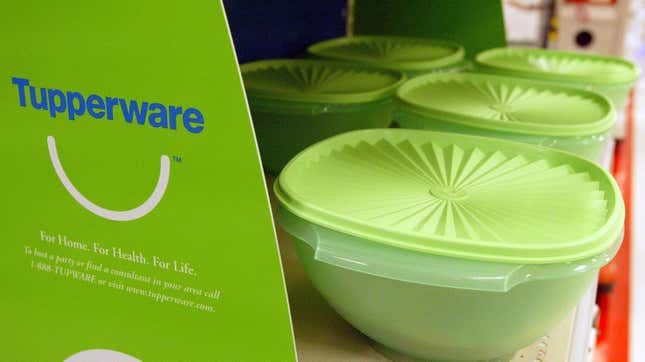 Tupperware has become a full-blown meme stock, joining the ranks of video game retailer GameStop, theatre chain AMC, and furnishings firm Bed, Bath & Beyond. Tupperware's share price jumped by a massive 26% in a single day yesterday (Aug. 1).
Eric Beiley Part II: Where rates are heading
Meme stock companies typically see shares rally because of online virality driving a retailer investors-led push, which is mostly to do with speculation and entertainment rather than a business's fundamental value. The iconic food-storage brand's ticker features among the top 10 stocks to watch on retail trader chatroom Stocktwits. Mentions of the company on Reddit's WallStreetBets have also gone up, as the retail investor community cracks jokes about its rise.
All this while the Orlando, Florida-headquartered firm has been expressing concerns about possibly going out of business. Tupperware is supposed to report earnings today (Aug. 2).
Charted: Tupperware's stock rally
Tupperware's buzzy business, by the digits
768%: Increase in Tupperware's share price over the past two weeks
64 cents: Tupperware's share price on July 19
$5.38: Tupperware' stock closing price on Aug. 1—its highest close since November
$239 million: Tupperware's market value, up from $40 million on July 21, as per data from Vanda Securities
27%: Company shares shorted as of July 15, according to investment data firm MarketBeat.
Quotable: Meme stocks are destined to fail
"This is a record that has been played over and over and over again. A lot of excitement about a stock, some tremendous, exceptional performance in a short period of time and then eventually—just like the laws of gravity— the stock comes crashing down," —Stephen Foerster, a finance professor at Western University's Ivey Business School in London, Ontario, to the Canadian Broadcast Corporation (CBC)
Company of interest: Bed Bath & Beyond
Most recently, the unpredictability and volatility of has really bit Bed Bath & Beyond investors hard. Meme stock investors who held BBBY stock at the time saw their shares' value erode by 99% by the time the company filed for bankruptcy. They didn't pull out before the bubble burst even though the writing was pretty much on the wall—like it is with Tupperware, too.
Tupperware isn't the only stock under threat of going the Bed, Bath and Beyond way. Others like big data analytics firm Palantir and recently-bankrupt 99-year-old trucking company Yellow are also stoking retail investors' interest as their financial health hits rock bottom.
A brief timeline of Tupperware's business woes
Oct. 3, 2022: Deviating from its legacy Tupperware parties and own online sales, Tupperware starts selling in Target stores to reach "brand fans and newcomers alike," CEO Miguel Fernandez announces via a LinkedIn post.
Mar. 16, 2023: Tupperware pushes back financial fillings citing misreporting due to accounting for income taxes and leases.
Apr. 3, 2023: The New York Stock Exchange (NYSE) warns the company that it's at risk of being delisted for breaching compliance by failing to file a financial performance form on time.
Apr. 7, 2023: The company engages financial advisors to help improve its capital structure. It weighs all options, from raising funding to reviewing its real estate portfolio to conducting layoffs.
Apr. 11, 2023: Tupperware expresses "substantial doubt" about its ability to continue.
May 8, 2023: Tupperware says it signed on investment bank Moelis & Co to help explore strategic alternatives. The company also said that it had found additional prior period misstatements in its financial reporting.

June 7, 2023: NYSE raises alarm about Tupperware's market capitalization dropping to less than $50 million, saying it's not in compliance with listing requirements.
June 30, 2023: The company reveals it has signed a waiver with one of its major lenders to buy it time to come up with a solution.
Related stories
📈 Meme stock investors want a bite of the Tupperware stock
🍱 Tupperware's business is nowhere near as airtight as its containers
🏬 After over two decades of door-to-door sales, Tupperware plans more stores in India