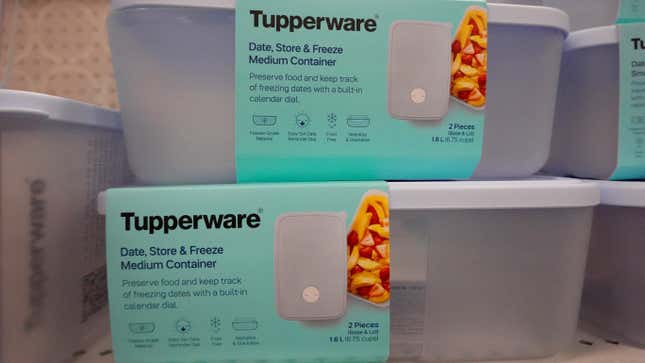 Tupperware's airtight seal holding the company together has developed several cracks.
Eric Beiley Part II: Where rates are heading
The Florida-based kitchenware maker is late on filing its Annual Report on Form 10-K for the year ended December 31, 2022, it said in a press release Friday (Apr. 7). As a result, a violation of its credit facility covenants "is probable to occur" it said.
Citing a liquidity crunch, Tupperware expressed "substantial doubt about its ability to continue as a going concern."

The 77-year-old business of namesake plastic containers has been struggling to keep up with the changing times. Unlike the food stored in its boxes, the company's products as well as marketing and distribution efforts have become stale. While it still retails in over 100 countries, it faces headwinds in each of those markets. Its 56-year-old factory in Greece is shutting down this week, and the company has had to partially or fully fold in countries like the UK, the Netherlands, New Zealand, and Israel. During the pandemic, it teased digital Tupperware parties, but they didn't quite take off. The firm, which has stuck to selling through in-home Tupperware parties and its own website, only started selling at Target as recently as last year to bait younger audiences that are less familiar with the iconic brand.
But such efforts to salvage sales of the plastic boxes in the eco-conscious era of glass, stainless steel, and silicon containers may be too little too late. If the company is unable to secure capital or it falters on its credit agreement, the management will be forced to delay, scale back, or eliminate some—or in the worst case, all—operations.
The stock plummeted 50% on Monday (Apr. 10). It's down almost 94% over the past year.
How Tupperware's stock has crashed, in one chart:
A brief timeline of Tupperware's struggles
Mar. 16: Tupperware disclosed it filed a Notification of Late Filing to buy the Company additional time to complete the Form 10-K due to several items related to its accounting for income taxes and leases.
Mar. 31: Company misses even the deadline established at the end of the extension period.
Apr. 3: Tupperware receives a notice from the New York Stock Exchange (the "NYSE") indicating the Company is not in compliance due to its failure to timely file the Form 10-K. NYSE told the firm to file the 10-K within 60 days or risk getting delisted. Tupperware, which expected this notification, intends to get it done in half the time, but offered no assurance.
Apr. 7: The company says it has engaged financial advisors to help improve its capital structure. It's weighing all options, from raising funding to reviewing its real estate portfolio to conducting layoffs. The firm and auditors still need "further time…to complete the preparation and audit of the financial statements."
Quotable: Tupperware is trying to recover
"Tupperware has embarked on a journey to turn around our operations and today marks a critical step in addressing our capital and liquidity position. The company is doing everything in its power to mitigate the impacts of recent events, and we are taking immediate action to seek additional financing and address our financial position."—Miguel Fernandez, President and CEO of Tupperware Brands
People of interest: Earl Tupper and Brownie Wise
Earl Silas Tupper was a tinkerer and inventor of many things, but only few stuck. Then, while working for the Viscaloid plant, the plastics manufacturing division of DuPont, inspiration struck. Tupper bought a few used molding machines and began making beads and plastic containers for cigarettes and soap. After World War II ended, Tupper received a block of polyethylene from DuPont with the mandate of inventing new peacetime uses for the new material the company had developed during the war. It was in 1946 that he created the first polyethylene bowl with an airtight, watertight cover with its unique "burping" technology. He patented the Tupper seal in 1949.
The "wonderbowl" was first distributed as giveaways with cigarettes and later Tupper even opened a showroom on Fifth Avenue in New York. But the real money was made only after Brownie Wise—a single mother with no formal business training who had been selling huge quantities of Tupperware at home parties—joined the business. For decades, until its own website was launched, Tupperware sold exclusively through home parties.
However, with Wise being celebrated as a sales superwoman, Tupper grew jealous. In 1958, Tupper unceremoniously and abruptly kicked Brownie Wise out of the company. The following year, he sold the company to drug giant Rexall for $16 million and moved to Costa Rica, giving up his US citizenship to avoid taxes.
Charted: Has Tupperware peaked?
Related stories
🏬 After over two decades of door-to-door sales, Tupperware plans more stores in India
🧪 Your BPA-free water bottle may contain another harmful chemical
🍲 Good packaging makes food taste better: A design makeover master explains how