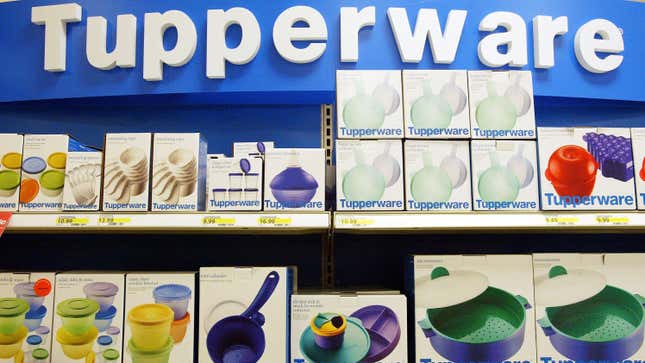 Investors are turning extremely bullish on the Tupperware stock for no apparent reason. Despite signs of trouble at the Florida-based company, including declining sales, its stock has rallied 350% in the last five trading days.
Should you buy McDonald's and Caterpillar stock right now?
With this inexplicable surge, Tupperware has entered the meme stock club, which counts financially-troubled companies like cinema chain AMC and the bankrupt home goods store Bed, Bath & Beyond among its ranks. These meme stocks tend to gain virality online, soaring and crashing in price and high trading volume depending on social media buzz. Their rise has little to do with the stock's fundamental value and mostly to do with speculation and entertainment.
New short squeeze candidate Tupperware likely stoked market interest on the back of an AMC share rally on Monday (July 24). The spike in the largest US theatre market shareholder was sparked by a US court blocking a stock conversation plan that would dilute AMC's share value.
The 77-year-old homeware business, which mades its public debut following a spinoff from Kraft Heinz in 1996, was a prime candidate for meme stock status. "The AMC news last week sent retail traders looking for other meme stocks. Tupperware fit the bill and the [brand] name definitely helps," Matthew Tuttle from investment firm Tuttle Capital Management told the BBC.
One big number: Tupperware's shorted stock
27%: How much of the company's public float was sold short as of July 15, according to MarketBeat.
Charted: Tupperware stock highs and lows
Quotable: Has Tupperware found a rescue buyer?
"There is some optimism that a turnaround may be in progress and an investor has been found to help the company. However, there is no evidence of this being the case, so any optimism is based on hope rather than certainty."—Neil Saunders, managing director of retail at the GlobalData consultancy, to the BBC
A brief timeline of Tupperware's rise and fall
October 2022: Deviating from its legacy Tupperware parties and own online sales, Tupperware starts selling in Target stores to reach "brand fans and newcomers alike," CEO Miguel Fernandez announces via a LinkedIn post
March 2023: Tupperware pushes back financial fillings citing misreporting due to accounting for income taxes and leases.
April 2023: The New York Stock Exchange (the "NYSE") warns the company against breaching compliance by failing to timely file the Form 10-K. It gives the company 60 days to file the form10-K or risk getting delisted. The company, which intends to provide the documentation in half the time but still raises doubts about its ability to continue, engages financial advisors to help improve its capital structure. It weighs all options, from raising funding to reviewing its real estate portfolio to conducting layoffs.
May 2023: Tupperware said it signed on investment bank Moelis & Co to help explore strategic alternatives. The company also said that it had found additional prior period misstatements in its financial reporting.
Related stories
🍱 Tupperware's business is nowhere near as airtight as its containers
🏬 After over two decades of door-to-door sales, Tupperware plans more stores in India

🍲 Good packaging makes food taste better: A design makeover master explains how