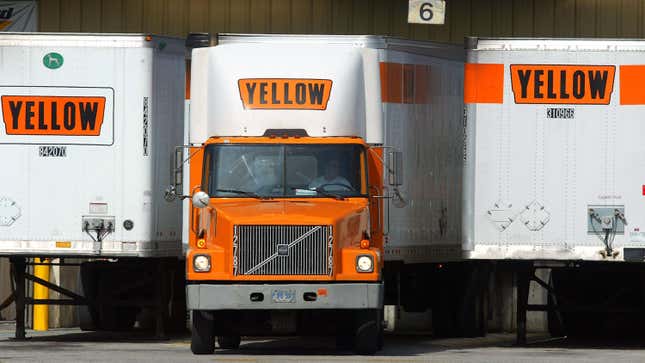 One of America's oldest and largest trucking companies, Yellow, is shutting operations, the Wall Street Journal reported yesterday (July 30), citing internal notices sent to customers and employees.

Should you keep investing in Big Tech?
The Nashville-based company, which specializes in less-than-truckload (LTL) shipping where smaller cargos from multiple customers are combined on one trailer, hasn't made a formal announcement yet. But the Teamsters Union, which represents 22,000 of the 30,000 Yellow workers whose jobs are on the chopping board, said it was served legal notice today (July 31) that Yellow is ceasing operations and filing for bankruptcy.
Yellow, formerly YRC Worldwide, is poised to issue a public statement on Monday about "the state of the company and the operation," according to trade publication FreightWaves, which also obtained internal documents.
The decision to fold hasn't come out of the blue. Despite rescue attempts, the firm has been weighed down by a series of mergers it has struggled to consolidate and a mounting pile of debt. The cash-strapped company's troubles have recently been compounded by its tussle with Teamsters.
A brief, recent timeline of Yellow's road to bankruptcy
June 27: The trucking giant sues the Teamsters union for $137 million, saying it triggered a "death spiral" for the company by blocking proposed restructuring changes to modernize operations.
July 18: Yellow misses contributions to Central States Pension and Health Funds on July 15, and says it won't pay those due Aug. 15 either.
July 23: The company narrowly avoids a Teamsters strike by getting a 30-day extension on payment contributions.
July 26: Financial services company Stephens estimates Yellow is burning $9-10 million per day, signalling it's inching closer to its demise. The same day, Yellow's senior vice president of sales informed her staff that Friday (July 28) would be their last day, trade publication FreightWaves reports.
July 27: Notices of shutdown are posted across several locations. The same day, the company puts its third-party logistics broken, Yellow Logistics, up for sale.
Quotable: Yellow's downfall was a long-time-coming
"Today's news is unfortunate but not surprising. Yellow has historically proven that it could not manage itself despite billions of dollars in worker concessions and hundreds of millions in bailout funding from the federal government. This is a sad day for workers and the American freight industry." —Teamsters general president Sean M. O'Brien in a statement on July 31
Rabbit hole: Yellow's pandemic rescue was only temporary
Back in 2020, Yellow got a $700 million federal pandemic loan. In exchange, the Treasury department took a 30% stake in the company, whose value has now plunged below a dollar per share.
"Yellow had been rated non-investment grade for over a decade before the covid-19 pandemic, struggled financially for years before the pandemic, and was at risk of bankruptcy before it obtained a loan from the Treasury," a congressional report published last month concluded.
Yellow had ended 2019 with only $109 million in cash—not nearly enough "to absorb any adverse events," according to the report. To convince federal officers it would go under without the financial lifeline, the company spent more than half a million on lobbying in 2020—well above its $80,000 contribution in 2018—and several senators and congress reps sent the treasury letters, urging it to give Yellow the loan.
Three years later, the company still struggled for cash. As uncertainty plagued the business, major customers, including "a large national freight brokerage" and "a few big box retailers" pulled their freight off the Yellow network, according to a July 20 research note written by TD Cowen analyst Jason Seidl. That placed "further stress on Yellow's weak liquidity position, materially raising the probability of bankruptcy."
Yellow's business, by the digit
9%: Yellow's current LTL market share, down from 26% more than a decade ago. Close rivals like Old Dominion, Saia, and FedEx Freight, will pounce to fill the gap when the major player leaves
30%: Volumes Yellow has lost in Teamsters negotiations over the last two years, according to Ken Hoexter, senior transportation anaylyst at BofA Securities
$14 to less than $1: Decline in Yellow's share price since the end of 2021
$35 million: The liquidity threshold Yellow has to maintain, according to its agreement with investors
$80 million: What Yellow obtained from the sale its "obsolete" terminal in Compton, CA for, according to its July 7 regulatory filing, which it used to reduce debt. Yellow "would have at least 23 other locations/terminals which could be sold for hundreds of millions of dollars which could be used to substantially reduce its debt," as per Mike Regan, co-founder of TranzAct Technologies, which manages transportation services for retailers.
Related stories
🚗 An Ohio EV maker filed for bankruptcy and sued Taiwanese chipmaker Foxconn on the same day
✈️ Maersk is no longer just a shipping company
🛁 How Bed Bath & Beyond lost the fight to stave off bankruptcy