Hi Quartz members!

Enjoying this newsletter? Let us know; we'd love to hear from you.
---
5 things we especially liked on Quartz
🤖 The world's most sought-after hardware. There is no hotter commodity in the tech world right now than Nvidia's H100 chips. Michelle Cheng examines the race between computing firms, venture capital investors, and national governments to snap up the processors to power generative AI.
🖼️ Art for apes. Is the art on Sotheby's auction block only meant for serious art investors? Or were crypto bros duped into speculating when they bought up Bored Ape Yacht Club NFTs? Diego Lasarte sorts through the financial wreckage of an auction lot caught up in a lawsuit that shows how difficult it is to treat art strictly as a financial asset.
🎭 The other mandate. According to the minutes from the most recent meeting of Federal Reserve policymakers, there's a growing feeling in the group that the risks before them "had become more two sided." In other words, if they keep raising interest rates, it's increasingly likely they'll undermine the Fed's other big mission: maximizing employment. Nate DiCamillo reads between the lines and sees a reemergence of the tensions from the Fed's dual mandate.
🚨 Not just Maui. While the world was captivated by the arresting footage of the wreckage in Lahaina, climate change was wreaking havoc in plenty of other places. Sofia Lotto Persio surveys the increasingly affected landscape in China, Norway, Canada, India, and elsewhere.
🚀 SpaceX's leaked financials. Uber, Amazon, Tesla—almost every tech giant once famous for spending exorbitantly to secure its market dominance has now had its day of reckoning. But at Elon Musk's SpaceX, the focus clearly remains on investing in space industry supremacy. Tim Fernholz offers five big takeaways from analyzing the company's financial picture.
---
5 great stories from elsewhere
🐝 About bees. The American food economy is bee-powered. Each year, the fuzzy pollinators help produce about one third of US crops. But they've been dying in record numbers, inspiring the rallying cry of "Save the bees." The Ringer suggests the conservationist sloganeering may be misleading, though.
🙌 Tech church. All Tech is Human (ATIH), a Manhattan-based nonprofit, is devoted to bringing ethics and justice to the tech space. Greg M. Epstein, humanist chaplain at MIT and Harvard, has pondered whether ATIH might be akin to a religious congregation devoted to technology. Writing for the MIT Technology Review, he discusses why ATIH has theological undertones, but may ultimately be unworthy of faith.
📦 Return, please. A sweet part of the online shipping experience is the offer of free returns. You can try on a couple colors of that sweater you like, with seemingly no extra burden to your wallet in the end. But, of course, nothing is free. The New Yorker takes a dive into the multibillion-dollar industry of reverse logistics.
🕵️ Agatha's neighbors. There is a concrete apartment complex in Belsize Park, London, that was once home to mystery novelist Agatha Christie, Bauhaus founder Walter Gropius, and incidentally, several communist spies. A story from JSTOR Daily discusses the historical figures that lived in the building during the 1930s and '40s, and its downstairs restaurant and club, "Isobar," which became a bustling hub for intelligentsia (and intelligence).
🏨 Criminal crib. Katajanokka in Helsinki, Finland, was once a notorious prison. The building, which dates back to 1837, is now a four-star Marriott Hotel. The Points Guy gives a thorough review of the former lock-up, which still looks like a place of detention except with some swirly-patterned carpeting in the hallways. There's even one jail cell left intact, and breakfast is reportedly delightful.
---
What to watch for this week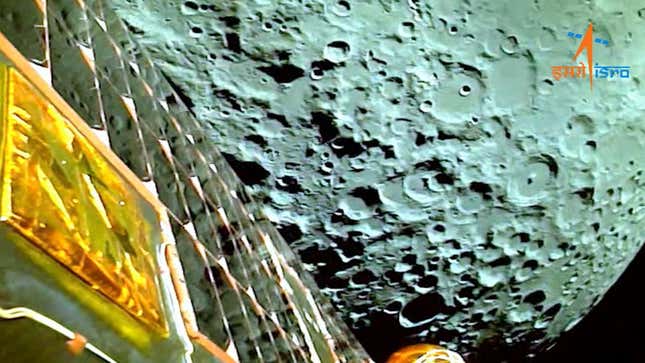 Here's what our newsroom will be watching next week:
Monday: Zoom holds an earnings call; we'll be listening to what the company says about its recent AI fiasco and return-to-office policy
Tuesday: South Africa hosts the 15th BRICS Summit, where heads of government from Brazil, Russia, India, China, and South Africa will talk international relations (Russian foreign minister Sergey Lavrov is expected to attend in place of president Vladimir Putin)
Wednesday: India's Chandrayaan-3 (shown above) is scheduled for touchdown on the Moon
Thursday: Chinese internet company NetEase reports earnings
---
Thanks for reading! Here's to the week ahead, and don't hesitate to reach out with comments, questions, feedback, climate disaster photos, and unique hotel site reviews. Sunday Reads was brought to you by Heather Landy, Julia Malleck, Morgan Haefner, and Susan Howson.