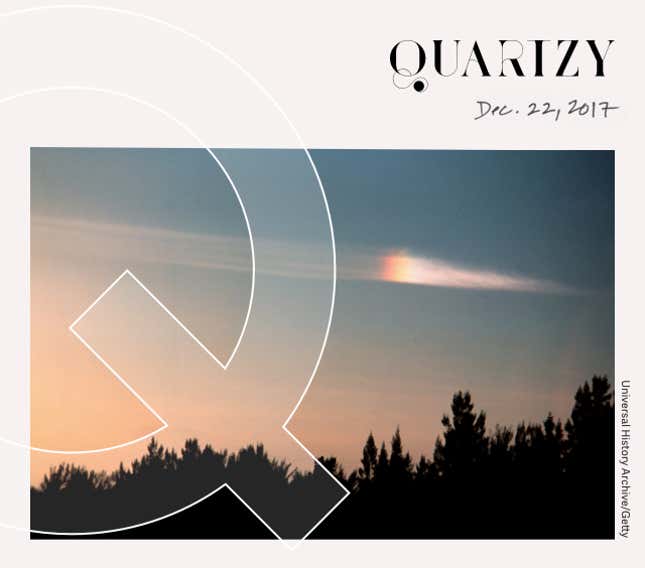 Happy Friday!
As we enter the twilight of this year, many are already wishing 2017 good riddance, sayonara, don't let the door hit you on the way out. By many measures, and for many people, this has been a terrible and traumatic year. I will not soon forget watching Trump invoke "American carnage" on Inauguration Day in January. As I sat alone in my new home in Los Angeles, while rain bucketed down outside, I felt afraid and exhausted, not even three weeks into the new year.
But just 48 hours later, I found myself in a sea of women, men, and children, marching through sunny downtown LA, surrounded by pulsing drums, unified chanting, and colorful—even funny!—protest signs. I was not alone. I was part of a powerful, positive, global mass mobilizing to support and protect women's rights, the environment, and marginalized and vulnerable people.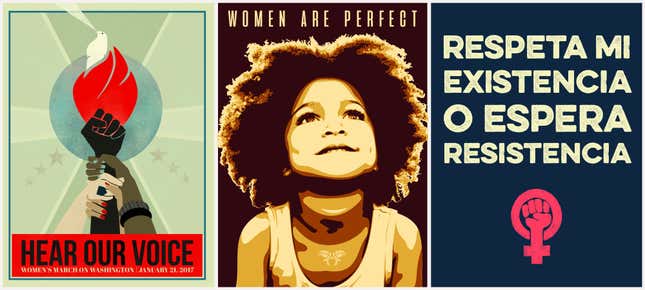 When the crowds dissolved several hours later, I decamped to a taqueria with friends and ate what remains my single favorite taco of 2017 at an outdoor table in a parking lot. That night, at a neighborhood bar, the DJ played Beyoncé's "I Ain't Sorry," and women crowded a tiny dance floor, wagging their fingers and yelling along. My body was tired, but my spirit was buoyed.
Of course 2017 brought tragedies to many that were could not be shaken off so easily. There were also major victories: an awakened sense of civic duty and activism replacing feelings of helplessness; the honoring of the transcendent, poetic movie Moonlight at the Oscars; an uptick of women and minorities running for public office and winning; and the beginnings of a vast cultural reckoning over societies' acquiescence to sexual aggression.
Sometimes it's hard—and even guilt-inducing—to indulge in moments of joy amidst serious turmoil. But it's also important to remember there's still inspiring art, delicious food, and natural beauty to appreciate all around us. Much of this newsletter and our stories on Quartzy, our lifestyle and culture site, is about finding the things, big and small, that make us—and we hope, you—feel energized, happy, and human, even in difficult times. Here, in no particular order, is just a small handful of the bright spots that we'll continue to celebrate throughout the holidays and into the new year: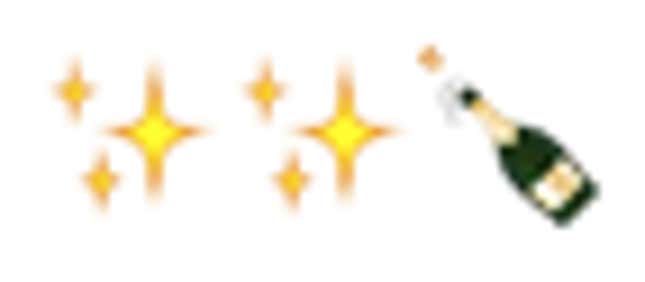 Squatting. This primal posture opens your hips, lengthens your spine, makes you feel grounded, and as Rosie Spinks explained, can reacquaint you with the importance of "floor life."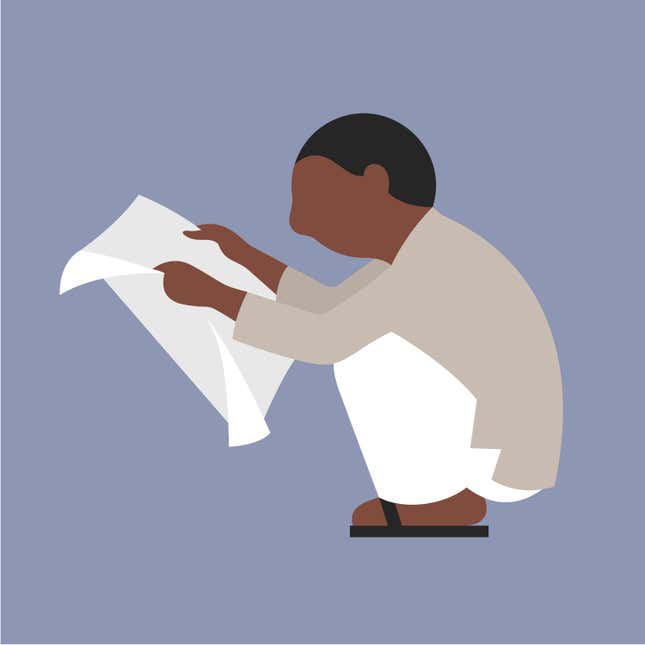 Amaro. For example, Sfumato Amaro Rabarbaro, a smokey rhubarb bitter liquor which Indrani Sen mixes with equal parts red vermouth and rye on ice, and then tops with Gosling's ginger beer.
The Rock. The American movie star and fitness guru's undying gratitude, optimism, and "quest to shove everyone on Earth a little closer to greatness through sheer force of will," was documented by Corinne Purtill. The Rock himself called this "a motivating read," and I agree.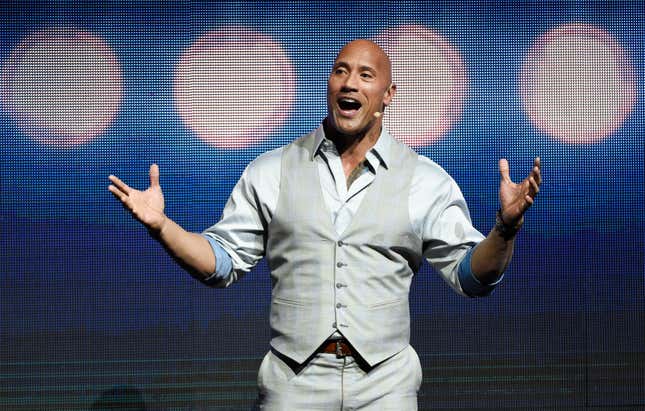 Posh breakfasts. Anne Quito's ritual of using an elaborate breakfast—often in a swanky hotel where she isn't staying—as a cultural introduction to a new place is my favorite travel tip of the year.
Flying low-cost, long-haul. But do it right: If you follow Rosie Spinks' tips for flying Norwegian (including when to pay a little more for a bulkhead seat, for example) the airline is every bit as good—if not better—than its competitors.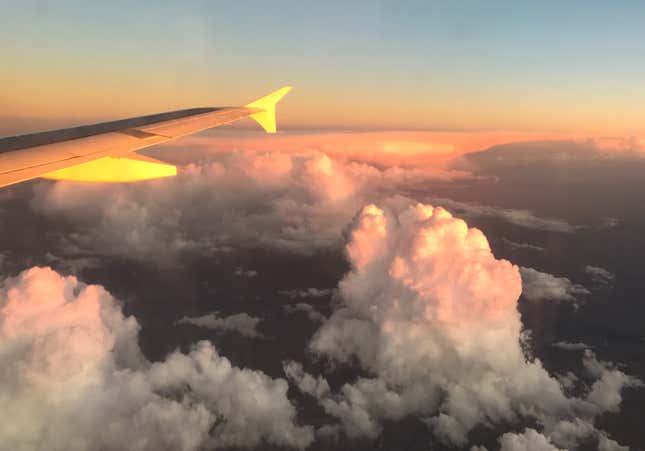 Switching from coffee to tea. Numi Aged Earl Grey on the daily and Bellocq No. 47 when it's treat time, with good milk and honey always.
The Leftovers. "The Leftovers showed a way to outlive the despair of a chaotic world," writes Adam Epstein, of the show's final season. "Reach out into the dark and grab somebody's hand."
#5wordbookreview. On Quartzy's Instagram account, we've been posting five-word book reviews of our recommended reads, old and new. Kira Bindrim's of Manhattan Beach has been stuck in my head like a song lyric, as I read the novel: "Mystery and history meet underwater." Tag us @quartzy in yours!

Lady Bird. Starring Saoirse Ronan as a "delicious and daring weirdo" of a teenage girl who isn't punished or ridiculed, this film made me laugh and cry, and got a unanimously positive critical reception.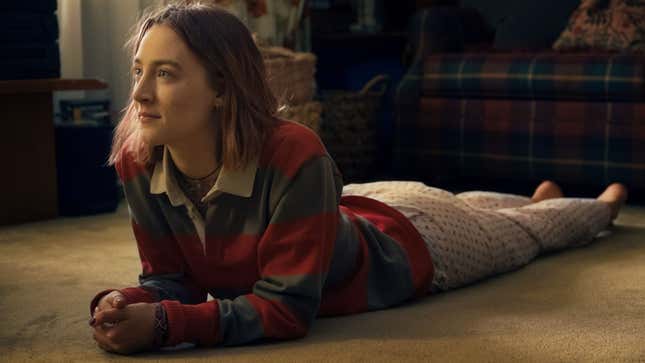 Dawn patrol. Dragging myself out of bed early to do something nice before work—ideally an hour of surfing, but often, just a 30-minute swim at the public pool—improved countless weekdays of 2017.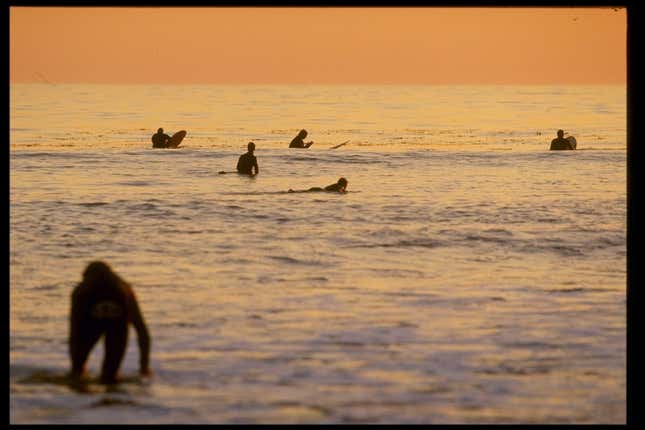 Isness. Setting aside time to do nothing also improved some days.
Really good candles. "I had a small, sturdy flame and snow falling outside my window," writes Sarah Todd of her gateway candle. That one smelled like pancakes, but she's since discovered high-end burnables that evoke Russian samovars and smoking birch. Get one!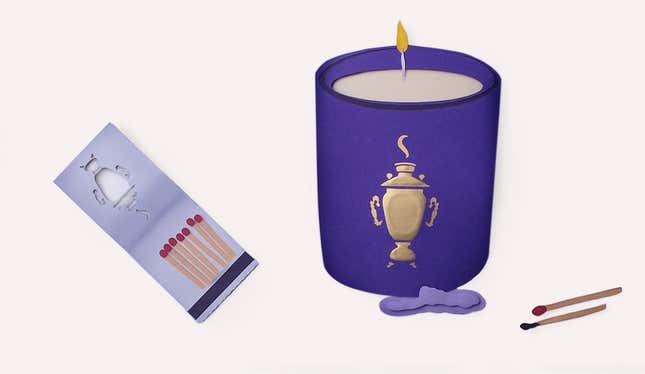 Fake Christmas trees. And Jackie Bischoff's argument for just making up your own traditions if the existing ones aren't serving you.
GLOW and Big Little Lies. These two shows proved that great stories have multiple strong female characters—and they're both getting second seasons.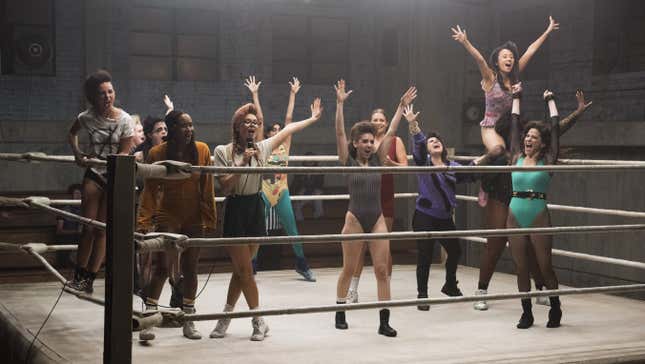 Laura Owens' nature scenes. At the Whitney in New York, you can still witness the whimsical beauty of Laura Owens' monkeys, bears, and butterflies.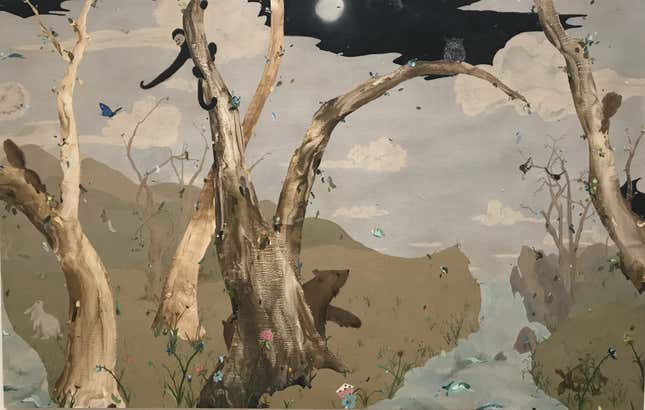 A Charlie Brown Christmas. If this time of year finds you, like me, a little bit in the holiday spirit but also a little bit on the edge of a nervous breakdown, you might consider queuing up the Vince Guaraldi Trio's album, A Charlie Brown Christmas and taking a few deep breaths. When I suggested as much on Instagram, one follower also recommended Elvis's Classic Christmas Album for similar purposes.
I'll be away next week—hopefully preparing to celebrate New Year's Eve with caviar on potato chips and caramel sauce-soaked date cake—so you can look forward to a Dec. 29 letter from Quartz's amazing Bot Studio editor, Emily Withrow. Thank you, readers, for being one of my bright spots in 2017. Have a great weekend and happy holidays!
[quartzy-signature]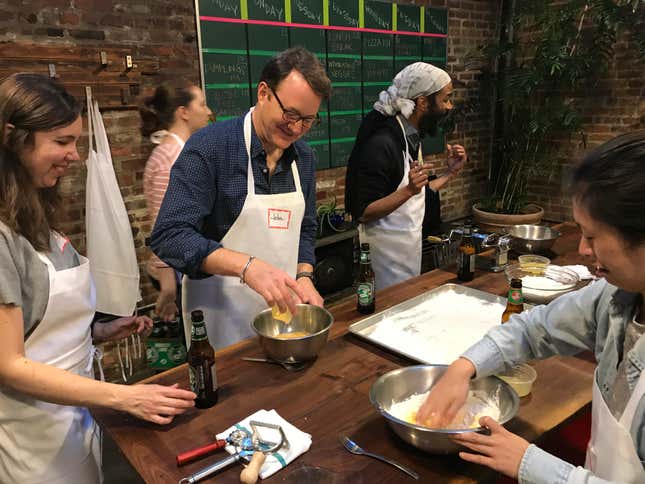 Oh yeah, Christmas! It's on Monday. If you find yourself in need of a last-minute gift, don't shell out for overnight shipping or fight the panic-shopping crowds. Instead, give your loved ones experiences, subscriptions, or memberships that will delight them well after the moment of unwrapping, which—as Marc Bain writes—we focus too much attention on. Think museum and zoo memberships, book club and newspaper subscriptions, concert and theater tickets, wine tastings and cooking classes, and crafty and sporty lessons to bring hobbies to the next level. Here's a handy guide—and as Eshe Nelson writes, if you give an experience you can join in on, then you've given the rare gift of quality time. (Below, members of the Quartz product team demonstrated this principle at their recent pasta-making class.)