Happy Friday!
Back in the 1800s,  proponents of the US temperance movement set the stage for Prohibition by suggesting that Americans had a drinking problem, and should "temper" their alcohol use. The movement was spurred by many factors, including the religious revival of the second Great Awakening, the fact that being drunk on the job was unsafe in the factories of the Industrial Revolution, and the "gentle moral guidance" of groups like The Woman's Christian Temperance Union, who quietly prayed at establishments that served alcohol.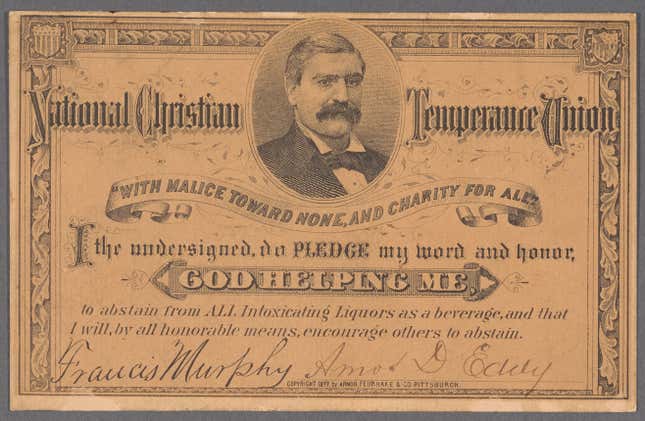 Today, those gentle moral guides might look something like Ruby Warrington—the author of the 2018 book Sober Curious, which has become something of a bible for a new temperance movement. The book promises "blissful sleep, greater focus, limitless presence, and deep connection awaiting us all on the other side of alcohol."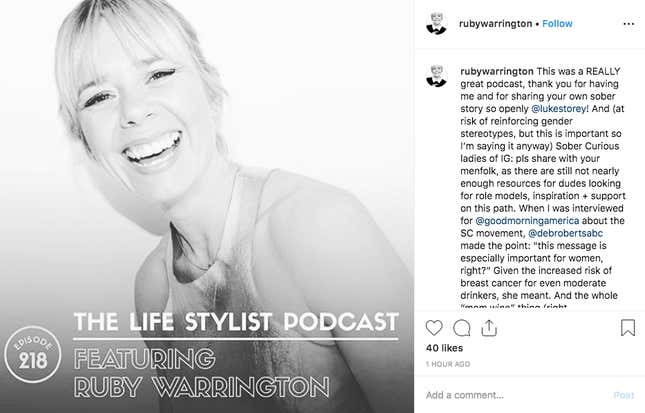 Sober curiosity is different from plain old sobriety. Some "sober curious" people still drink a bit—just, you know, mindfully—and the religious fervor of yesteryear has been replaced by a devotion to the church of wellness, as you can see in this modern-day "Teetotaler's Manifesto." (Our obsession with job productivity, however, hasn't evolved much since the Industrial Revolution.)
---
The stats back this up. Worldwide alcohol consumption declined in 2018, and a survey by Nielsen and the Harris Poll found that about half of regular drinkers in the US are trying to curb the habit—the highest percentage of whom fell in the 21-34 age range. Sobriety: It's not just for the pregnant, addicted, and Whole-30 crowd anymore.
The booze industry is responding by developing no-alcohol options, from the new Heineken 0.0 to the plant-based "social elixir" Three Spirit and "euphorics" like those from Kin Distillers, which the New York Times' Alex Williams described as "what CBD is to marijuana: a buzz-free buzz, vaguely akin to a CBD 'body high.'" (Also, more woo-woo than a Heineken.)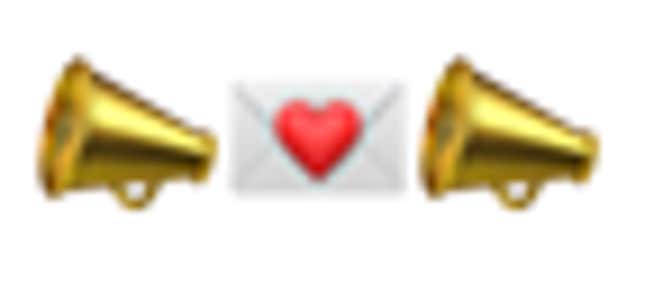 Love Quartzy? Check out the Quartz Obsession, QZ's daily interactive email for curious minds. I'll be writing one next week on temperance—chock full of forgotten histories, surprising facts, and vital stats on sober curiosity.
Low-key drinking. There's a difference between acknowledging the benefits of a hangover-free day and abstaining from alcohol entirely. For light imbibing inspiration, let's look to the bars of Europe, where low-proof apéritifs—about 15-25% alcohol by volume (ABV), versus the 40-50% found in hard liquors—are served to stimulate the appetite before a meal.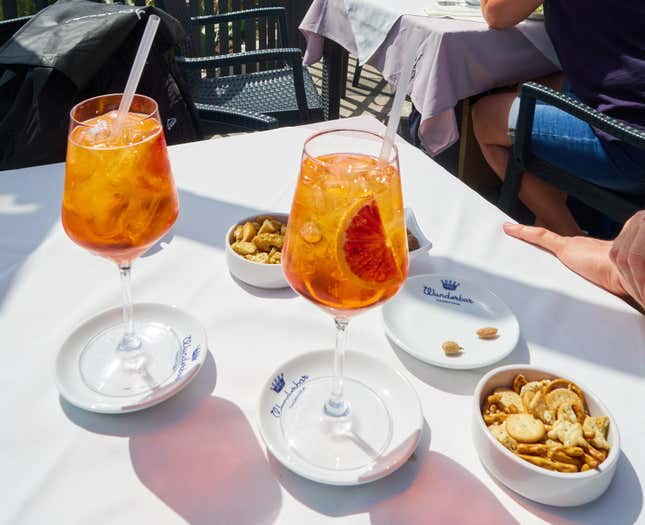 The ubiquitous Aperol Spritz is an example of an apéritif (or an aperitivo, because it's Italian), but it's far from the only one. So even if you consider it the cocktail equivalent of a unicorn pool float, there are a bunch of alternative, perhaps even superior, spritzes you could try.
If you're not a spritz-er, the bars of Barcelona have the hora del vermut, in which red vermouth is often served over ice with a splash of soda, and garnished with a wedge of orange and a big, salty Spanish olive, like so.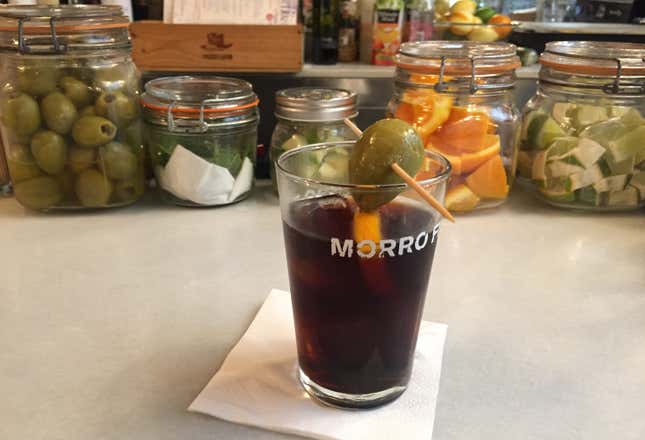 Stateside, some interesting new players are upping the offerings. Lo-Fi Apéritifs—a San Francisco-based collaboration behind Hendrick's gin-maker Quaker City Mercantile and E.&J. Gallo Winery—launched in 2016, and will soon be available in Whole Foods nationwide. Lo-Fi makes sweet and dry vermouths and Gentian amaro, an herbaceous blend that gets its Instagrammable hot-pink hue from hibiscus.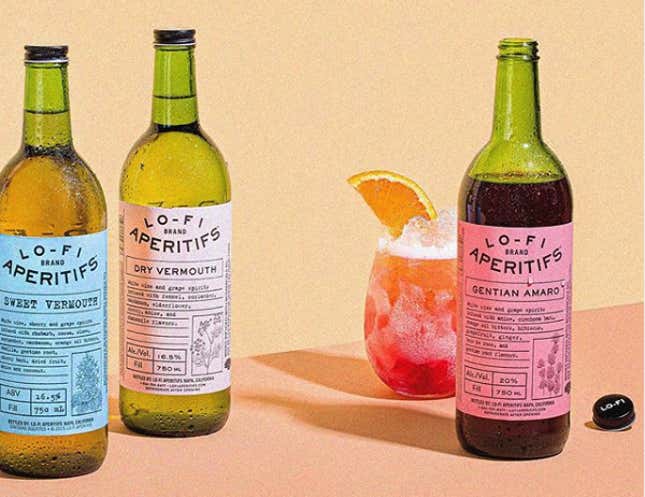 Lo-Fi recommends mixing the amaro with club soda, ginger beer, or even a lager—and offers many more low-ABV recipes on its website. Meanwhile, Haus, a spanking-new apéritif from a northern California couple, is poised to test millennials' desire to buy low-alcohol, low-sugar apéritifs online.
---
We've got options. When I went to dinner with my friend Megan last week, I did not (for once) feel like drinking. So it was a relief that the bar offered a concoction of lime juice, orgeat, cucumber, and mint called an "Offside," which I could order without making a big deal about abstaining.
The Offside came served over beautiful crushed ice, with a mint leaf sticking out. It did not make Megan feel that she was drinking her mezcal-based cocktail alone, and did not make me feel like a nerd. (Note to bars and restaurants: I happily paid eight bucks for this! It's bad business not to offer these choices.)
Gaby Mlynarczyk, the author of the book Clean + Dirty Drinking, is responsible for lots of options like these. When I called her recently, she was testing out recipes for shrubs (also known as drinking vinegars) at a new restaurant in Savannah, Georgia, from the owners of the New York-based Fat Radish.
Mlynarczyk conceived her book—which contains recipes with and without alcohol for every drink, all of which contain some health benefit—after she began going through menopause, a process that made the after-effects of sugar-laden alcoholic beverages particularly unbearable. In an ironic twist, Mlynarczyk is inspired by pre-Prohibition cocktail techniques, meaning she's all about esoteric infusions, milk clarifications, and interesting syrups—it's just that the end results don't have to contain alcohol.
The lazier teetotalers among you may prefer to crack a can of Hella Bitters & Soda or pour a Seedlip-and-tonic. But for those who live to enjoy a farmers' market bounty, and know the difference between Aquafina and aquafaba, Clean + Dirty Drinking is a portal to another realm of drinking, one where you just happen to have some homemade ginger-turmeric syrup chilling in the fridge. Whether you splash it into vodka, lemonade, or a golden oat-milk latte is entirely up to you.
Have a great weekend!
[quartzy-signature]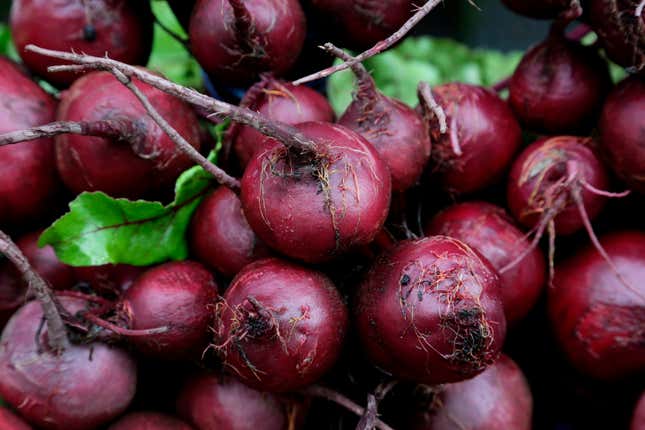 Shrubs! As Quartz's Annaliese Griffin has written, shrubs—sweetened vinegar beverages also known as Haymaker's Punch or switchel—were the original energy drink: "The sweeteners offer ready fuel to keep moving, the water hydrates, and the acid from the vinegar stimulates saliva production, which prolongs the sensation of refreshment. Adding a pinch of salt to the mix provides electrolytes that get sweated out under a hot sun." Plus, as Annaliese told me when I asked about swapping in fruits and herbs for DIY recipes, "You really can't screw it up."

Just in case, here's Mlynarczyk's recipe for Beet + Shiso (or Sweet Basil) Shrub: Run two large scrubbed beets and two cored Fuji apples through a juicer or blender, and strain the juice into a jar with a lid. Stir in one cup of cane sugar and six fresh shiso or sweet basil leaves. Add ¼ cup apple cider vinegar, tasting as you go, until you reach your desired acidity level. Secure the lid tightly and shake well. Refrigerate for at least 12 hours while the sugar dissolves and the shiso (or basil) infuses. Keep refrigerated, covered tightly, for up to two months. Remove the leaves before using.