Dear readers,
Welcome to Quartz's newsletter on the economic possibilities of the extra-terrestrial sphere. Please forward widely, and let me know what you think. This week: the rewards of escape, the race for space radar, and the aesthetics of satellite regulation.
🌘 🌘 🌘
The weekend's successful test of the SpaceX Dragon's launch escape system generated a palpable sense of relief at SpaceX and NASA. The two organizations have worked for years to get a privately built spacecraft into service for the US space agency, and now all that seems to stand in their way is the paperwork. (And, yes, two more parachute drop tests.)
NASA administrator Jim Bridenstine said the space agency may make the Dragon's first crewed test flight to the International Space Station more like a regular mission instead of a brief visit, which means the astronauts assigned to that flight will need extra training for work on the station. But having the astronauts stay for a full tour on the orbiting habitat could mean the US doesn't have to buy another expensive seat on Russia's Soyuz rocket before American spacecraft go into regular service.
Originally, NASA planners had expected Boeing to take a long-term crew to the ISS with its Starliner, but after it missed a rendezvous with the orbital laboratory during a December flight, the Starliner's future remains uncertain.
At Ars Technica, Eric Berger reports that NASA is looking closely at the Starliner's rocket engines. While the spacecraft was in orbit during that December flight, it performed a simulated maneuver to demonstrate its ability to back away from the ISS during a docking attempt, but it did not move as quickly as engineers expected, or NASA hoped. Boeing suggested this is because the engines were overstressed during a previous maneuver. We'll wait and see what more we find out about the Starliner's path ahead—and if you know, don't hesitate to tell me.
It wouldn't be the first time NASA had to work through such issues. One astute reader suggests that if Starliner is allowed to proceed to fly crew, it would be similar to NASA allowing SpaceX to combine the first orbital flight test of its uncrewed Cargo Dragon spacecraft in 2012 with its first berthing at the ISS. SpaceX got the go-ahead only after performing months of additional ground tests—and even then, its engineers had to re-program the Dragon's radar rangefinder on the fly after it suffered unexpected interference while approaching the station.
In an oral history, SpaceX president Gwynne Shotwell would later compare the berthing process to a prolonged birth. And there was a reason everyone was so anxious.
"From a crew point of view, we didn't know if this was going to be a bucking bronco," astronaut Donald Petit, who used a robotic arm to snag the first Dragon that approached ISS, told me. "This spacecraft had never flown in an environment where it was approaching within 30 feet of another huge spacecraft . . . You could get a stuck thruster and it could zoom right into the station, and how do you protect from that?"
NASA was able to work through the risks with its private cargo spacecraft. The path toward flying humans has been even longer, but the eventual pay-off—flexible and redundant human access to low-earth orbit—could change the way humanity uses the vacuum around its planet.
"NASA is going to be a customer, one customer of many customers, and we want Elon to have lots of customers," NASA chief Bridenstine said after the launch escape test. "I want to see large amounts of capital flowing into activities that have humans in space…There is a future where space is commercialized."
🛸 🛸 🛸
IMAGERY INTERLUDE
The moment of truth for the launch escape system on Jan. 19: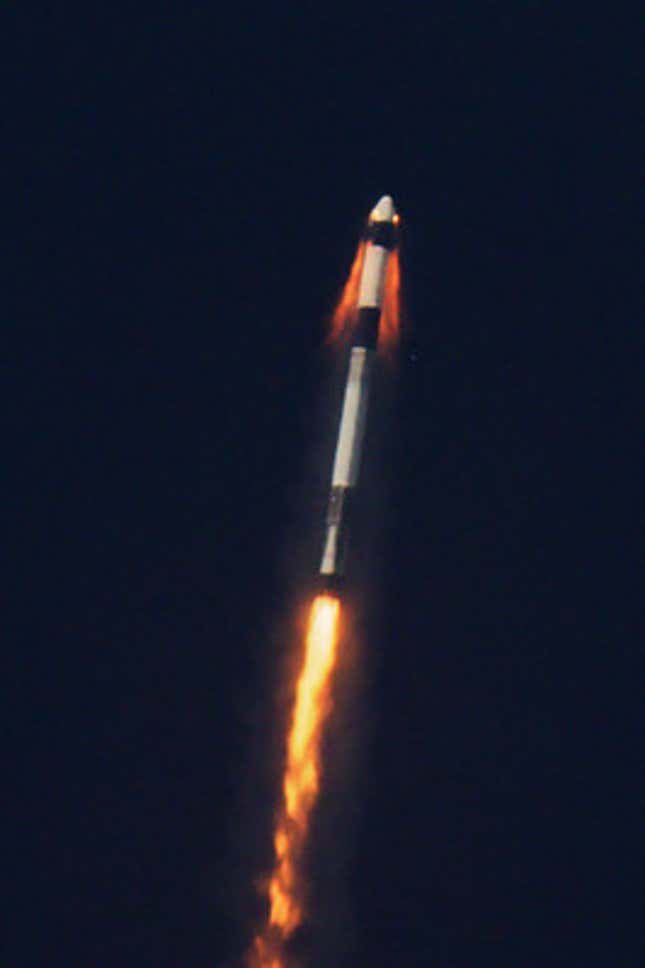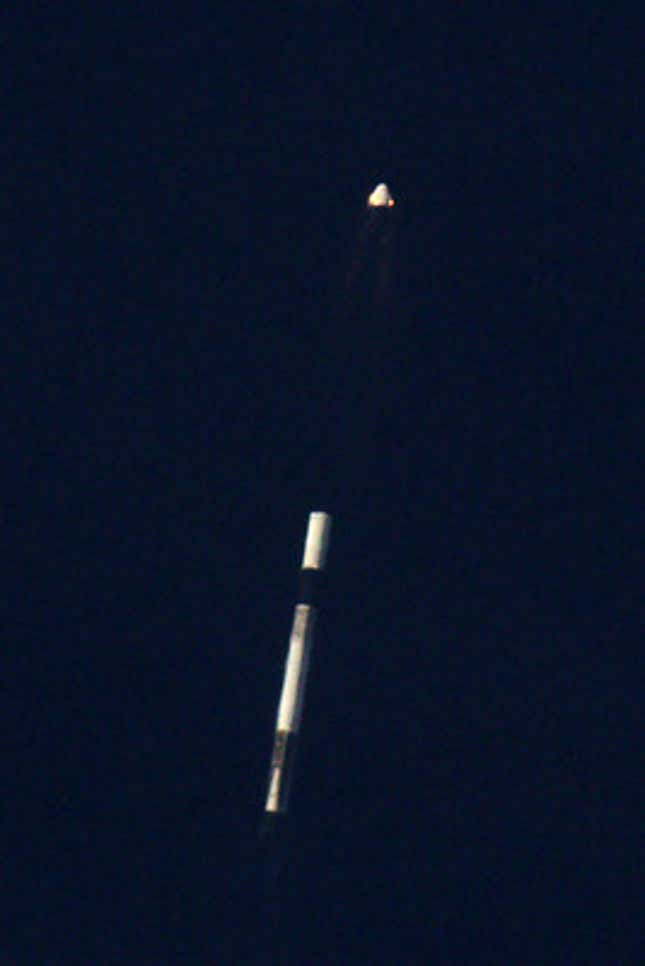 Don't you ever wish you were strapped with rockets that could eject you from unpleasant situations at several times the speed of sound?
🚨 Read this 🚨
When SpaceX was young, Elon Musk and his team would blow off steam playing Quake III Arena. They aren't the alone—today, about 60% of Americans say they play video games daily. And as the global gaming industry grows, it's influencing much more than how we spend our free time. In this week's field guide, Mary Pilon covers everything you need to know about the state of gaming.
🚀 🚀 🚀
SPACE DEBRIS
Astronomers at Law. Last week, Scientific American reported an interesting theory put forward by a law student: Astronomers concerned about the impact of SpaceX's Starlink constellation (and other major satellite networks under construction) could seek an injunction from federal courts on the grounds that the Federal Communications Commission failed to perform an appropriate environmental review when approving the project.
The FCC says it isn't impressed with the theory, and notes that nobody brought this up during the comment period. But I asked some attorneys with FCC experience about the argument and they thought it might have some legs in front of liberal justices, given the broad criteria—aesthetic, historic, cultural, economic—covered by environmental reviews. None said such a suit was likely, but that this might give the astronomy community more leverage when it asks satellite operators to mitigate the impact of their spacecraft.
The race to deorbit Spaceway-1. A Boeing-built satellite operated by DirecTV is in danger of exploding if damaged battery cells are recharged. Currently, the satellite is operating on direct solar power, but at the end of February, it will be out of the view of the sun and forced to use its batteries. DirecTV has asked FCC permission to elevate the satellite to a garbage orbit some 300 kilometers away from other satellites. Normally, this would entail venting its onboard fuel, but the company says it won't have time to do that before the feared explosion.
Europe throws money at space biz. The European Commission said it would invest more money in private space in an effort to keep up with venture capitalists in the US and China. €100 million will be put toward the construction of Arianespace's newest rocket, Ariane 6, and an equal sum will be invested in space startups. Last week, Luxembourg announced its own €70 million space investment fund.
Double or nothing. Capella, a satellite startup here in San Francisco, has raised $80 million to build a space radar network. This week, it announced a major upgrade on its satellite design that will effectively double the quality of their observations, in response to the growing demand for high-quality radar data and the competitive pressure from space-sensing projects being developed around the world.
Faster, satellites! Kill, kill! The Pentagon's Space Development Agency says it is developing seven new satellite constellations and wants private industry to speed up production to one spacecraft a week so the military can launch dozens by the end of 2020. The initial satellites will be focused on detecting missile launches and pointing interceptors at them, but under the proposed architecture, thousands of satellites will eventually perform roles ranging from battlefield management to guidance to deterring potential attacks in space.
Build your own space station. At Quartz, we love lego models of space vehicles, and so it is with great joy that I report the lego International Space Station will be available on Feb. 1.
Your pal,
Tim
This was issue 31 of our newsletter. Hope your week is out of this world! Please send your favorite visions of commercialized low-earth orbit, aesthetic objections to satellite deployment, tips, and informed opinions to tim@qz.com.