Dear readers,
Welcome to Quartz's newsletter on the economic possibilities of the extraterrestrial sphere. Please forward widely, and let me know what you think. This week: A spicy spectrum solution, budget pop quiz, Iran launches a satellite.
🌘 🌘 🌘
The FCC has ended a controversial, nearly decade-long battle over a chunk of radio wave real estate. Their decision will allow a company called Ligado to build an internet-of-things communications network using a band of spectrum that had previously been reserved for satellite communications.
Myriad US government agencies (and a number of private satellite operators) opposed the decision, fearing that Ligado's network will interfere with the Global Positioning System (GPS), a vital cog for both the US economy and its military. But another chunk of the government believes that Ligado's network will strike a blow against Chinese 5G hegemony, and so should be allowed.
"I've never seen it a mess like this before," said Harold Feld, an attorney at Public Knowledge, a nonprofit that works to promote free expression and communications innovation. "All of the agencies are just acting on their own without any effort to create a coherent federal policy."
The Departments of Defense, Commerce, Interior, Justice, Homeland Security, Energy, and Transportation, as well the National Science Foundation, the Federal Aviation Administration, the Coast Guard and NASA, all called on the FCC to reject the license.
But Ligado spent almost $3 million in 2019 alone on lobbyists connected to the Trump administration, including Matt Schlapp, the head of the American Conservative Union. Those lobbyists made the case that Ligado's efforts are key to getting ahead of China in the race to roll-out 5G, the next-generation communications network, and won support from US attorney general Bill Barr—despite the Justice Department signing on to a letter of opposition in February—and secretary of state Mike Pompeo.
After the FCC's decision, Barr said that "swift FCC action on spectrum is imperative to allow for the deployment of 5G. This is essential if we are to keep our economic and technological leadership and avoid forfeiting it to Communist China."
But few experts think Ligado's work is necessary for 5G, or to beat China to the technology. 5G is an increasingly nebulous buzzword—here's the a comprehensive explanation—generally referring to the use of high-frequency spectrum to deliver faster connectivity in urban areas, and more broadly referring to network technologies that make more efficient use of several different types of radio spectrum.
The problem for Ligado is that its spectrum isn't part of the US 5G plan proposed by FCC chair Ajit Pai. And its business plan isn't focused on a general network, like the 5G capabilities being developed by major telecoms like Verizon and AT&T.
"Of course, all of this is just for domestic US market," Brian Weeden, a researcher at the Secure World Foundation, told Quartz. "None of this does anything about preventing China from building out 5G networks in its own country or elsewhere in the world."
Ligado began as a company called "Lightsquared," and first applied for a license in 2011 to build out a mobile phone network. It entered bankruptcy in 2012 after its initial ground stations interfered with GPS signals, but distressed debt investors pulled it out of bankruptcy in 2016 in an attempt to recover the value of the spectrum it owned.
The FCC says that it took steps, like requiring Ligado to keep a hefty buffer between its signals and others, and limiting the power of its transmissions, that should prevent future interference. But for all our engineering know-how, it can still be hard to predict what will happen when its signals start interacting with a variety of GPS receivers on the market.
"There comes a point where you have to accept the FCC's decision, the decision of the expert agency that, hey, we've taken everything into account here, and this looks good to go," Feld says, arguing that innovation will be slowed and more power concentrated in a handful of operators if the FCC doesn't allow smaller entrants to try new things after a reasonable period of evaluation.
"I think we got to a good policy result, it's unfortunate that it's being justified with this jingoistic anti-China rhetoric," he says.
✉️ So, did the FCC make the right decision about Ligado?
 🛰  🛰  🛰
Last week, I asked readers for their predictions on the future of government space budgets in post-coronavirus times. Will the steady rise augured by ambitious exploration goals continue?
Natalia Larrea, a Euroconsult analyst whose team forecast increased government spending, responded with a bullish case: "While it may cause some adjustments in the investment and the delay of certain projects in the near-term, it is unlikely to disrupt long-term space exploration objectives…Space exploration is high in the space agenda of most countries and are tied to strategic enduring national interests. The strategic importance and benefits stemming from high profile science and exploration missions, could serve to help insulate them from the budget cuts which may result from the effects of the current pandemic."
Michael Sheetz, CNBC's space reporter, offered a succinct analysis—"NASA 3% cut for overall FY22 budget but return to growth in FY23." That would imply a NASA budget roughly at 2019 levels—and one that should allow the agency to continue most of its work, with the exception of getting astronauts back to the moon in 2024.
No one wrote in predicting anything like the years of budget cuts that followed the 2008 crisis. So, is this time really different?
🚀 🚀 🚀
Chart Interlude
A SpaceX milestone. For years, United Launch Alliance argued that its workhorse rocket, the Atlas V, was the best in the business because of its pedigree as a vehicle with a near-perfect flight record. After an April 22 launch, SpaceX has flown its Falcon 9 some 84 times, including one failure. The Atlas V has flown 83 times, including one partial failure. Atlas achieved this record in 18 years; Falcon, in just 10.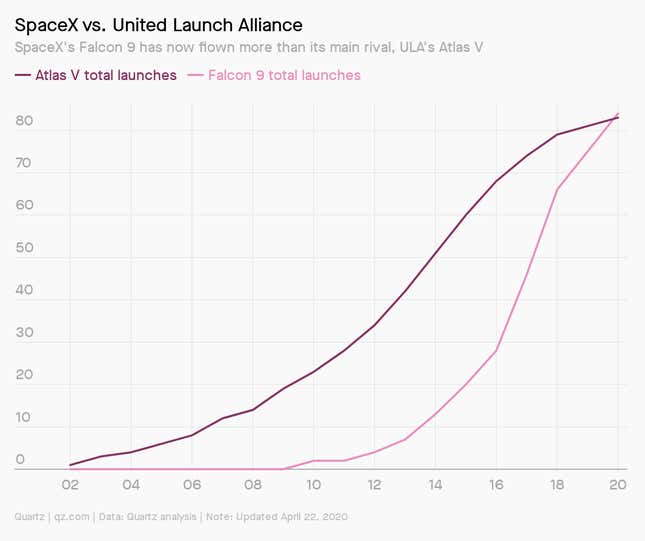 In the coming years, the race will begin again, with Falcon 9 as the big lifter on campus and ULA's new rocket, Vulcan, playing the upstart.
🛸 🛸 🛸
🚨 Read this 🚨
Any time we summon food to our doors, delivery workers expose themselves to potential contagion en route. Failing to order food, though, only deprives delivery workers of income and takes money out of an already dismal economy. Here's how we can respond to this moral quandary.
🚀 🚀 🚀
SPACE DEBRIS
Iran to orbit. Iran has launched the fifth satellite in its history, revealing a previously unknown rocket system and launch site. Unsurprisingly, the US and Israel view this as part of Iran's efforts to develop long-range missiles; previous satellite launch attempts didn't suggest this was likely, but we know far less about this launch vehicle and how it maps onto a potential weapons design.
No business like slow business. Bryce Space and Technology has released a new report that shows that every single one of the 1,078 small satellites launched in the last five years faced delays, with a median wait time of 128 days. The primary reason found was delays in the primary payload of a rocket when small satellites were hitching a ride, and general delays in launch vehicle production. The study was commissioned by Spaceflight, which acts as a broker for small satellite builders seeking rides to orbit, and it shows why the company thinks eliminating those bottlenecks is a smart business plan. Spaceflight just purchased the first flight of Texas-based Firefly Aerospace's Alpha rocket in 2021…assuming no delays.
Final crew checklist. On Friday, NASA announced that it would fly its first commercial crew mission using the SpaceX Dragon and Falcon 9 on May 27. But there was no mention of that pesky final parachute test and engine anomaly investigation, and sure enough, three days after being asked about it, NASA confirmed to Quartz that both would need to be completed before the crewed test flight. Today, SpaceX founder Elon Musk said that the engine failure was caused by the ignition of residual isopropyl alcohol leftover from a cleaning procedure, so hopefully that is an easy correction.
Your pal,
Tim
This was issue 44 of our newsletter. Hope your week is out of this world! Please send your most baroque FCC disputes, delayed spacecraft, tips, and informed opinions to tim@qz.com.