Dear readers,
Welcome to Quartz's newsletter on the economic possibilities of the extraterrestrial sphere. Please forward widely, and let me know what you think. This week: Rocket power rankings, a Cartesian perspective, and a secret Chinese space plane.

Space Business is taking a summer break and will return Aug. 25. Thanks for reading!
🚀 🚀 🚀
The rocket business isn't what it used to be, but it's not what it could be, either.
After SpaceX transformed the industry, we've seen the world's largest rocket-makers coalesce around the innovations Elon Musk's rocketeers made into requirements: Reusability, rapid launch cadences, and actually caring about cost. (That third one may still be optional.)
And yet since the Falcon 9 debuted in 2010, we haven't seen one of the major Western aerospace firms come up with a competitor. They're trying: United Launch Alliance's Vulcan, Blue Origin's New Glenn, and Arianespace's Ariane 6 are all expected to take flight in 2023.
The other trend we're waiting on: Small launchers. Dozens of start-ups formed in the years after SpaceX's successes, promising to build cheap, small rockets. Satellite operators said they would love the help. But thus far, just one of these firms, Rocket Lab, has begun regular service. Others have gone bankrupt, engaged in major pivots, or are just on the cusp of delivering. We may need a vibe check. It feels like it's time for a new edition of...
ROCKET POWER RANKINGS
(For ranking purposes, we're leaving established aerospace giants off the list, along with a variety of start-ups in China about which details are scarce. Please send me your arguments about who I missed or misplaced.)
1. Rocket Lab (RKLB, valued at $2.5 billion)
Vibes: Taika Waititi marrying Rita Ora.
The US-New Zealand rocket maker should break its record for orbital launches in a calendar year in 2022, after matching it with six successful orbital launches, including one space probe sent to the Moon. Rocket Lab's push to develop a bigger, more reusable rocket called Neutron continues. It is selling solar panels to OneWeb and opening a second launch site in the US. After going public with a SPAC last year, the company has $600 million in cash on hand, and, while not cash-flow positive, it says it expects to lose only as much as $5.5 million in the next half of the year. That's arguably a manageable burn rate, with a reported backlog of launch contracts worth more than $500 million.
The big question: Can it make its small launch business profitable while also developing a larger reusable vehicle, with all the scrutiny facing a public company?
2. Virgin Orbit (VORB, valued at $1.26 billion)
Vibes: Richard Branson riding a bike to the launch pad.
Virgin Orbit has one big advantage over the rest of this list: It can deliver payloads to orbit, and has plans to keep doing so. It has a unique model for launch—rockets dropped from aircraft—that could allow it to get ahead of vertically launched rockets in foreign markets it is targeting, like South Korea and the UK. But the company lost $60 million in the first quarter of the year, and only had $127 million in cash on its balance sheet at the end of March. It needs to start generating more revenue (or raising more money) if it wants to remain a going concern.
The big question: How much revenue can this company actually generate?

3. Relativity Space (Privately valued at more than $4 billion.) 
Vibes: SpaceX before the Falcon 9 worked.
Relativity Space has got a lot of money, a lot of talented technologists, and a bold vision. What it does not yet have is a rocket that takes cargo to space, but if that changes in the next six months, get ready for some competition. CEO Tim Ellis preaches the cost-savings and power of 3D printing as a major solution not just for aerospace but for manufacturing writ large. Winning a massive launch contract from OneWeb, part of a $1.2 billion backlog of orders for a future rocket, shows that Relativity has a good pitch for satellite operators. Now it just needs to execute.
The big question: Can Relativity successfully launch its Terran 1 vehicle while quickly pivoting to the Terran R, its larger and more lucrative successor?
4. ABL Space Systems (Privately valued at $2.4 billion)
Vibes: A skunk works for space.
This launch start-up has been taken under the wing of Lockheed Martin, which invested early in the company and purchased 58 future launches of its RS1 rocket. That patronage and the expertise of the company's founders brought onboard big investors like T. Rowe Price and Fidelity, and has attracted backing from the US Space Force. Amazon also tapped ABL to launch two prototypes for its Kuiper constellation, but it was not included in the company's record-breaking purchase of rockets to launch the network in earnest. ABL's first rocket, which was static-fired this month, sits in an interesting class—bigger than Rocket Lab's Electron, and cheaper than SpaceX's Falcon 9. It is also responsive to the US military's longstanding desire to launch satellites from anywhere without worrying about ground infrastructure, which is no easy task.
The big question: Will the first launch of the RS1, expected this year, succeed?
5. Firefly (Privately valued at more than $1 billion.) 
Vibes: A carbonized Wile E. Coyote somehow survived the explosion. 
It's been a rough year for Firefly: Their main financier, Ukrainian entrepreneur Max Polyakov, was forced out by US regulators worried about technical data being leaked to rival nations. And before that, the debut launch of Firefly's Alpha rocket in Sept. 2021 ended with its self-destruct mechanism being triggered mid-flight. And yet the firm persists: AE Industrial Partners, which also assembled the space conglomerate Redwire, took over Polyakov's majority stake in the company and is hiring a new CEO. Firefly plans to launch the Alpha again this fall, and is building a Moon lander for NASA. Most importantly, though, is news that Firefly is partnering with Northrop Grumman to build engines and structures for the Antares rocket that had previously been built in Ukraine. That gives the company access to funding and know-how it will need to get its own vehicle off the ground.
Big question: If Firefly gets its own vehicles flying, how many satellites will be left to launch?
6. Astra (ASTR, valued at $344 million.)
Vibes: Trapped on a rollercoaster for six hours. 
It's rarely a good sign when a company decides to sell new stock equal to about a third of the company's value, but that's what Astra did this month in a bid to raise $100 million from public investors. The company is changing strategies after repeatedly failing to launch payloads with its current vehicle, called Rocket 3. Following the loss of two NASA satellites in June, CEO Chris Kemp has decided to pivot toward building a larger vehicle, Rocket 4, and adopt a more measured engineering approach. After going public last year, Astra has about $200 million in cash on hand at last report. The company's decision to acquire Apollo Fusion, which makes propulsion systems for spacecraft, in a $50 million cash-and-stock deal last year might now be seen as a mistake—or the key to generating enough revenue to get it through another development program.
Big question: Can Rocket 4 take flight before Astra runs out of money?
Honorable mentions: Launcher, Orbex, Skyrora, Phantom Space. 
🌕🌖🌗 
IMAGERY INTERLUDE
The first European woman to go spacewalking is Samantha Cristoforetti, an Italian engineer who helped install the European robotic arm onto a Russian segment of the International Space Station in July: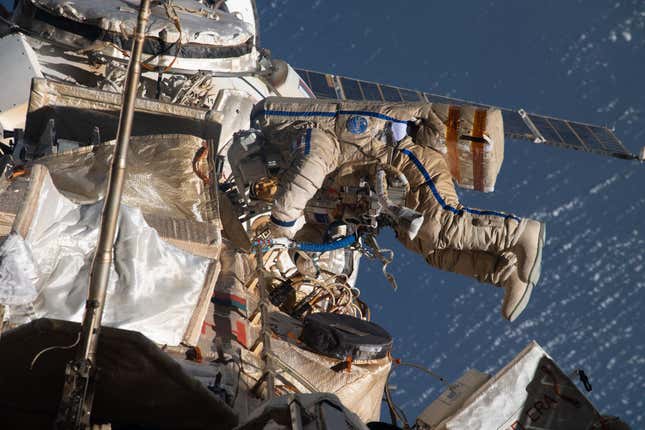 It's notable that she's sporting a Russian Orlan space suit—NASA shut down its own spacesuits, normally used by its astronauts and those from the European Space Agency, earlier this year due to problems with leaking water.
🛰🛰🛰
SPACE DEBRIS
Cogito, ergo sum. The analytics company Descartes Labs was sold to a Antarctica Capital, a private equity fund, for an undisclosed amount. Its co-founder and former CEO, Mark Johnson, wrote a fascinating post mortem for the company and its Cartesians. His reflections are a must-read for anyone building a company around space data. Descartes was an early leader in producing useful insights, but as Johnson explains, it found a hard time packaging that as a product.
A kit for collision avoidance. Benchmark, a satellite propulsion company, revealed a new product line—a kit to cheaply add maneuverability to small satellites. With more worries about space debris and collisions, this kit could be a kind of insurance for private operators, and the space environment.
Russia launches Iranian satellite. A remote-sensing spacecraft built and operated by Iran went to orbit on a Russian Soyuz rocket. It's the first time Russia has launched an Iranian payload. Coverage has focused on various geopolitical factors, but the best information suggests the satellite is not even as capable as the cubesats built by commercial firms. I suspect that Russia, not having other payloads to launch on its Soyuz fleet, saw an opportunity for some propaganda.
China launched a secret space plane. It's the second time the reusable vehicle has gone to orbit, and this time it's staying longer and trying a new orbit. Our best guess is that it is similar to the X-37B, the secret US space plane that has also performed top-secret military activities (and espionage?) in orbit.
Your pal,

Tim
This was issue 146 of our newsletter. Hope your week is out of this world! Please send your own rocketmaker power rankings, other modular kits satellite operators need, tips, and informed opinions to tim@qz.com.