Dear readers,
Welcome to Quartz's newsletter on the economic possibilities of the extraterrestrial sphere. Please forward widely, and let me know what you think.
This week: Balloon anxiety, Virgin Orbit's investigation, and a Falcon Heavy anniversary.
🚀 🚀 🚀
Why didn't China just use a satellite?
The aerial surveillance balloon that briefly captured the world's imagination poses an interesting question for followers of satellite Earth observation. US government sources who say the balloon was surveilling American military facilities also believe sensors on Chinese spacecraft could gather much the same information as high-altitude balloons. However, it's becoming clear that this was no one-off, and that China has mounted a significant campaign using these platforms to snoop over Japan, India, Taiwan and the Philippines as well.
The key feature that government and independent observers cite, however, is that it is far cheaper to put sensors on a high-altitude balloon than to launch them into space on a rocket, where they will be 20 times further from what they're looking at or listening to. This is disruption, or what the US military might call an asymmetric threat.
Naturally, there is a company for that. World View is Tucson, Arizona-based operator of high-altitude balloons. In recent years, it has tried to capitalize on interest in space tourism by comparing its efforts to Blue Origin and Virgin Galactic. The company's PR people would email me about "space tourism leader World View" and I would point out that its vehicles don't go anywhere near where space begins, even if a four-hour stratospheric balloon flight might be more fun than a few minutes of microgravity. The company flew a KFC chicken sandwich into the stratosphere in 2017, claiming in promotional materials that it went to space.
Now, with excellent timing, the company is going public in a $350 million SPAC deal, with a focus on using its lighter-than-air vehicles as Earth observation platforms. The benefits include higher resolution imagery: World View's investor presentation claims sensor resolutions of 3 to 5 centimeters per pixel, compared to the 50 cm per pixel resolution that is top of line in space-based Earth observation. The balloons also offer more persistent monitoring by floating above one location for weeks at a time, whereas Earth observation satellites can typically gather data a few times a day at most. World View already has a partnership with Maxar, a leading satellite firm with an extensive remote-sensing business.
This kind of technology could eventually be a threat—or a complement—to existing space data businesses. But the slow take-up of similar ventures provides a cautionary tale. Google's Loon, an effort to deliver wireless connectivity from balloons, aimed at a similar type of disruption, but the business never caught on. The failure was blamed on the difficult economics of the telecom industry, not the tech, and the challenge of mainly serving poor customers in developing countries. Starlink, a satellite-based internet provider, has been far more successful, but also targets more well-heeled customers.
More serious challenges for balloons might be regulatory and political. A country's sovereign airspace theoretically extends to the (disputed) boundary with space. For China, something it might have done far more surreptitiously and legally in space became a diplomatic crisis when it used a balloon. These balloons fly high enough that they are difficult to reach with weapons or in other aircraft, but too low to avoid being easily seen by people on the ground. For World View, persistent monitoring balloons flying visibly overhead might lead people to question if new rules are required in a country where speed-trap cameras are controversial.
The nature of Earth orbit, where technology platforms are largely undectable to the average observer and far less regulated than vehicles on the ground or in the air, turns out to be a big advantage for both companies and countries testing out tech that might not benefit from publicity. As industry figures push for more awareness, both situational and public, of what goes on in space, the kinds of questions people are asking about the Chinese balloon—who said it could fly over here and look at me?—might be asked about satellites, too.
🌕🌖🌗
IMAGERY INTERLUDE
The disastrous effects of the earthquake in Turkey that killed more than 11,000 people can be seen in this Planet satellite image of the city of Kahramanmaras, which shows numerous collapsed buildings: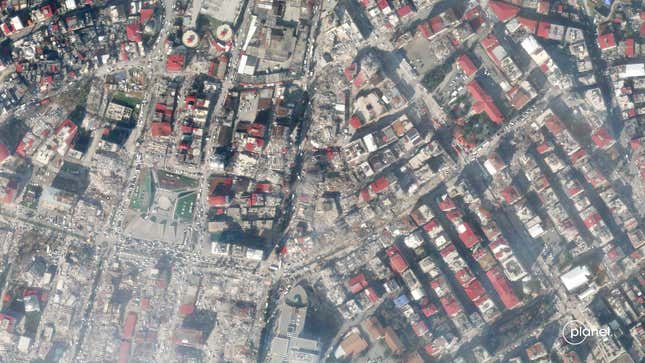 Imagery like this can be used by emergency responders and aid workers in the immediate aftermath, and by those tasked with reconstruction going forward. You can support the victims of this disaster by donating to UNICEF and Doctors Without Borders.
SPACE DEBRIS
Virgin Orbit closes in on failure explanation. The company's attempt to launch the first orbital rocket from the United Kingdom went awry after a "$100 part" was dislodged in flight.
Europe abandons plans to visit China's space station. The politics of human spaceflight have the European Space Agency focused on coooperation with NASA.

Breaking up should be harder to do. A Russian satellite that attracted the attention of US national security officials with its unusual maneuvers has now broken apart in orbit.
There's some movement on norms in space. A meeting of a United Nations working group saw growing interest in orbital transparency and an end to destructive weapons tests in space, but also heard complaints from Russia about private space firms that are helping Ukraine defend itself.
SpaceX picks up business from Arianespace. Delays in the production of its satellite have Ovzon switching to the American launch company.
Falcon Heavy celebrates a birthday. The first launch of SpaceX's heavy lift rocket took place on Feb. 6, 2018, a major milestone in the company's technology development and ability to launch stunt payloads into the solar system.
Your pal,

Tim
This was issue 168 of our newsletter. Hope your week is out of this world! Please send rocket anomaly investigations, balloon sightings, tips, and informed opinions to tim@qz.com.