Dear readers,
Welcome to Quartz's newsletter on the economic possibilities of the extraterrestrial sphere. Please forward widely, and let me know what you think. This week: Star hops and star splashes, Virgin Galactic's aviation pivot, and Day 1 in space.
🛰🛰🛰
"It sounds like an animal coming through atmosphere," astronaut Bob Behnken said of returning to Earth on the SpaceX Dragon spacecraft, where he took in the roar of the air hurtling past, and the puffing and blowing of the capsule's thrusters working to keep it on a level course.
It speaks to the attention to detail at SpaceX that Behnken and his compatriot Doug Hurley prepared for this sonic assault in advance: Microphones in the cabin during uncrewed test flights created the soundtrack for a video the astronauts used to ready themselves for the experience of supersonic descent in the new vehicle.
The aerodynamic symphony was the culmination of a 64-day test mission, ending in the Gulf of Mexico with the first American splash-down in 45 years.
You might think the new spacecraft was ordered after Donald Trump's inauguration, going by the US president's post-flight pronouncement on Twitter that "NASA was Closed & Dead until I got it going again." The lie was inspired by Trump's re-election campaign against former US vice president Joe Biden, and it's more than a shade disrespectful to the hard work performed at the space agency under multiple administrations. (I've apportioned credit for the commercial crew program in the past.)
While engineers at both the space agency and Elon Musk's rocket firm will examine the vehicle and data about the flight with a fine-tooth comb in the weeks ahead, it's finally safe to say: After almost a decade of work, the US has a human-flying spacecraft again.
So now what? The same thing we do every night, reader: try to take over the moon. A transition toward complete focus on the Artemis moon-landing program is what NASA would like, but moving on it won't be simple, and not only because Boeing is still working to deliver the spacecraft it owes NASA as part of the commercial crew program. Unlike NASA's partnerships with private companies to replace the Space Shuttle, Artemis isn't obviously time sensitive (whereas every year without access to the International Space Station meant waste); it's definitely not cheap; and it doesn't help the US save face with the Russians, on whom the Americans had become embarrassingly dependent for access to low-earth orbit, and paying out the nose for the privilege, until SpaceX came along.
However Artemis proceeds, it is clear that the mode of space exploration has changed permanently. Trump's commentary on NASA was posted over a video not of a NASA activity, but of SpaceX's newest Starship prototype taking its first short hop. While technically a NASA-funded project, Starship never would have made it off a NASA whiteboard. The ability of private companies to carry humans into orbit as effectively as governments will increasingly put businesses at the center of space activity.
"We're creating a completely new and unpredictable dynamic by having the capability in the hands of people who are able to play with it, with more freedom and flexibility," Casey Dreier, a policy analyst at the Space Foundation, told me before Dragon made its first crewed flight. "The very fact that we don't know what's going to come out of it is the very exciting part."
In other words, here be dragons.
🌘 🌘 🌘
Imagery interlude
This shot of the SpaceX recovery ship backing in to pick up the Dragon capsule (while the astronauts inside wait patiently and call friends on a satellite phone) is just mesmerizing.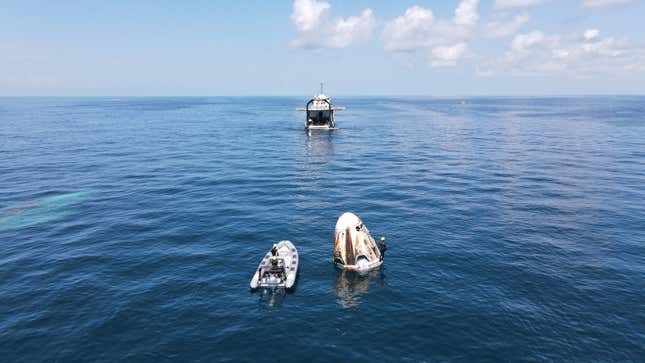 👀 Read this 👀
SpaceX and other private space startups aren't just succeeding through technical innovation, but also by shifting away from the government-contracting business model that has dominated exoatmospheric business. The same is happening in the cannabis industry: As laws prohibiting use and sale of the drug have been lifted, a rush of new firms has a chance to shape the sector. Will cannabis end up looking more like:
🥤Coke: facilities around the world create the product from a global supply chain of ingredients
☕Coffee: producers make the product in parts of the world with the most conducive climates and cheapest labor
🍷Wine: boutique grows and brands are known by regions
🍻 Beer: big corporations control national landscapes, with small local brands playing well in their own markets
Or, cannabis might not "look like any other industry we have today," says Curaleaf CEO Joe Lusardi. "I think it will have some parallels to beer and alcohol, some parallels to pharmaceuticals, and some parallels to consumer packaged goods. But it will be its own thing. There's no question." Read more in our field guide on cannabis at a crossroads, exclusive to Quartz members.
🚀🚀🚀
SPACE DEBRIS
Touched for the very first time. Virgin Galactic had a weird week. Its latest earnings report delivered a critical piece of news: The company isn't going to fly any paying passengers onboard its rocket-plane until 2021, which puts it a good year behind the forecasts made as the company went public in 2019. Between the coronavirus and the challenge of human spaceflight, that's not a big surprise.
More surprising was the decision to sell another $460 million worth of stock and the announcement of the development of a supersonic jetliner. The stock sale may just be opportunistic capital-raising, but it's hard not to link to Richard Branson's Virgin Atlantic entering bankruptcy. The new aircraft is more baffling. Yes, the company has long said it would look toward point-to-point transportation, helping it win investment from Boeing. But that was to come after Virgin's primary vehicle was up and running, and would build on its existing technology, while this proposal appears to be entering an already competitive field.
It's also Day 1 in space. Amazon may be facing allegations of market domination on Earth, but in space the company is still playing catch-up. Jeff Bezos, famous for his Day 1 philosophy—TL;DR: stay hungry, my friends—has Amazon applying it on two verticals: satellite ground stations and satellites themselves. The ground stations project, an extension of Amazon Web Services, is now evolving after its architects missed out on where the big data actually comes from—satellites in polar orbit around the Earth. The latter endeavor, called Project Kuiper, just received formal approval from the FCC after the company outlined a $10 billion plan to deploy more than 3,000 satellites in low-earth orbit to offer internet connectivity. While other megaconstellations have foundered on capital concerns, Amazon at least has the balance sheet to support such an effort.
SES hands out satellite deals. The Luxembourg satellite giant SES said it hired United Launch Alliance to put two new satellites in orbit, and SpaceX to fly as many as three. The deal appears to have been brokered through the manufacturers of the new spacecraft, with Boeing tapping its joint venture ULA, while Northrop hired SpaceX. The rapid roll-out of four new satellites is driven by the US effort to reclaim a chunk of radio spectrum from satellite operators for use in building out a 5G terrestrial communications network.
Your pal,
Tim
This was issue 60 of our newsletter. Hope your week is out of this world! Please send your favorite management philosophies, space mustache competitions, tips, and informed opinions to tim@qz.com.