Dear readers,
Welcome to Quartz's newsletter on the economic possibilities of the extraterrestrial sphere. Please forward widely, and let me know what you think. This week: The perils of procurement, shameless self-promotion, and China's race for reusability.
🌘 🌘 🌘
NASA's plan to get back to the moon by 2024 faces many challenges: Earth's gravity well, the vacuum of space, and now the Department of Justice.
Last week, the Wall Street Journal reported that prosecutors in Washington DC are investigating the resignation of NASA's top human spaceflight executive, Doug Loverro, earlier this year. While details remain murky, it is linked to how the space agency sought to purchase new vehicles to bring future astronauts from space down to the surface of the moon.
With subpoenas arriving at NASA and Boeing, we have an idea of how serious this episode might become. When the government hires private contractors, it will enter into a "blackout" period where communications must take place in official channels. This is to prevent one company from gaining an advantage over the other due to hidden contacts with government officials, whether accidental or corrupt.
During the moon lander blackout, Loverro contacted a Boeing executive, Jim Chilton, and explained concerns the space agency had about the company's lander design. When Boeing submitted an updated bid, the NASA managers evaluating the proposals connected the dots and uncovered the back-channel talks, leading Loverro to step down—and Boeing to be excluded from the lander program.
Loverro has publicly portrayed the move as a risk he took to ensure the space agency could realize the ambitious goals of the Artemis lunar return program. If so, that someone with deep experience in government procurement felt breaking basic contracting rules was the only way to get a successful moon lander built is a harsh judgment on the designs that were ultimately selected.
Or it may be a judgment on military and space procurement culture writ large. The US is still dealing with the fallout from two Boeing procurement scandals: A quid pro quo in a deal to buy new aerial tankers was uncovered in 2001, putting a former Pentagon executive and Boeing's then-CFO in jail and beginning two decades of problems with the contract. More relevant to space readers, in 1999 Boeing was caught with some 66,000 pages of documents detailing Lockheed Martin's plans to bid on US Air Force rockets.
These two scandals ended with Boeing paying the US government a record $615 million in 2006. Fights over Boeing and Lockheed's trade secrets were squashed when they chose to combine their troubled space divisions into United Launch Alliance, still the leading provider of rockets to the US military.
Yet allegations of favoritism have continued, typically from Elon Musk's SpaceX, the only firm to challenge ULA's monopoly in launch. In 2014, one of Musk's earliest controversial tweets alleged a quid pro quo after a Pentagon official who awarded ULA a major contract was hired by one of the ULA's key suppliers; the allegations were denied by those involved. Shortly thereafter, SpaceX obtained a still sealed settlement that would allow it to bid on government contracts. But SpaceX is still alleging favoritism in a lawsuit over the Pentagon's current efforts to buy rockets.
That's the scene-setting for the current Justice Department investigation, which has preempted a separate inquiry by the space agency's inspector general. While they could come nothing, even that could mean delays for the Artemis program if Boeing can challenge its exclusion from the lander bidding. In the near term, the space agency is hoping lawmakers will deliver some $3.4 billion this year to build its final moon lander. The House enacted less than a fifth of that amount, leaving NASA hoping that the Senate will pony up additional money. Legal uncertainty is unlikely to help.
🚀🚀🚀
Not every newsletter can make Elon tweet. But this one did, and it was a lot of fun. Our focus on the worldwide economic and political consequences of the space technology revolution is unique, and it happens because Quartz is a unique publication. My overlords are offering a summer discount of 50% to access all of Quartz's content, including exclusive reporting on everything from space and electric cars to revolutions and solutions. Become a member today. It'll make me look good in internal zoom meetings. And, if you join because of this newsletter and email me proof, not only will I be forever grateful, but I'll work your name into some future atrocious Space Business wordplay.
🌘 🌘 🌘
IMAGERY INTERLUDE
The next four astronauts to fly from the US to the International Space Station will depart in October, NASA said this week. The crew includes Americans Shannon Walker, Victor Glover, and Michael Hopkins along with Japan's Soichi Noguchi, seen here working through a training exercise for the Dragon space capsule.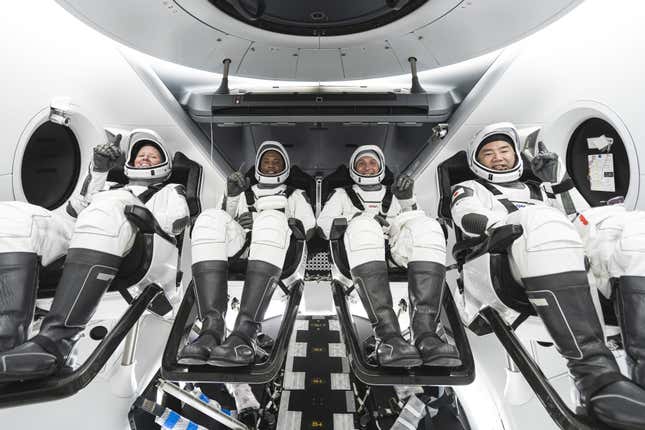 👀 Read this 👀
The fight for Hong Kong has become the world's fight. A key factor is the protest movement's international lobbying network, whose grassroots diplomacy and unofficial statecraft has leveraged the momentum of the protests into tangible political influence worldwide. Read about how the battle over Hong Kong's freedoms went global in our latest field guide.
🛰🛰🛰
SPACE DEBRIS
You know what's cooler than $1 billion? SpaceX has cashed in on its impressive record in 2020, raising $1.9 billion in a funding round said to value the firm at nearly $46 billion. The firm needs the capital for major development projects like its Starlink internet satellites and next-generation Starship rocket. Even if the privately held firm is taking advantage of good news to boost its cash reserves, the new funding won't quiet concerns about SpaceX's burn rate, however, coming after a $220 million round completed in March.
A small hop for a rocket… Chinese launcher firm Linkspace shared a video of a prototype rocket taking off and landing vertically after reaching an altitude of 300 meters. It's the kind of demonstration that underpins SpaceX's reusable Falcon 9 rocket booster and Blue Origin's New Shepard suborbital rocket. China is pushing its rocket entrepreneurs to match the efforts of American space start-ups, and this is another sign that the gap is narrowing.
Bad connection. The US effort to explore Jupiter's moon Europa has all the characteristics of a Congressionally-mandated space project—bold vision and a requirement to use an enormous rocket built in Huntsville, Alabama. For years, lawmakers have insisted that NASA use the Boeing SLS rocket to launch the mission, and though its power is well suited to hurl things into deep space, it's much more expensive than the alternates, might not be available on time, and, it turns out, may not work well with the space probe.
Your pal,
Tim
This was issue 62 of our newsletter. Hope your week is out of this world! Please send your most horrifying procurement war stories, tales of Elon Musk's dubious IP generosity, tips, and informed opinions to tim@qz.com.