Dear readers,
Welcome to Quartz's newsletter on the economic possibilities of the extraterrestrial sphere. Please forward widely, and let me know what you think. This week: Elon vs. the Safety Dozen, Bridenstine on board, and ARK's space ETF lifts off.
🚀 🚀 🚀
The consensus world champion for exciting new space vehicle in development is SpaceX's Starship. Each test flight at the company's facility outside Brownsville, Texas is monitored by hundreds of thousands of people watching livestreams set up by folks like NASA Spaceflight and the iconic Boca Chica gal.
The tests focus on demonstrating the vehicle's reusability by launching, gaining altitude, and returning to a landing pad. This week's was delayed, according to SpaceX CEO Elon Musk, by a Federal Aviation Administration safety inspector's late arrival. It's always wise to seek context for Musk's tweets, especially about regulators.
In order to perform tests of Starship, SpaceX needs a license from the FAA, which wants to make sure any novel rockets don't interfere with aircraft or endanger lives on the ground. The license SpaceX operates under (pdf) was essentially self-regulatory: The company needed to report certain info back to the FAA but could largely proceed as it liked.
But ahead of a Dec. 2020 test, SpaceX requested that the FAA waive a requirement not to launch when unique weather conditions create a tiny chance that an explosion at the launch site could create more damage farther away, something called "distant overpressure focusing." The FAA denied the waiver,  SpaceX launched anyway, and so the FAA launched an investigation.
This led Musk to complain about the FAA's "fundamentally broken regulatory structure" for rocket launches. But though industry has made clear that licensing rules must be updated to account for growing commercial launches, that's a different question from the more basic issue that SpaceX violated its agreement with the government. (SpaceX did not respond to questions about its regulatory challenges).
After that episode, the FAA added a new rule: No SpaceX launches could take place at Boca Chica without a safety inspector physically present. This week's launch was delayed after an inspector wasn't able to make it to the launch site with a day's notice.
One roadblock is that there are only a dozen safety inspectors employed by the FAA's Office of Commercial Spaceflight. The "safety dozen" are responsible for a laundry list of work before, during, and after launches to ensure rocket companies meet government requirements.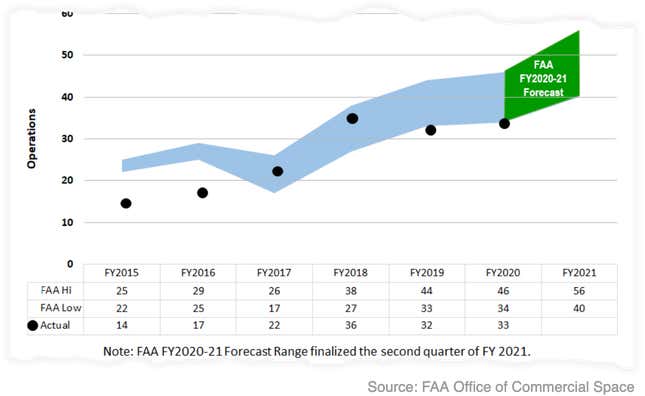 Their portfolio includes every SpaceX launch in Florida, California, and Texas; ULA's commercial launches in Florida; every Blue Origin New Shepard launch in Texas; Rocket Lab launches in New Zealand; Virgin Orbit's LauncherOne in California; and Northrop Grumman launches in Virginia, totting up to seventeen so far in 2021. In 2020, they licensed a record 41 commercial launches; this year, they expect to do 50.
The FAA tells Quartz it is actively recruiting new safety inspectors. And indeed, it makes no sense as a policy matter for the US government to hold up SpaceX's test program, or its investment in high-tech infrastructure and employment, because of staffing levels nearly everyone sees as insufficient. That's one reason why a coalition of space industry trade groups wrote a letter to the secretary of commerce (pdf) in March asking her to maintain and increase staff levels at the Office of Space Commerce.
Meanwhile, lawmakers are calling for a hearing to investigate the FAA's response to SpaceX's license violations, arguing that the FAA has done too little to supervise SpaceX.
Musk's negative tweets and SpaceX's rule-breaking will get far more attention than the polite letter, presenting space advocates with the challenge of raising funding for an agency that is also being derided as broken and ineffective.
🌘 🌘 🌘
IMAGERY INTERLUDE
This sandhill crane was found chilling at NASA's Kennedy Space Center, although I imagine this picture as a selfie snapped on the bird's first day of work as an avionics quality control technician.  (This is the formal portrait.)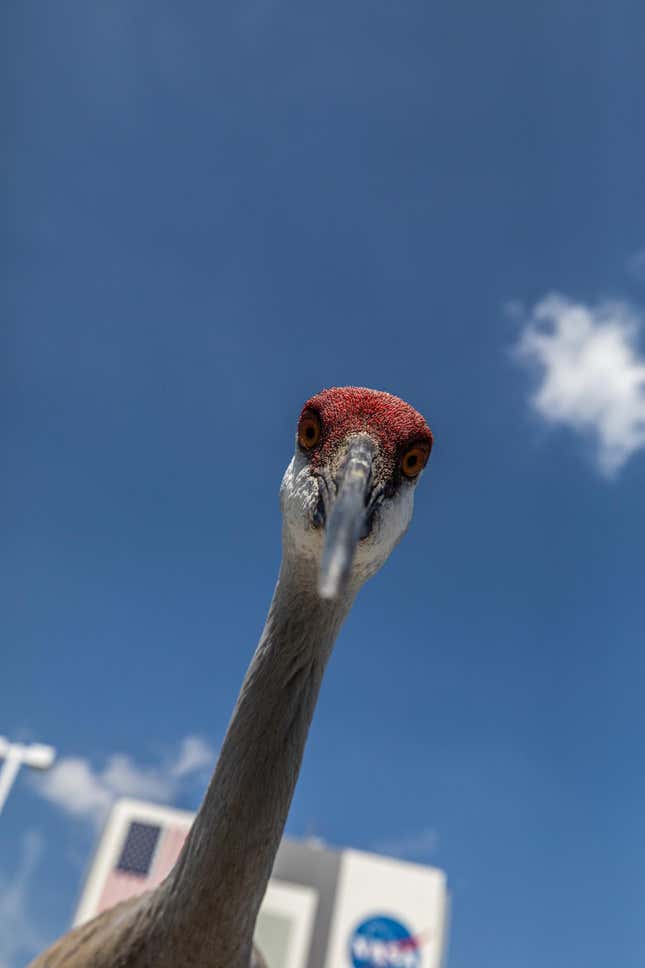 KSC abuts Merritt Island National Wildlife refuge, "home to more than 1,000 species of plants, 117 species of fish, 68 amphibians and reptiles, 330 birds, and 31 different mammals," per NASA. I, for one, miss keeping my eyes out for snakes and alligators in the early mornings before a rocket launch.
👀 Read this 👀
Twitch is the undisputed king of the video game streaming world, and there's no reason to think any of its competitors will dethrone it any time soon.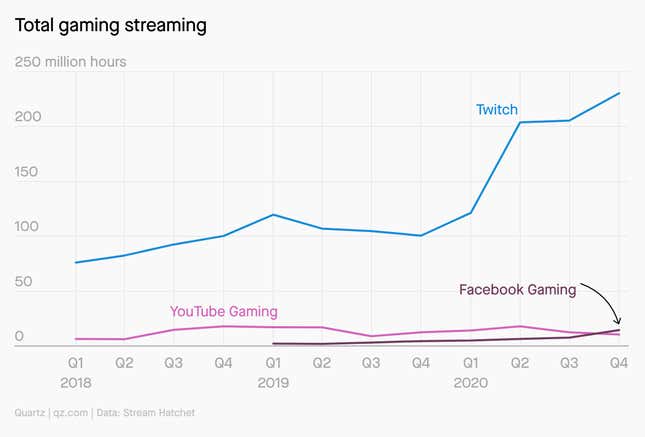 Twitch's biggest strength is the connection that viewers form with streamers and each other in the chaotic comment sections of its videos. Those relationships have kept viewers on Twitch and creates strong incentives for streamers to stay on the platform, too, because that's where most of their potential audience and money-making opportunities are concentrated.
Still, there are a few ways other platforms could shoulder in:
🔥 A hot new app pops up and snatches the "cool" mantle
🗣 Twitch's moderation problem gets out of hand and drives streamers away
⚖️ Antitrust regulators take Twitch to court
🛰🛰🛰
SPACE DEBRIS
Bridenstine, on board. Former NASA administrator Jim Bridenstine has joined the board of directors at ViaSat, the US satellite operator that offers broadband internet connectivity. "I wanted to be part of something that is going to be transformational for humanity," he tells Quartz, adding that he recruited himself for the job, reaching out to ViaSat CEO and chair Mark Dankberg "because I really believe that connecting more of the world than ever before is in fact transformational. It will bring more equity when it comes to education and health care and income disparities."
Bridenstine, a former member of Congress and naval aviator, will advise the company on federal relations and military contracts, but will also play a role in articulating ViaSat's concerns about space safety. "It is critically important for all of humanity that we preserve space for generations to come," he said. "The trajectory we are on right now is not a trajectory that is sustainable. We need to make sure we have responsible operators in space, especially when we think about the number of constellations being launched into LEO, and how crowded it already is, and how much more crowded it will be in the near future."
The ARK of history is long. The widely awaited space economy ETF from ARK investment has been released to the market, theoretically allowing public investors to gain broader exposure to the sector. Some observers were baffled by the inclusion of companies like Deere & Co. or Alibaba in the portfolio, but my analysis is simpler: Every company is a space company now.
Third time's the charm. Virgin Galactic unveiled its first SpaceShip III this week, essentially the same vehicle as its predecessor but with significant internal redesigns to improve the strength of the airframe and make manufacturing and maintenance more efficient. The company's current operational spaceplane is headed for its next test in May, in which it is expected to fly four passengers for the first time.
Tourist roll call. We now know the full crew of what is set to be the first commercial tourist mission onboard a SpaceX crew Dragon capsule, with the addition of community college professor Sian Proctor and Lockheed Martin engineer Christopher Sembroski, alongside billionaire sponsor Jared Isaacman and St. Jude's Children's Hospital physician's assistant Hayley Arceneaux. The mission, now expected to launch in September, will also debut a new "cupola" for better views in orbit.
Burn notice. Aerospace Corporation researchers shared their research agenda around space pollution with me last week, just as a SpaceX second stage burned up dramatically over the US as a handy object lesson. (No word yet from SpaceX on whether or not that was an anomaly.) Scientists just don't understand what burn up spacecraft particles will do in orbit, but it's reasonable to assume their mass will increase eight-fold or more in the years ahead, making it a pressing question.
SPAC Completism. Just noting for posterity that Redwire, the nascent conglomerate that has been busy buying up smaller space firms, announced plans to go public via a SPAC transaction last week.
Your pal,
Tim
This was issue 90 of our newsletter. Hope your week is out of this world! Please send FAA space regulatory reform schemes, SPAC gossip, tips, and informed opinions to tim@qz.com.