Alternative energy is creeping up on Big Oil faster than you think. Falling prices led to the S&P energy sector's worst January on record, with an 11% decline for the industry compared to a 0.2% decline in the index overall. For the first time since the S&P 500 was created, ExxonMobil slipped from its place among the index's top 10 businesses. Even Shell, the highest-earning of oil's supermajors, has yet to fully recover from a 2015 nosedive that saw a 36.9% drop in year-on-year revenue.
Eager to take the oil industry's place are four battery giants, which started the year on a much better foot than their fossil fuel counterparts: Contemporary Amperex Technology (CATL), Panasonic, BYD, and LG Chem. Earlier this week, CATL confirmed it entered a contract to supply Tesla's batteries. Panasonic launched a partnership with Toyota to build electric vehicles. And LG Chem will soon begin its joint venture with GM to build a $2.3 billion EV facility in Ohio—set to be one of the world's largest battery factories.
Combined, these companies are expected to produce some 333 GWh of annual lithium-ion battery capacity by 2022. (For comparison, the projected capacity for all lithium-ion battery manufacturers in 2020 is just 230 GWh.) CATL in particular, the world's largest lithium-ion battery producer, is experiencing extraordinary growth: Its revenue for the year ending in September 2019 was over 50% higher than the previous year. As Big Oil falters in the first weeks of 2020, Big Battery is proving it is only getting started.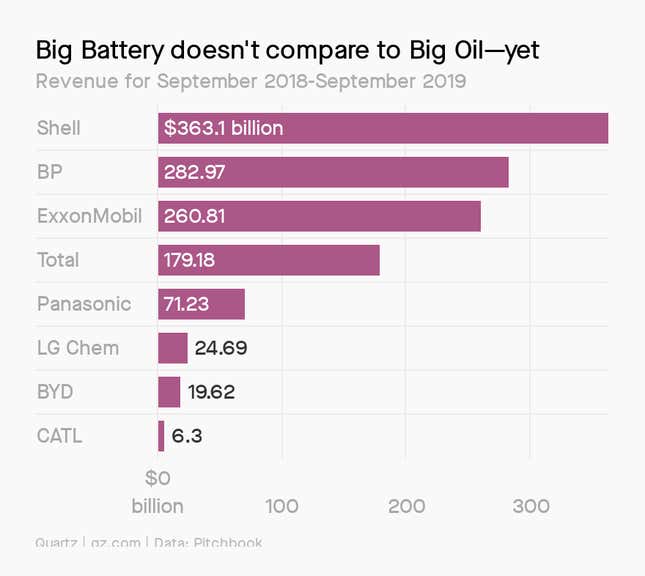 This doesn't mean the battery industry doesn't face challenges of its own. As the Chinese government rolls back some of its incentive programs for batteries and EVs, China-based CATL and BYD are under pressure to expand their markets quickly enough to offset slowing growth at home. There are also significant technological, environmental, and economic barriers that stand in the way of batteries overtaking fossil fuels; for a refresher on those, you can turn back to Quartz's field guide on the battery industry.
Still, the battery revolution shows no signs of slowing. RMI reports that the first half of 2019 saw $1.4 billion in battery technology investment, and the Big Four are far from alone in dividing the spoils. According to Pitchbook, 574 battery technology and electric vehicle startups have secured financing deals since 2017. Nearly all of these startups aim to develop better batteries—with higher energy density, more compact designs, and faster charging. Many develop batteries in application-specific contexts, with 23% exploring automotive uses.
Whether the future is led by multinational battery corporations or alternative energy startups, Big Oil will not cede its throne eagerly. Faced with slowing growth and shifting public opinion, the major fossil fuel companies are investing heavily in batteries. Shell acquired energy-storage startup Sonnen for an undisclosed amount last year, after an earlier investment of $70 million. Total owns battery-maker Saft. British Petroleum has invested $20 million in StoreDot, a startup that makes faster-charging batteries for EVs.
It's far too early to say the era of Big Oil is over. But batteries are well on their way to powering the world.
---
Have feedback? Hit reply or write to dmoore@qz.com. If you'd like to support our work, you can subscribe to Quartz—new members get 40% off Quartz's annual subscription.