Good morning, globalists and patriots!
It's Day Three of our UNGA watch, which means we've made it through the thick of it. Phew! Most of the biggest sideline events are now over and most of the highly anticipated leaders have spoken. That said, there's still lots to be done. The rest of the week (and next week too, actually) delegates turn to the difficult task of fathoming how to accomplish the lofty goals discussed during the first few days. Some are already planning for next year's UNGA.
Not us, though. We are staying in the moment. And there were plenty of moments on Wednesday to talk through, and plenty of moments yet to come. So let's begin!
What to watch for today
If I had a hammer… Did you know the gavel used during the UN General Debate is called "Thor's Gavel"? Here's the history. And here's the list of today's speakers. Of note: President Mahmoud Abbas of Palestine speaks in the early afternoon. Israeli prime minister Benjamin Netanyahu will be noticeably absent.
You can livestream the General Debate on UNTV (also the source of UNGA's most reliable schedule of events) starting at 9am EDT. At 1:15pm, attendees will discuss how best to confront hate speech around the world.
Come together. France and Germany are launching the Alliance of Multilateralism, an effort to combine the power of democracies around the world against the advancement of nationalism. Many countries have been invited to the alliance and are joining it. Russia and China are not. Neither is the US, which is hardly surprising given Donald Trump's address on Tuesday, when he said: "The future does not belong to globalists. It belongs to nationalists."
Going nuclear on nuclear. Considering the escalating tensions between the US and Iran and Indian and Pakistan, it's a good time to mark the International Day for the Total Elimination of Nuclear Weapons (pdf). Some 70 states are expected to mark the occasion by ratifying a treaty prohibiting nuclear weapons, at a moment when the threat of nuclear warfare is at its highest since the Cold War.
Justice for survivors. The UNGA hosts a town hall dedicated to the victims of sexual abuse, featuring heads of state, diplomats, as well as survivors. The event precedes the planned adoption next year of a resolution recognizing the rights of survivors of sexual violence. The resolution will set the standard for a minimum level of justice due to survivors of sexual violence, something that is still missing in many countries.
What everyone is talking about
Iran says no. Efforts to convince Iranian president Hassan Rouhani to sit down with Trump while he's in the US (though technically on international soil because it's the UN), fell apart spectacularly yesterday. Rouhani said the only path to a meeting would be for the US to reinstate the 2015 Iran deal that Trump withdrew from last year. The US responded with even more economic sanctions.
It's the system, stupid. A discussion on inequality during the Bill and Melinda Gates Foundation's Goalkeepers event grew riveting when it turned to the role of mega-rich philanthropists, such as Bill and Melinda Gates. Skillfully moderated by BBC presenter Zeinab Bedawi, the panel and audience discussed how the current capitalist system not only promotes inequality but also holds women and minorities at the bottom of the social hierarchy. The choice quote came from comedian and actor John Fugelsang: "Charity cannot out-rig a system that is rigged." Bill Gates chewed on his glasses and laughed nervously.
No green light given. An otherwise anodyne interview of Disney CEO Bob Iger (question: "To what do you credit your success?" Answer: "Hard work") and JPMorgan CEO Jamie Dimon took a strange turn when moderator Francine Lacqua of Bloomberg revealed that Dimon had once pitched Iger on a film idea several years ago. "It was about a woman who couldn't pick men very well, so she would have a board of directors of women who would pick her husband," Dimon explained, inspiring audible groans at the Bloomberg Global Business Forum. That was pretty much Iger's reaction, too. "When you're in the movie business and the head of a bank comes in with a movie idea, you show respect," the Disney chief said. "But I was very direct; I said it's a bad idea."
Donors for Duque? Colombian president Iván Duque might be winning the UNGA. He has scored major points with the international community for taking in 1 million refugees fleeing the economic meltdown in neighboring Venezuela, as well as committing to Amazon reforestation and renewable energy. Former president Bill Clinton made a direct appeal yesterday for financial assistance for the Latin American country. Late in the day,  Duque said he'll produce over evidence that Venezuela is allowing guerrilla armies to regroup within its territory. We'll be looking out for that.
Photo of the day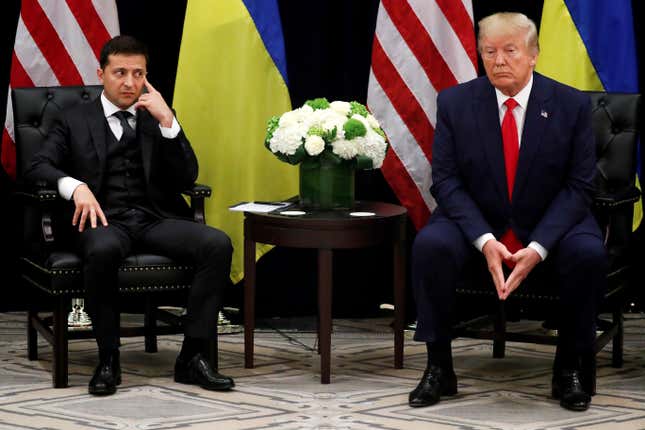 Awkward! This is Donald Trump and Ukraine president Volodymyr Zelensky at a press conference following their bilateral meeting on the sidelines of the UNGA yesterday. If you don't already know why they look so uncomfortable, you can read up on it here and here. And here. Also here, here, here, and here.
Climate Action alerts!
We're all gonna die. In a sweeping new report on the state of the oceans and the cryosphere—the ecological realm of sea ice, snow, and glaciers—the UN climate change body didn't pull any punches. Even if one looks only at oceans and ice, failure to dramatically reshape "all aspects of society" in order to keep warming in check—less than 2°C above pre-industrial levels—will mean devastation for coastal cities, Arctic communities, small island states, anyone who relies on glaciers for water, and virtually all sea creatures. In other words, it would be the end of life on Earth as we know it.
Diamonds in the sky. One day we'll track emissions on Earth by looking down from space. While that day remains far off, California's governor is taking the first steps, teaming up with satellite start-up Planet Labs and Bloomberg Philanthropies. Planet Labs will use its fleet of 150 tiny satellites to monitor wildfires in the state and coal plants around the world. California's Mary Nichols, chair of the California Air Resources Board, called it an "exciting but very expensive undertaking."
A new kind of trade war. Though the most worrying UN divide on climate change is between those who are trying to mitigate its effects and those who refuse to even recognize it, there are also many other disagreements within each side. The EU and New Zealand, for example, have taken different positions on tariffs. The EU is in favor of carbon adjusted tariffs only, while New Zealand wants to add domestic carbon taxes alongside them. "We have to take some domestic ownership," said New Zealand's prime minister Jacinda Ardern. "Trade can't bear the brunt of the blame."
Chart interlude
Among OECD countries, Germany has boosted its UN contributions the most in recent years. For the full chart of changes in UN payments over time, read reporter Amanda Shendruk's story.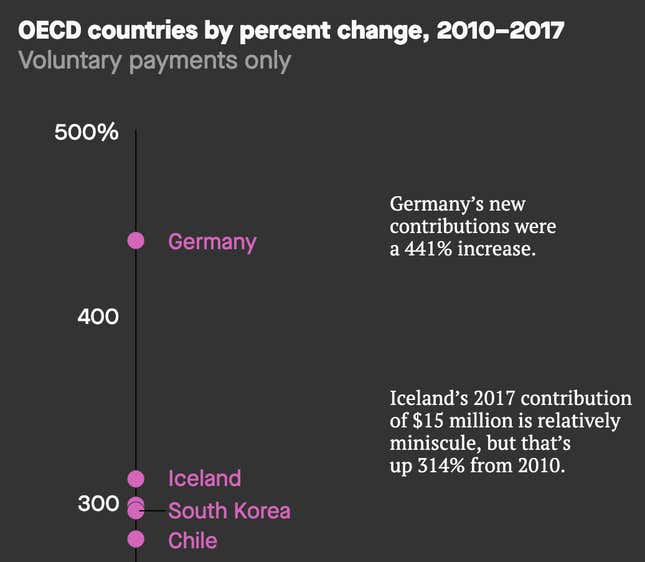 Overheard at UNGA
"Inequality in Africa increased under black rule. Come on, what is that?!"—Mo Ibrahim, Sudanese-British billionaire.
"I'm already in better physical condition." —Blackstone Group chairman and CEO Steve Schwarzman on walking and taking the subway during UNGA week.
"I think that era of your job being defined by your company is over."—Uber CEO Dara Khosrowshahi.
"I'm pretty shy about calling people. I just want to mail them my charts."—Microsoft founder Bill Gates.
"I'm a feminist politician," said Spanish prime minister Pedro Sanchez. About 65% of his government's cabinet officials are women. "We bring a gender equality perspective to all policies that we bring before Parliament."
"It's the PM DM CM VM model," an Indian government official said during a video about building toilets, without any further explanation
Acronym of the day
DFTF: Task Force on Digital Financing of the SDGs (Yes, really. Sorry, we don't make the rules.)
News from around the world
Illegal abortion became a thing of the past in Australia. New South Wales became the last state in the country to decriminalize abortion, overturning a 119-year-old law. NSW will now allow terminations up to 22 weeks, and later with medical consent from two doctors.
Minimum alcohol prices are slowing Scottish drinking. A study published in the British Medical Journal found that people in Scotland are buying less booze after it became the first country in the world to introduce minimum alcohol pricing, back in May 2018.
A Chinese HIV whistleblower died. Shuping Wang discovered and exposed dangerous practices at blood donation centers in China in the 1990s, calling out a lack of testing for hepatitis C and HIV. She lost her job and was ostracized, and died in the US aged 59.
Matters of debate
Join the conversation on the Quartz app!
Movie continuations of TV shows have turned a corner. What used to be a risky jump from small to big screens is finally breaking good.
Green travel starts with global finance. For the travel industry to be able to make a significant change, it'll need committed backing.
Neoliberalism has tricked us into fighting climate change as individuals. The real solution is a collective check on corporate power.
Surprising discoveries
Machu Picchu was deliberately built on fault lines. New research suggests that the fissures produce cracked chunks of granite, making it easier to construct the city's stone walls.
A forgiveness emoji could be on the horizon. A Finnish nonprofit group is crowdsourcing ideas to propose to the emoji powers that be.
Boaty McBoatface has a new name. The polar exploration ship will not carry the name, but some of its subs will keep the moniker.
May your day be filled with riveting panels, energetic discussions, and ample financing. Please send transcripts, memos and notes to pete@qz.com. You can read more of our UNGA 2019 coverage here. And if you have colleagues or friends who would enjoy these emails, be the change you want to see in the world and forward this along.