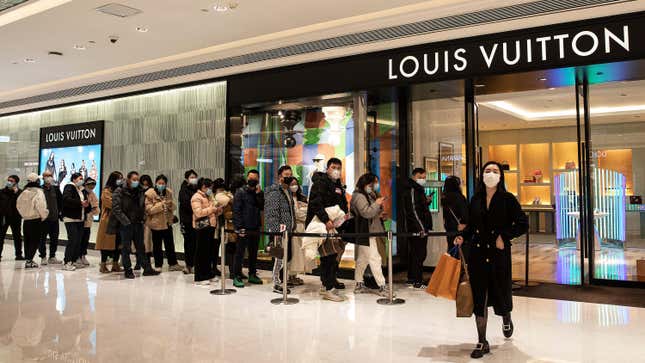 LVMH has become the first European firm in history to surpass $500 billion in market cap.
Besides its eponymous products—the fashion lines of Louis Vuitton and the wines and spirits of Moët Hennessy—the Paris-listed conglomerate is also behind a slew of other luxury and lifestyle labels, including Bulgari, TAG Heuer, Christian Dior, and Stella McCartney.
Even before reaching its new sky-high valuation, the French luxury house, founded and run by Bernard Arnault, became the first European firm to slide into the list of the top 10 companies in the world by stock valuation. On the back of upbeat first-quarter sales arlier this month, LVMH clawed its way into a ranking long dominated by US tech behemoths such as Apple, Alphabet, and Amazon.
China's comeback helped LVMH
In January, Arnault said that LVMH had "every reason to be confident, indeed optimistic on China." He added that if the "green shoots" the company sensed in China continue to grow, "it will be an excellent year."
By the end of the first quarter, sales were showing promise. While reporting its most recent earnings earlier this month, LVMH noted that "Asia experienced a significant rebound following the lifting of health restrictions." This included China scrapping covid-19 restrictions after three long years in 2023.
Sales have been buoyed by the return of luxury shopping in China not only for LVMH but also for others such as rival bagmaker Hermès and the British luxury brand Burberry.
To service this group of affluent shoppers, LVMH is gearing up to meet them where they are. The company is reportedly launching a two-story flagship Louis Vuitton store in Hainan, a duty-free haven in China. (Whether the store itself will offer duty-free products is not yet public knowledge.) LVMH also continues to expand further into metros as well as tier-2 and -3 cities such as Fuzhou, Guiyang, and Nanning.
By the digits: LVMH's ascent
21 billion euros ($23 billion): LVMH's record revenue in the first quarter of 2023, up 17% compared to the same period a year prior
1,829: The number of stores LVMH has in Asia, excluding Japan, together generating more than $25 billion in revenue
14%: The growth of first-quarter sales in Asia, excluding Japan, compared with an 8% decline in the fourth quarter of last year
30%: The rise in LVMH's share price thus far in 2023
Charted: Bernard Arnault cements his position as world's richest person

Person of interest: Arnault's successor
Arnault, who co-founded LVMH 35 years ago, is 74, and he seems to have succession planning on his mind. The tycoon tweaked the structure of his holding company to the kind used by the likes of other French family-owned firms such as Hermes and Michelin, to prevent takeovers and ensure control stays within the bloodline. But the family tree isn't so straightforward. Arnault has five children from two different marriages to choose from.
In January, Delphine Arnault, Bernard's 47-year-old daughter and the oldest of his five children, was appointed head of Dior. Antoine Arnault, 45, is CEO of the holding company Christian Dior SE—which controls 41% of the capital and 56% of the voting rights in the LVMH group—and vice chairman of its board of directors.
Arnault's three younger children also hold important positions in the group: 30-year-old Alexandre Arnault, 28-year-old Frederic Arnault, 24-year-old Jean Arnault oversee the jewelry brand Tiffany, the watch brand Tag Heuer, and Louis Vuitton's watches division, respectively.
Arnault is in no rush to choose yet. Chairman since 1989, he is considering holding on to his post until his 80th birthday.
Related stories
🛍 LVMH and H&M earnings show luxury goods can weather more storms than fast fashion
🤑 Dior's new boss is the world's richest man's daughter