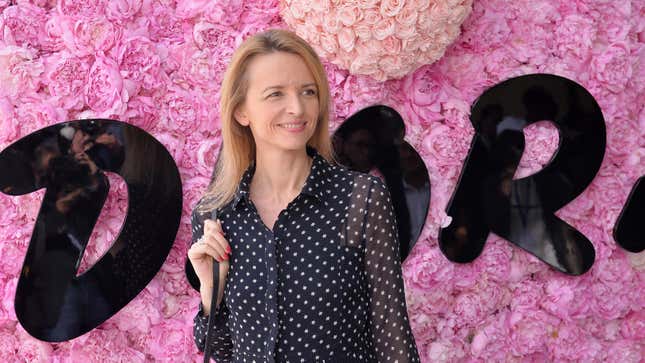 Bernard Arnault, the chairman and CEO of luxury conglomerate LVMH, is putting his daughter in charge of Christian Dior Couture.

Starting Feb. 1, 47-year-old Delphine Arnault, who has served as the executive vice president of Louis Vuitton since 2013, will take the reins at LVMH's second-largest brand, the company announced on Jan. 11.
The links in the chain of command at the French luxury conglomerate are all changing with this management shakeup: Delphine succeeds Pietro Beccari, who is moving onto being chairman and CEO of Louis Vuitton after his four-year stint at Dior. Meanwhile, Beccari replaces Michael Burke, who spent a decade leading Louis Vuitton. Burke will take up new responsibilities, reporting directly to Bernard Arnault.
Delphine is a great fit for the Dior role, in her father's words
"The appointment of Delphine Arnault is another milestone in a career journey in fashion and leather goods defined by excellence, first during 12 years at Christian Dior and then at Louis Vuitton for the past decade where she was number two with responsibility for all of the Maison's product activities. Under her leadership, the desirability of Louis Vuitton products advanced significantly, enabling the brand to regularly set new sales records. Her keen insights and incomparable experience will be decisive assets in driving the ongoing development of Christian Dior." -Bernard Arnault
Charted: Fashion brands like Dior lead LVMH revenue
People of interest: Bernard Arnault's children
Delphine, the oldest of Bernard's five children, isn't the only one to hold an executive position at the group. Most of her siblings do, too. And similarly to their sister's French business school EDHEC and London School of Economics education and tenures at LV and Dior, the Arnault progeny have exceptional educational pedigrees and impressive resumés.
Antoine Arnault, 45, was named CEO of holding company Christian Dior SE—which controls 41% of the capital and 56% of the voting rights in the LVMH group—and vice chairman of its board of directors in early December. He is also the CEO of high-end footwear and apparel label Berluti, and the chairman of Italian label Loro Piana. Antoine has degrees from French business school INSEAD and Canadian business school HEC Montreal.
Alexandre Arnault, 30, is executive vice president, in charge of product and communications at jewelry brand Tiffany. Between 2016 and 2020, he was CEO of LVMH-owned German luggage-maker Rimowa.
Frederic Arnault, 28, has been CEO of watch brand Tag Heuer since 2020. Alexandre got a master's degree from French university Ecole Polytechnique.
Jean Arnault, the youngest of the lot at 24, has been director of marketing and development of Louis Vuitton's watches division since August 2021. He's only joined the group recently, but comes armed with experience at prestigious companies like McLaren and Morgan Stanley.
Who will take over from Bernard Arnault?
Rumor had it that the 73-year-old scion started priming and auditioning his two oldest children for a key job—his own—a decade ago. But as more time passes, the competition is only getting stiffer. All five children from two different marriages seem to be in the running for the corporate throne at the luxury empire.
In mid-2022, the tycoon tweaked the structure of the holding company to ones used by the likes of other French family-owned firms Hermes and Michelin to prevent takeovers and ensure the control stays within the bloodline. Bernard, who has been chairman since 1989, still has time to decide who will replace him as he weighs extending his tenure to the age of 80.
Bernard Arnault's LVMH, by the digits
75: Brands housed under the luxury group LVMH
€64.2 billion ($71.5 billion): LVMH's revenue in 2021
$182 billion: Bernard's net worth as he comfortably tops the world's richest man. That's also equivalent to the record loss in the wealth of Tesla, SpaceX, and Twitter CEO Elon Musk, which cost him his apex spot on the world's richest list. Bernard overtook Musk in December 2022.
Of fashion empires and nepotism
The LVMH head honcho isn't the only one grooming his kids to take over one day. A handful of brands are following a similar dynastical footprint:
Amancio Ortega's Spanish high Street fashion giant Inditex, which owns brands including Zara and Massimo Dutti, appointed the founder's daughter, Marta Ortega, chairperson in 2021.
Prada boss Patrizio Bertelli said he expects to put his son Lorenzo in charge within a couple of years.