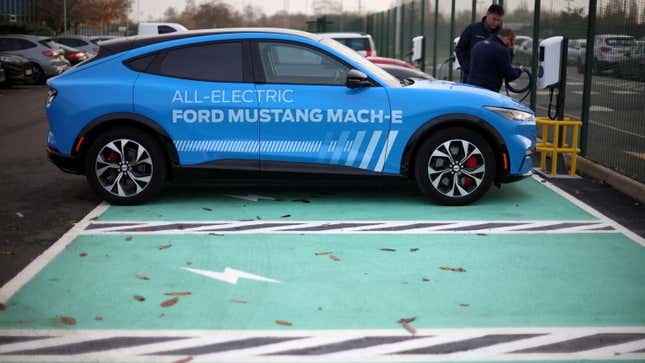 Ford is finally giving investors what they want: a price-tag on its electric vehicle revolution.
Eric Beiley Part II: Where rates are heading
The company's brand new reporting system, sorted by "different automotive customers, rather than by geographic regions," reveals that Ford's EV business lost $2.1 billion on an operating basis in 2022—more than double the $900 million it lost the previous year. And next year, EVs will be an even bigger burden on costs, Ford predicts.
Overall, EVs appearing in the red isn't a massive concern. Ford's internal combustion engine (ICE) and fleet businesses more than made up for the EV losses, raking in $10 billion in operating profits. Next year, too, these segments will do the heavy-lifting to keep profits looking up.
By the digits: Ford's 2023 profit and loss predictions
$3 billion: Ford's forecasted loss for its EV unit in 2023
$7 billion: Ford's adjusted earnings forecast for its internal combustion unit in 2023
$6 billion: Ford's adjusted earnings forecast for its fleet business in 2023
Quotable: Why is Ford laying bare its EV losses?
"We've essentially 'refounded' Ford, with business segments that provide new degrees of strategic clarity, insight and accountability to the Ford+ plan for growth and value. It's not only about changing how we report financial results; we're transforming how we think, make decisions and run the company, and allocate capital for highest returns."

The future of Ford's EVs
In March 2022, when Ford separated its gas and hybrid vehicles ("Ford Blue"), and EVs ("Ford Model e") into separate units in a sweeping reorganization, it gave Wall Street hope for some answers to a pressing question: What is the cost of transitioning to EVs?
At the time, Ford's CEO Jim Farley said the new EV arm will "produce as much excitement as any pure EV competitor, but with scale and resources that no start-up could ever match." This scale and access to resources for the 120-year-old company comes from its legacy business, which Farley described as "a profit and cash engine."
With the new financial reporting system, the numbers prove exactly that.
Why did Ford change its financial reporting system
Cathy O'Callaghan, controller and vice-president at Ford will host a "teach-in" on how to assess the company's new way of reporting in a webinar at 10am ET today (Mar. 23). O'Callaghan said this wasn't a "proforma spreadsheet exercise" but the result of "nearly a year of disciplined work by hundreds of Ford people to help us capture the huge strategic opportunity of Ford+ and provide unique transparency into our business."
O'Callaghan highlights three motivations for the revamp:
✊ To fairly represent the business models of each segment
🙇 To give the Ford Blue, Ford Model e, and Ford Pro teams both the latitude and accountability for their success
👀 To make things easier to understand and simpler to execute, "so that everyone can see how Ford is generating value for customers and other stakeholders"
Charted: How popular are Ford EVs?


One big number: Ford EVs' future profitability
8%: The adjusted operating margin that Ford forecasts for the Ford Model e business by the end of 2026. By then, the company aims to produce 2 million EVs annually, around the world. In a note to investors on Monday (March 20), Emmanuel Rosner, a Deutsche Bank analyst, said this EBIT margin is likely "very difficult to accomplish" because the EV business "could record significantly bigger losses than investors expect."
Related stories
🛑 Ford is dropping production of its most popular car to focus on EVs
🔋 Ford's EV battery deal with China's CATL echoes industrial history