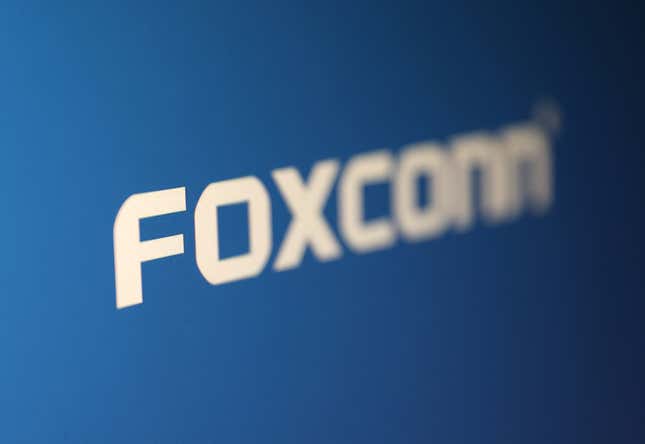 Foxconn, the Taiwanese manufacturer of iPhones and other signature Apple devices, reported a 56% year-on-year plunge in its first-quarter profit, thanks in part to weak global smartphone sales.
3 considerations before your company takes a stance
Officially known as Hon Hai Precision Industry, Foxconn saw its quarterly net profit fall to 12.8 billion Taiwan dollars ($417.17 million), down from 29.45 billion Taiwan dollars in the first quarter last year.
Foxconn expects consumer electronics revenues to fall
Revenue for the January-March quarter grew 4% on the year. But Foxconn expects revenue for its consumer electronics segment—which makes up the bulk of Foxconn's total revenue—to fall on the year in the second quarter. (Already, April sales figures are bearing this out. Revenue in April fell 11.77% year-on-year.) Revenue for its cloud computing and networking products is expected to flatline this year. Foxconn had previously forecast strong growth in those sectors.
While sluggish consumer electronics sales dragged on Foxconn's business, the company's chairman Liu Young-way said on an earnings call that the profit plunge was also due to a 17.3 billion Taiwan dollar write-down that Foxconn took on its 34% stake in  Japanese electronics maker Sharp. Sharp today (April 11) reported its first net loss in six years, and Foxconn said it will ask the company to "adjust" its management team to improve operations.
Foxconn will hit speedbumps in its EV ambitions
Foxconn may also have a bumpy ride ahead as it pursues its electric vehicle ambitions. Its investment in the US electric truck startup Lordstown Motors looks precarious, after Foxconn accused Lordstown of breaching their contract by letting its stock price slide below $1. Lordstown warned this month that it may be at risk of bankruptcy.
Lordstown isn't Foxconn's only EV bet, however. On Tuesday (May 10), Foxconn signed a memorandum of understanding with the German semiconductor maker Infineon to develop silicon carbide for use in automotive systems. Silicon carbide, a silicon and carbon mineral compound, could improve the efficiency of EV inverters, which convert power from the battery's direct current (DC) to the alternating current (AC) used in the vehicle's motor.