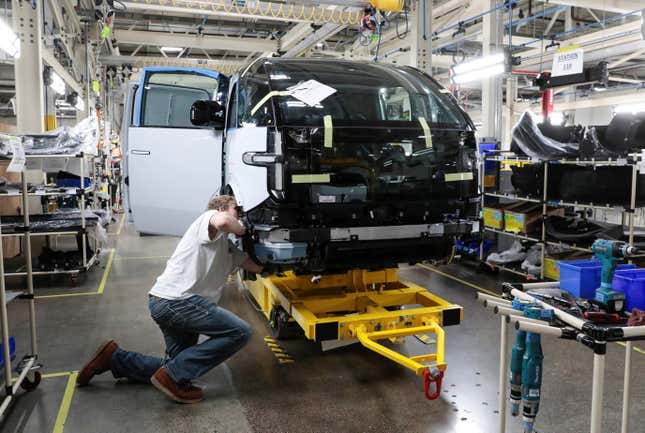 The US Federal Reserve's tenth consecutive rate hike this week put markets on edge about whether more is yet to come. These hikes affect the price of money, making it more expensive to borrow. In turn, that influences other rates across the economy, including mortgages and loans, which has implications for spending, hiring, and fundraising.
Carin Pai, Part 2: Reasons to de-risk your portfolio
Electric vehicle startups have realized this only too well.
American EV startup stocks are in freefall
Over the past year, in parallel with the Fed's rate tightening cycle, the share prices of several EV startups have plummeted by high double digit percentages.
This week, the electric truck startup Lordstown Motors warned in a regulatory filing that it may go bankrupt. Its partner in an investment deal, the iPhone manufacturer Foxconn, had accused Lordstown of breaching their contract by letting its stock price slide below $1. Foxconn's investment in Lordstown is now in doubt, rendering the company shaky.
But it's not just Lordstown that's falling on hard times, as interest rates continue their upward march.
The California-based Canoo, which makes pickup trucks and delivery vans, has seen its share price sink 90% since last May. Nikola, which is developing both battery- and hydrogen cell-powered vehicles, is down over 92%. Ditto for Rivian (down 87% since publicly listing in November 2021), Faraday Future (down 98%) and Lordstown (down nearly 95%).
The luxury sedan maker Lucid and the SUV maker Fisker are faring slightly better: they are only down 59% and 47%, respectively, over the past two years. That hasn't prevented Lucid from having to lay off 1,300 employees—nearly one-fifth of its workforce—in a recent restructuring.
EV startups can't just blame high interest rates
Of course, interest rates aren't the only reason for the EV makers' woes.
Lucid, Nikola, and Lordstown have all missed production, deliveries, and revenue targets by wide margins. Rivian undershot its goals, too, albeit more narrowly. Production of Faraday Future's luxury SUV has been severely delayed.
Persistent supply chain problems stemming from the pandemic's disruptions haven't helped either. Then there's cooling consumer demand. And, in Nikola's case, there has also been the added setback that its founder was convicted for fraud last October. That came on the heels of a $125 million settlement to resolve a securities fraud investigation in December 2021.
Also looming large over any discussion of EVs is, of course, China. As US startups struggle, Chinese EV makers are cornering their own domestic market and gobbling up market share from legacy foreign automakers, all the while aggressively expanding overseas.
High interest rates are only the most proximate challenge for US EV startups. The fact that Chinese EV firms are running laps around their US competitors stems from decades of outsourcing manufacturing abroad, and American industry neglecting until recently to invest in building EV supply chains from mining minerals to processing them for batteries and magnets.
It's going to be a long catch-up game ahead for US EV makers, high interest rates or not.