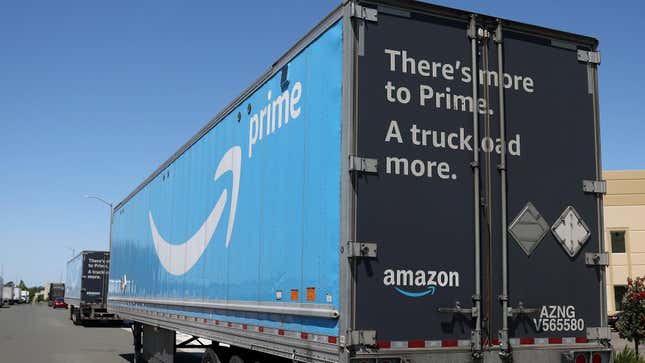 The US Federal Trade Commission (FTC) yesterday (June 21) accused Amazon of signing customers up for its Prime subscription program without consent, and sabotaging their attempts to cancel for years. And it apparently took inspiration from Homer's Iliad to do it.

Don't expect the Fed to help your investment in Amazon
Between 2016 and April 2023, Amazon put in cumbersome processes to thwart subscribers from doing so, the FTC alleges. "Fittingly, Amazon named that process 'Iliad,' which refers to Homer's epic about the long, arduous Trojan War. Amazon designed the Iliad cancellation process ("Iliad Flow") to be labyrinthine," the FTC said in its complaint. (The Trojan War is thought to have lasted 10 years, and Homer's epic 15,693-line long poem focuses on the last stretch of the conflict that leads to the defeat of the city of Troy, also known as Ilion).
Where customers could enrol in Prime in one or two clicks, the so-called Iliad cancellation process, in place since 2016, was a four-page, six-click, fifteen-option one, according to the complaint. It tried to dissuade customers by repeatedly showing them their "journey" with Prime, offering alternative or discounted pricing, highlighting the benefits they were giving up, or encouraging them to use the "Remind Me Later" or "Keep My Membership" options to defer their decision to cancel.
Amazon has used "manipulative, coercive or deceptive user-interface designs known as 'dark patterns' to trick consumers into enrolling in automatically renewing Prime subscriptions," the FTC said in a press release announcing the lawsuit seeking civil penalties and a permanent injunction to prevent future violations.
The complaint alleges that Amazon's practices violated the FTC Act and the Restore Online Shoppers' Confidence Act (ROSCA), a law that mandates clear, consensual terms in e-commerce transactions.
Amazon Prime subscriptions, by the digits
$139: Yearly fee for Amazon Prime subscription, or $14.99 a month
$35 billion: Annual revenue Amazon earned from subscriptions in 2022
200 million+: Prime members worldwide
Millions: How many customers Amazon has duped into unwittingly enrolling for its Prime program, according to the FTC complaint

Quotable: Amazon denies duping customers
"The FTC's claims are false on the facts and the law. The truth is that customers love Prime, and by design we make it clear and simple for customers to both sign up for or cancel their Prime membership."—Amazon spokesperson Curtis Eichelberger in a June 21 press statement
A brief timeline of the FTC's investigation into Amazon Prime subscription enrolments and cancellations
March 2021: The FTC first contacts Amazon about the probe into sign up and cancellation processes.
March 2022: A year on, Amazon has shared "only a small amount of material."
June 2022: The FTC issues a Civil Investigative Demand (CID) to gather more information from Amazon. Amazon does not comply.
August 2022: Amazon files a petition with the FTC, requesting to limit or dispel the CID.
September 2022: The Commission denies Amazon's petition.
Rabbit hole: FTC's recent crackdown on Amazon
In May 2023, the FTC went after Amazon's privacy violations, forcing it to pay a combined $30-billion plus over its Ring doorbell cameras being used for spying on some customers, and voice assistant Alexa violating children's privacy rights by failing to comply with requests to delete recordings in a timely manner or at all.

And those are just the recent fines. The FTC has reportedly been looking into Amazon's business practices since the Trump era to put together a broader anti-trust lawsuit. Amazon even sought the recusal of FTC chair Lina Khan, who authored an essay "Amazon's Antitrust Paradox" in her law student days, from any cases involving the e-commerce behemoth.
Related stories
📦 Bernie Sanders is going after Amazon's working conditions
📜 The FTC is preparing a wide-ranging antitrust lawsuit against Amazon