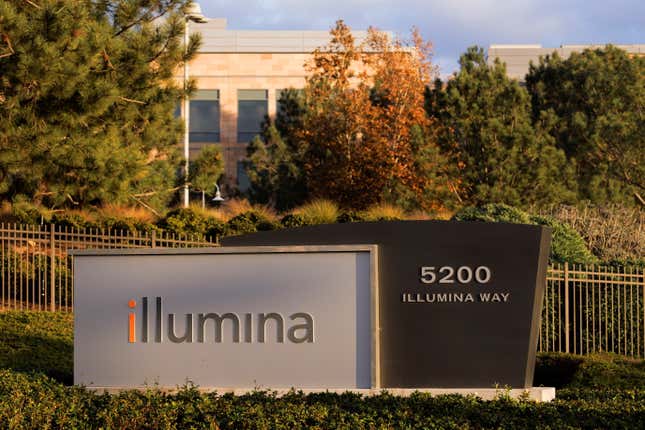 The US Federal Trade Commission (FTC) ordered Illumina, a leading DNA-sequencing firm, to unravel its $7 billion acquisition of Grail, a developer of cancer-screening tests, stating the deal would hurt innovation and competition in the market.

Paulina Porizkova on being an Estee Lauder model
The move announced on Monday (Apr. 3) reverses an administrative judge's ruling in September that dismissed the FTC's initial bid to block the deal. The decision signals that antitrust regulators are taking a tougher stance on larger industry players buying emerging startups.
"The Commission found that the acquisition would diminish innovation in the US market for MCED tests while increasing prices and decreasing choice and quality of tests. This is extremely concerning given the importance of swiftly developing effective and affordable tools to detect cancer early," the FTC said in a statement.
All four FTC commissioners voted in favor of unwinding Illumina's purchase of Grail, which was closed in August 2021 without a regulatory greenlight. Grail started out as a subsidiary of Illumina, but it was then spun-out in 2016.
The FTC decision aligns with the concerns of EU regulators. In September the European Commission announced that it would block the merger, stating Illumina could limit Grail's competition as the "only credible supplier" of the technology used to process its cancer-detection blood tests.
Illumina is not going down without a fight…
Illumina announced it would file a petition in a federal appeals court to challenge the FTC decision, and that the order to divest would be automatically stayed until the appeal. It expects a court decision on the appeal to be made by late 2023 or early 2024.
The San Diego-based company is also appealing the European Commission decision, stating: "Winning both appeals would maximize value for shareholders."
…and neither is billionaire Illumina investor Carl Icahn
Billionaire activist investor Carl Icahn, who has a 1.4% stake in Illumina, has vocally opposed the company's purchase of Grail. In a statement published in March he said the deal has cost shareholders $50 billion.
Through a flurry of open letters since then, Icahn has engaged in a proxy fight with the biotech company, putting up three "highly qualified" nominees to join the company's board. Illumina hit back with its own statement saying his board candidates "lack relevant skills and experience."
On Monday (Apr. 3), Icahn published another open letter to shareholders on his site, criticizing Illumina CEO Francis deSouza's pay rise. According to Icahn's letter, deSouza's salary totaled $27 million in 2022, up 87% from 2021. During that time, Illumina saw a 53% drop in value.
"The more that occurs, the more we realize that something is truly rotten in the state of Illumina," Icahn wrote in a recent, barbed missive.
Related stories
🚫 The FTC may ban non-compete clauses. Here's what workers think about that.
📦 The FTC is preparing a wide-ranging antitrust lawsuit against Amazon

❓ Martin Shkreli is back in business, and the FTC has questions