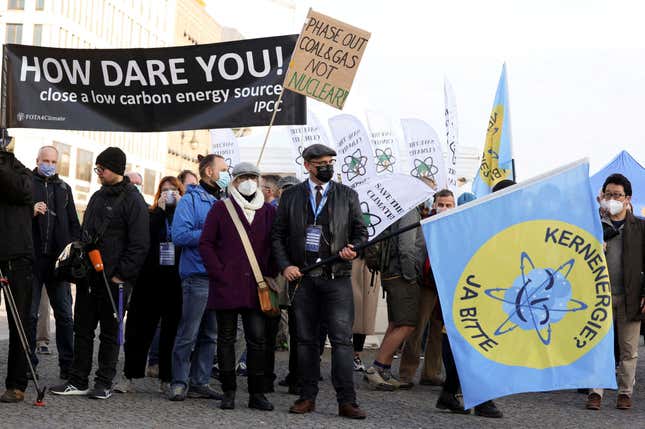 Germany is set to close its last three nuclear power stations—Isar II, Emsland, and Neckarwestheim II—on Saturday (Apr. 15), shutting down a controversial source of domestic energy production amid a European energy crisis caused by the Russian invasion of Ukraine.
The plants were supposed to be closed by last year, but the European energy crisis, prompted by the Russian invasion of Ukraine, forced the German government to postpone. 
Once a leader in nuclear energy technology, the phase out has long been in the making. Angela Merkel's government originally announced plans for a nuclear exit following the 2011 Fukushima disaster in Japan. Eight of Germany's 17 reactors closed shortly following the incident—seven were the oldest plants in the country, and the eighth was one that had long been plagued by problems—with plans put in place to shut down the remaining nine by 2022.
As of 2020, Germany was the European Union's second-largest producer of nuclear energy, accounting for 9% of the bloc's atomic power production. The three remaining nuclear power plants supplied 6% of Germany's energy needs, but current German chancellor Olaf Scholz still faced some pushback.
On Thursday (Apr. 13), more than 20 scientists and Nobel Prize laureates sent a last-minute open letter to the German government urging them to reconsider, calling nuclear power an important part of reducing carbon emissions.
Germany bucks a pro-nuclear trend

The consensus on nuclear energy has zigzagged in the decade since Fukushima. Immediately after the disaster, Germany joined a chorus of countries saying the risk was too great. "Our energy system has to be fundamentally changed and can be fundamentally changed. We want the electricity of the future to be safer and, at the same time, reliable and economical," Merkel said at the time.
However, as climate change awareness grew and countries set net-zero emissions target, nuclear power has undergone something of a renaissance.
The Netherlands announced it was building its first nuclear plant since 1973, following the lede of the UK, Poland, and the Czech Republic. Additionally, Russia and China invested in nuclear power in Africa, and the EU voted to recognize nuclear energy as "green."
Even Japan, only a few years out of one of the worst modern nuclear meltdowns, decided to restart its idled nuclear plants in order to stabilize energy prices and supply.
Rising temperatures in Europe are impacting nuclear production
French president Emmanuel Macron pledged to build a dozen new nuclear reactors by 2050 last summer, aiming to add to the energy source which already generates roughly 70% of the country's electricity. He called nuclear the future of French energy production and criticized Germany for its decision to move away from the practice.
And yet, during the same summer, amid a record heat wave in Europe, French nuclear power plants were forced to reduce output after the Rhône and Garonne rivers got too hot to adequately cool the reactors. A similar issue has happened in three out of the last four years.
During that heat wave, France's nuclear energy output was reduced by almost half, demonstrating how nuclear power—thought of as an asset in the energy crisis—can be vulnerable to a changing climate.
Related stories:
⚡ Wind surpassed nuclear power in the US for the first time on March 29—and then did it again
🌍 Here are all the countries taking a second look at nuclear
🔌 A US lab's nuclear fusion breakthrough could transform clean energy