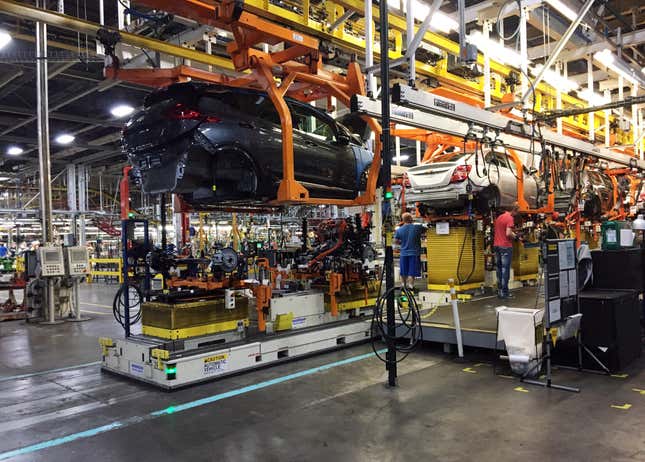 General Motors (GM) beat revenue expectations for the second fiscal quarter and met its electric vehicle (EV) production target for the first half of the year, CEO Mary Barra announced in an earnings call on Tuesday (July 25).

Why a tightening of credit conditions could lead to a weak economy
The American auto manufacturer also reported a 52% annual increase in profit, even after adjusting for a $792 million loss with battery suppliers LG Electronics, stemming from last year's recall of the Chevrolet Bolt EV.
Still, the market's response to the earning call was mixed, with apprehensions about the automaker's delays in producing large numbers of a new, modular battery, known as the Ultium battery pack and touted by GM as the future of its EV line. The vast majority of GM's EVs are made using an older style battery provided by an outside supplier.
This perspective is bolstered by the company's annual increase in total deliveries—a large factors in the report's revenue increase—being mostly driven mostly by the company's GMC truck line and Cadillac luxury cars. While the earnings are good news in the short term, relying on gas-guzzlers for the bulk of the company's profit might be spooking investors in the long term. GM stock was down 3.5% at 11am Eastern Time.
Despite the setback on battery production, GM announced it had built 50,000 electric vehicles (EVs) in North America during the first half of 2023, a milestone for the company, adding that it planned to double that output and manufacture 100,000 EVs in the second half of the year.
GM has emphasized scaling up North American production to qualify more of its cars for the full federal tax credit announced by the White House last year. In the near future, the company plans to produce 400,000 EVs globally through the first half of 2024, and a million by the end of 2025.
GM Q2 earnings, by the digits
25%: Increase in quarterly revenue, year on year, totalling $44.7 billion
$3.2 billion: Adjusted quarterly EBIT, or profit margin, a 52% annual increase
18.8%: Increase in total vehicle deliveries—an important metric for predicting future revenue expectations—partly driven by a 120% jump in EV sales
How would a United Auto Workers strike affect GM?

In a letter to shareholders, Barra addressed the ongoing negotiations with the United Auto Workers (UAW), as a possible strike looms.
"We have a long history of negotiating fair contracts with both unions that reward our employees and support the long-term success of our business. Our goal this time will be no different," Barra wrote. "That's the best possible outcome for all our key stakeholders, including our team, plant communities, dealers, suppliers and investors."
The union, which started negotiations for a new contract affecting its 150,000 members earlier this month, said it is ready to strike against the three largest American automakers—Ford, General Motors, and Stellantis—should talks come to an impasse.
Consistently stagnant wages for employees, despite the three companies reporting roughly $250 billion in profit in the last decade, are fueling the union's demand for a pay rise. The union is likely to point to GM's strong quarterly earnings as reasons to increase workers' salary.
The union has also sharply criticized plans by the three companies to pay workers at new EV battery plants far less than what unionized members make at traditional assembly plants. The new battery factories would be joint ventures with outside companies, and workers would need to start from scratch to join the UAW.
Related stories:
🚙 GM seeks to cut jobs by offering thousands of workers the chance to get paid to quit
📈 Car makers are blaming dealers for inflating prices