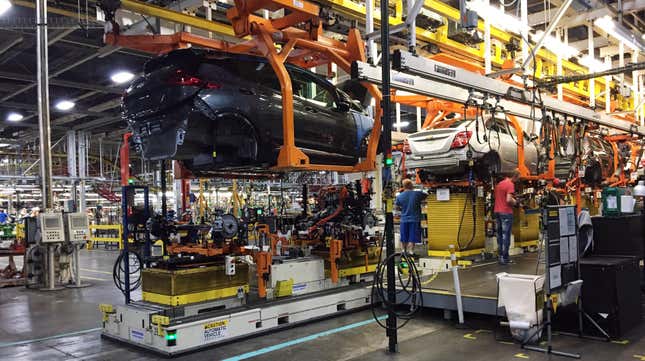 After 2023, General Motors will no longer manufacture its much-loved electric car, the Chevrolet Bolt.

Eric Beiley Part II: Where rates are heading
By the end of this year, GM will wind down production of all its Bolt models, Mary Barra, the company's CEO, told investors during an earnings call yesterday (April 25).
The Chevy Bolt EV, released in late 2016, and the larger EUV (Electric Utility Vehicle), introduced in 2021, are both being axed—but not for lack of demand. Sales of the mass-market models have been clocking record highs. However, the battery cells in the cars are now outdated, Barra said.
Charted: Sales of the Chevy Bolt soar
A brief explainer of the problem with Bolt EV and EUV batteries

The batteries in the Bolt line of EVs have an older design and chemistry. More recent EV models, such as the GMC Hummer and Cadillac Lyriq, are fitted with GM's Ultium architecture. The cost of these newer battery packs are nearly 40% lower than those in the Chevrolet Bolt EV.
Quotable: The Chevy Bolt paved the way 
"When the Chevrolet Bolt EV launched, it was a huge technical achievement and the first affordable EV, which set in motion GM's all-electric future."
By the digits: GM's supercharged electric dreams supercharged
70,000: The number of Bolts that GM plans to produce this year

$24,000: The starting price of the Chevy Bolt, one of the cheapest EVs currently on the market, and one made even cheaper with the Biden administration's $7,500 EV tax credit. Taking this model off the market will affect the affordability of EVs, but GM has plans to make up for the loss. The company's upcoming Equinox EV will reportedly have a similar starting price when it arrives this fall.
600,000: The number of electric trucks that will be produced annually when the Orion, Michigan plant, which currently produces Bolts, is retooled to produce the electric Chevy Silverado and GMC Sierra trucks. The facility is slated to be repurposed and reopened in 2024.
3x: The factor by which employment at the Orion plant will increase when it reaches full capacity in 2024
1 million: GM's target for annual EV production capacity by 2025, as it plays catch-up with Tesla.
Related stories
🖋️ How GM got 5,000 workers to leave their jobs within a month without a single layoff
💸 Why BMW, Nissan, Rivian, Hyundai, Volvo and Volkswagen no longer qualify for Biden's EV tax credits
🏷️ Why electric cars are getting pricier even as batteries get cheaper