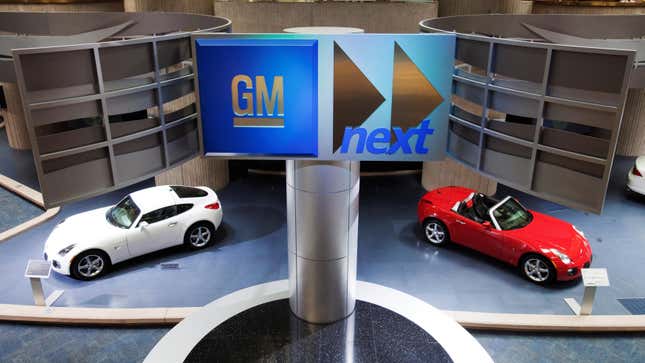 General Motors' drive to make employees leave out of their own volition is working.
Ben Emons Part 2: The Fed, Apple shares
Last month, General Motors announced a Voluntary Separation Program (VSP) for most of its 58,000 US white collar employees and some of its global workforce. The company gave workers around two weeks to make their decision.
Around 5,000 workers globally opted for it, the Detroit-based automaker revealed yesterday (Apr. 4)—first in an email CEO Mary Barra sent to employees in the morning, and then via CFO Paul Jacobson at a Bank of America conference. Jacobson described the buyout program, which offers handsome severance pay, healthcare, and more, as "a tool to get us to really accelerate the attrition curve" that resulted in "pretty quick payback." 

The streamlining of workforces and operations is paramount for all car industry players at a time they're walking the internal combustion engine (ICE) tightrope while going all-in on electric vehicles. For GM, which plans to phase out gasoline trucks and cars and sell only electric passenger vehicles by 2035, "The steps we are taking will allow us to maintain momentum, remain agile, and create a more competitive GM," the company said.
A brief timeline of GM's employee buyout program
Mar. 9: GM announces its Voluntary Separation Program (VSP)
Mar. 24: Last date to sign up for the VSP. All US salaried employees who have spent five or more years at the company as of June 30, are eligible. As are international executives who've been employed at the company for at least two years.
June 30: Last date of employment for those who applied to and were found eligible to opt for the VSP. They will get one-month pay for every year they've spent at GM (up to 12 months), COBRA health coverage, prorated team performance bonuses, and outplacement services.
Quotable: GM's Voluntary Separation Program is a success
"It's important that we were willing to pay for the voluntary program to incent people to go who maybe were closer to retirement or had just decided they wanted a change in career or lifestyle, at the same time to do everything we can to try to avoid involuntaries or layoffs. And I think we're in a position where we're going to be able to do that." —CFO Paul Jacobson at a Bank of America conference Tuesday (Apr. 4).
GM's cost-cutting, by the digits
500: Salaried workers GM cut in February
$1 billion: The cost-saving that has already happened courtesy the earlier layoffs and the more recent 5,000 voluntary resignations. That's half of…
$2 billion: GM's structural cost-saving aim over the next two years, in which downsizing measures play a big part.
$1 billion: The charge GM will take in the first quarter as a result of the employee buyout progress. In March, it had estimated that it would incur $1.5 billion in pre-tax employee separation charges when it announced the program.
2.1%: By how much GM's shares fell in afternoon trading yesterday (Apr. 4), despite truck and SUV demand remaining robust
Will GM layoff more workers?
CEO Mary Barra had said involuntary dismissals would be on the table if the VSP fails to attract takers. However, after the outsize response, Barra, in her email to employees, said that further job cuts are unlikely at this time.
Related stories
🏢 GM seeks to cut jobs by offering thousands of workers the chance to get paid to quit
🚙 GM sold the most cars to Americans in a year when fewer people were buying