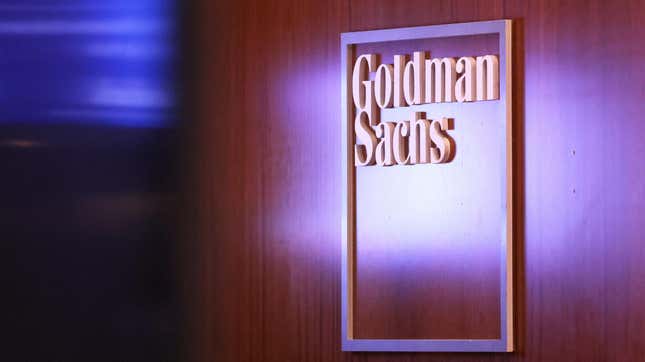 Goldman Sachs is getting ready to shed thousands of jobs in a round of layoff first anticipated last month.

Ben Emons Part 2: The Fed, Apple shares
The investment bank is expected to eliminate around 3,200 positions this week, Bloomberg reported citing an anonymous source with knowledge of the matter. More than a third of the eliminated roles lie within its core trading and banking units, the publication noted.
The New York-based behemoth is not the first to downsize as a cost-cutting measure. Morgan Stanley, Citigroup, Barclays, Credit Suisse Group, and other investment banks big and small, have shown hundreds of workers the door in the last six months.
Goldman's cuts come a month after rival Morgan Stanley eliminated 1,600 jobs—2% of its workforce—in early December. But Goldman's are the biggest single hit in the industry. Credit Suisse, which plans to let go of 9,000 people globally by 2025, also culled fewer at 2,700 this holiday season.
Retrenchment at Goldman Sachs, by the digits
49,000: Goldman's global staff size
4,000: Employees, or 8% of the workforce, Goldman planned to fire in the new year, according to a Semafor report. Ultimately, the number is smaller but still larger than the typical 2-5% annual cut
$2 billion: Pretax losses Goldman's new unit, that houses its credit card and installment-lending business, is expected to post
34%: How much Goldman's headcount has ballooned since CEO David Solomon took the reins in 2018 and upped hiring across engineering teams, beefed up staff for its online-only bank Marcus (that ultimately guzzled money and failed), and acquired companies like specialty lender GreenSky
47%: Decline in revenue from dealmaking and sales of new securities at the five biggest US banks in the first nine months of 2022
40-45%: How much average compensation for 2022 for US managing directors at Goldman is estimated to have declined as bonuses at most major banks were slashed by 30-50%
The need to downsize, in the Goldman Sachs' president's words
"Everyone I know in my job or David's job is doing the same thing. The forecast is more challenging. We may be wrong, we may get a soft landing and we'll staff up again." —Goldman President John Waldron to the Financial Times.
Goldman cuts back on free coffee and other perks
At Goldman Sachs' Manhattan headquarters, employees who visited the "Sky Lobby" for their routine free "grab-and-go" coffee on the first day back in 2023 were told the beverage was no longer complimentary. "Nothing says 'Happy New Year' like 'You're already on the verge of losing your jobs — but let's just make sure you lose your free coffee, too,"a frustrated financier, who paid $2.99 for a cup of coffee, told the New York Post.
In the last year, the mega-bank has pulled other perks during its cost-cutting journey.
🚕 In the aftermath of the pandemic, Goldman offered free daily cab rides to and from the office—a convenience it ended for all but employees working well into the evening in April.
🍔 Also in April, the firm scrapped free breakfast and lunches that it used to lure employees back into the office in a post-Covid world. It increased the stipend for "out of hours" meals from $25 to $30, but staff felt even that was measly. (In contrast, now-fallen crypto exchange FTX would give employees $200 in DoorDash food delivery credits daily—but we all know how that story ended.)