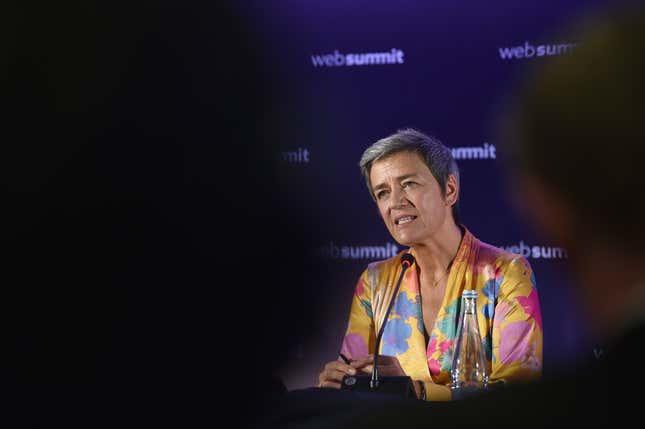 The European Commission charged Google with violating antitrust law in how it operates its suite of digital advertising technologies.

Google controls both the buy-side and sell-side of the digital advertising market, European Commissioner on Competition Margrethe Vestager wrote on Twitter. She said the government believes that Google used its market control to favor its own platforms and push out competition.
"Google is active on both sides of the market with its publisher ad server and with its ad buying tools and holds a dominant position on both ends," the Commission wrote in a press release. "Furthermore, it operates the largest ad exchange. This leads to a situation of inherent conflicts of interest for Google. The Commission's preliminary view is therefore that only the mandatory divestment by Google of part of its services would address its competition concerns."

In a statement to Quartz, Google vice president of global advertising Dan Taylor wrote that the company's ad tools help websites and apps fund their content and help businesses reach new customers. "Google remains committed to creating value for our publisher and advertiser partners in this highly competitive sector," Taylor wrote. "The Commission's investigation focuses on a narrow aspect of our advertising business and is not new. We disagree with the EC's view and we will respond accordingly."
Europe is following the US in suing Google over ad-tech antitrust violations
The European Commission's charge tails a similar lawsuit that the US Department of Justice filed against Google in January. In its complaint, federal prosecutors wrote that Google had illegally bought up competition and manipulated online auctions to self-preference its own services. In its request for relief, the US government asked, among other things, for so-called "structural relief"—a breakup of Google's ad business, including its ad server DFP and its ad exchange AdX.
"Google's anti-competitive behavior has raised barriers to entry to artificially high levels, forced key competitors to abandon the market for ad tech tools, dissuaded potential competitors from joining the market, and left Google's few remaining competitors marginalized and unfairly disadvantaged," the government wrote in its complaint (pdf) at the time.
Nikhil Lai, a senior analyst for the market research firm Forrester, said he thinks regulators will have a difficult time proving their case. "Although Google is present at almost all levels of the adtech supply chain, as the European Commission states, that supply chain's opacity will frustrate investigators' attempts to prove Google's monopoly on the cost of advertising," Lai wrote in an email to Quartz. "For context, the news represents one step in what will be a long process before Google is either fined, settles, or spins off elements of its advertising business so, for now, nothing changes for advertisers."
Google's digital advertising market share has already been declining
In the US, Google controls a 28.8% market share in digital advertising, according to the market research firm Insider Intelligence, and is commonly lumped in as one-half of a digital advertising duopoly with Meta, the parent company of Facebook and Instagram.
But Google and Facebook's market shares in the US have fallen in recent years. Meanwhile, Amazon has crept into third place with 11.7% of revenue and relative newcomer TikTok has quickly claimed 2%. Google is still in pole position, of course, but even without regulatory intervention, challengers may be eroding its market power.
This article has been updated to include a comment from Google and additional context from Forrester.