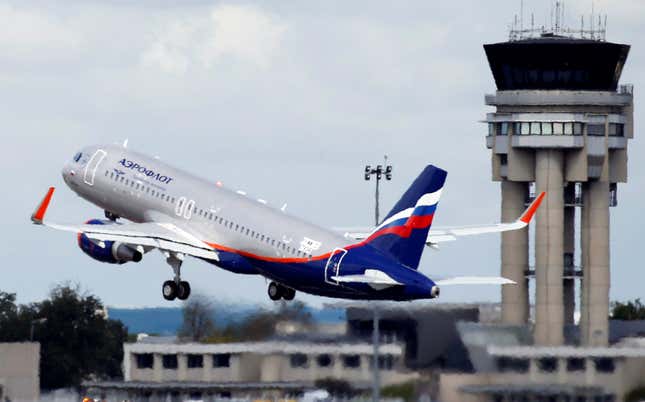 After Russia invaded Ukraine, Western sanctions prevented Russian carriers from importing replacement parts, servicing their aircrafts overseas, and buying new, Western-made planes. Some leases to Russian airlines held by US or EU companies were cancelled, and their planes repossessed. As destinations in Europe and the US closed to Russian airlines, planes found themselves grounded.

Why a tightening of credit conditions could lead to a weak economy
The sanctions intended to hobble Russia's airline industry. At the start of the war, about 80% of the planes belonging to Aeroflot, Russia's flag-carrier and largest airline, were made by Virginia-based Boeing, or Airbus, a French company.
A year on, however, the sting of sanctions on the industry has so far been limited. In a June 2022 statement, the Russian government advised (pdf, link in Russian) airlines to use some planes for parts in order to keep Western-made aircraft in the air. By August, according to Reuters, four industry sources had confirmed that planes were being dismantled and stripped for parts. Russian airplane makers, which had previously relied heavily on components made in the US and Europe, began manufacturing their own versions and developing new planes. Carriers made do by skipping otherwise crucial software updates and safety checks on their remaining Boeing and Airbus fleets.
Keeping Russian planes in the air will become harder and more unsafe
These methods have helped keep domestic and international air traffic in Russia to a relatively modest 15%. The longer the sanctions go on, however, the further safety conditions will deteriorate.
"We are worried about the conditions for maintenance as actually the planes are flying a lot," Airbus CEO Guillaume Faury said in an interview with Bloomberg. "Because of the sanctions, we cannot really monitor and support as we do with our customers in normal times. And that's something that is indeed creating some concerns on the safety side. Now, there's not much we can do about it." 
Fleets are also likely to shrink, as more planes are cannibalized.
Iran's aviation sector foretells the future of Russia's own airlines. Iran navigated sanctions that hobbled its own fleet for decades. Iranian carriers maintained increasingly scrappy fleets with clandestine purchases of new planes at high prices, smuggled spare parts, and lowered standards that left the country flying some of the world's oldest Boeing 747s, as well as one of the world's worst safety records. Russia may have it even worse in the long term. According to an aviation consultant interviewed by Bloomberg, the newer planes flown by Russian carriers are more complicated to maintain than Iran's old aircraft.

Russia is side-stepping Western aviation sanctions

Russia's aviation industry is another example of how the country is evading Western sanctions. The impact of sanctions across the Russian economy has been mixed, as Russia formed new trade routes, amassed a shadow fleet of cargo ships to keep oil revenue flowing, and replaced old trade partners with new ones. The International Monetary Fund projects that Russia's GDP will grow by 0.3% in 2023.
"Clearly the sanctions didn't work as the West thought they would, and the global aviation industry is a lot leakier than anyone thought," Richard Aboulafia, an aviation consultant, told Bloomberg. "Yes, safety will deteriorate the longer these sanctions go on, but it's clearly not going to bring connectivity within Russia and from Russia to a grinding halt."