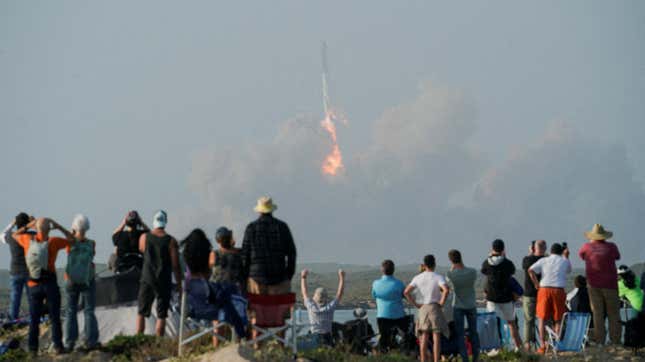 The brief flight of Starship, the world's largest rocket, was fueled by methane and liquid oxygen, but the ultimate propellant for SpaceX's ambitious new projects is money. That's why it's surprising that CEO Elon Musk said his company wouldn't raise more capital, despite plans to spend about $2 billion developing the vehicle this year.
Musk's comment during an April 29 Twitter conversation comes as the secondary market in SpaceX shares is weakening for the first time, according to Greg Martin, a managing director at Rainmaker Securities, a boutique investment bank that specializes in private companies. After ByteDance, the company that created TikTok, SpaceX is considered the most valuable venture-backed company.
"We're starting to see softening in demand from SpaceX. Never seen that before—always more buyers than sellers," Martin told Quartz. "The $137 billion valuation in the last round is causing people to take a little bit of a pause."
Raising money for frontier technology companies is more difficult now than it was just a few years ago. Musk's ability to pull in huge amounts of capital for SpaceX has never been questioned before, but as more private firms face cost-cutting and lower valuations, can SpaceX continue to defy gravity?
How much money does SpaceX need?
In January, CNBC reported that SpaceX was planning a new $750 million investment round led by venture capital firm Andreesen Horowitz. However, SpaceX has not yet filed a disclosure of security sales with the Securities and Exchange Commission, which is required within 15 days of such sales. In 2022, SpaceX raised nearly $2 billion over the course of two rounds; the company has collected about $9 billion in private funding since its founding in 2002.
Mo Islam, a former Wall Street analyst who works for Payload Space, has written a projection of SpaceX revenue in 2023, coming up with a forecast gross income of $11.5 billion—nearly twice what Islam estimates the company earned in 2022. That suggests investors value the company at about 12 times its revenue.
The question is how that squares with costs. SpaceX's launch business, including work for governments, commercial satellite operators, and flying astronauts, is likely profitable. However, that must be balanced with investments in its Starlink satellite network, which provides internet access from space, and in Starship, a fully reusable rocket with enormous cargo capacity that has NASA has hired to land astronauts on the Moon.
Musk has said that Starship will cost the company between $5 billion and $10 billion to develop; Musk estimated that Starlink's total cost will be about $10 billion.
That network, according to SpaceX president Gwynne Shotwell, is likely to be cashflow-positive this year. But that's not the same as a return on investment, particularly as SpaceX will probably need to start replacing its earliest satellites on orbit in 2025 as they approach the end of their useful lives.
Some analysts expect that Starlink will be spun out as a public company to help fund SpaceX's ambitions. However, Chris Quilty, a space market analyst, wonders whether Starlink's reliance on SpaceX for cheap and frequent launches would make spinning out the business difficult.
"My gut tells me that SpaceX is far too interlinked with Starlink for them to try and split them into two different companies," Quilty said.
SpaceX's future hangs on Starship
In 2021, Elon Musk famously warned SpaceX employees that unless Starship could begin regular flights in 2022 to launch new, larger Starlink satellites, the company might go bankrupt. While warnings of financial calamity are frequent Musk motivational tool, there are reasons to believe he was serious about the issues, if not the timeline.
Starlink's economics hinge on wringing as much value as possible from each spacecraft in orbit, by maximizing their user base below and the efficiency of their spacecraft. However, reports of congestion and throttling from areas in the US with large numbers of users, combined with company's plans to more than double the size of each satellite, suggest this depends on using Starship to launch these more powerful spacecraft.
"What Elon was saying last year [is that] 'we can't run a profitable Starlink business unless we really upsize our satellites, our power, and our capability, and Starship is the key to getting it,'" Quilty said.
The test flight of the vehicle last month, about a year after Musk first expected it to occur, wasn't an obvious setback for the engineering program despite its fiery ending. SpaceX's development strategy has always been about building and testing many actual pieces of hardware, which leads to more dramatic failures but, its engineers say, faster progress toward a working vehicle.
But building a new rocket—particularly one as complex and powerful as Starship—is never a linear process, and delays can be costly to a company with a large workforce like SpaceX. Musk compared the Starship program to Soviet efforts to build the N1 moon rocket in the 1960s, a massive vehicle intended to compete with the US Saturn V. The vehicle was ultimately cancelled after four failed launch attempts.
How much margin is built into Starship's schedule?
Starship could face more delays, if not the technical variety, then from concerns about the environmental impact of its launches from a SpaceX facility near Boca Chica, Texas. The Federal Aviation Administration (FAA) approved the launch based on data that didn't match actual launch conditions, and without infrastructure to protect the launch pad. Now, local environmental groups have brought a lawsuit against the FAA for approving the launch.

If SpaceX returns to the market this year, amid concerns about a recession, it may face the toughest fundraising environment since Musk pulled $20 million from Founders Fund in 2008 to barely launch the company's first rocket.
"The problem they now have is that they have data that an investor can look at," Martin, the investment banker, said. "Do the math and start to think about applying market multiples...You've got to squint pretty hard to get $137 billion in value. How much can you grow?"
Still, Quilty points out that SpaceX's dominant position in the space sector—particularly its current near-monopoly on US human spaceflight and flying national security missions for the US government—make it difficult to bet against Musk pulling in new capital.
"If money managers believe it will be worth a trillion, then $137 billion makes sense," Quilty said.
Correction: This story originally reported SpaceX planned to spend $2 billion on Raptor engines this year, but that number actually reflects overall investment in Starship.