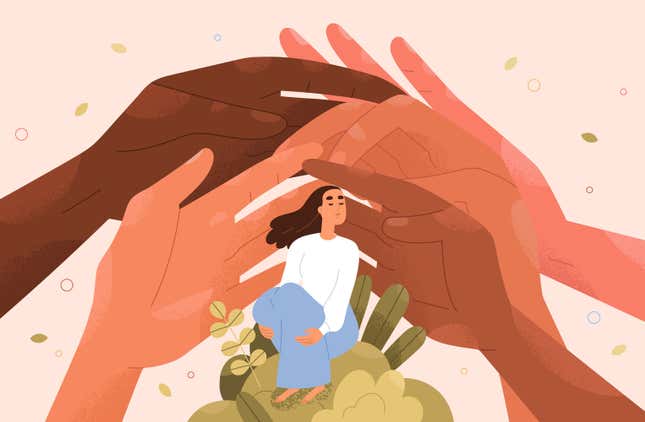 Nearly everyone will lose a loved one at some point in their career.

The experience of loss is physically, mentally, and emotionally draining, as well as logistically stressful, isolating, and surprisingly expensive. The effects can quickly erode a person's well-being at home and work.
What to say to a coworker who is grieving
Grief is a deeply personal experience that requires a culturally and emotionally appropriate response from employers and communities alike—and policies that don't accommodate employees' cultural differences are unhelpful and risk being insensitive, offensive, and exclusionary.
With diversity, equity, inclusion, and belonging (DEI+B) now recognized as a part of critical organizational goals, employers must modernize their internal procedures through an inclusion lens. An employer's response to grief exemplifies a wider workplace culture that enhances belongingness and stems loneliness.
But cultures and traditions are complex—no one organization can craft numerous, culture-specific policies. Instead, employers must foster an umbrella of bereavement support wide enough to accommodate everyone if, when, and how they need it.
To each their own
Loss is a universal yet individual experience profoundly affected by culture, ethnicity, and religion. This is critical for employers to consider when shaping policies, training managers, and assessing workplace culture. If not, well-meaning programs run the risk of alienating employees.
For instance, some grieving traditions extend beyond the nuclear family, yet extended bereavement leave policies are often limited to immediate family members. Similarly, one's religion or culture may require an employee to step away from work immediately or for an extended period to accommodate funeral rites and grieving rituals. Company policies are not always malleable enough to accommodate such needs.
Flexible bereavement policies convey empathy by meeting a range of cultural expectations. For example, reentering work after a loss is challenging—policies and practices adapted for loss and well-communicated help put team members at ease when they return to work, ensuring they don't feel their absence was an imposition.
Lend a helping hand
The business case for diversity and inclusion is well documented. Instilling belongingness across an organization goes far beyond the demographics of diversity, with DEI+B measures building culture while also attracting and retaining employees. One study confirms that exclusion contributes to a 50% increase in employee turnover.
For mourners to feel they belong, their employers and teams must foster a safe and caring culture. Supporting grieving employees with openness and compassion helps them feel accepted and valued while anchoring a sense of community during heightened loneliness.
A focused, well-trained bereavement-care team makes a big difference in instilling support and understanding since sometimes standard HR departments are too busy or specialized to offer relevant support. Consider that each grieving person is the sum of many identities: a person of color, a first-generation immigrant, a bereaved sister, daughter, or mother, and a family member's caretaker. All of these identities affect their unique identity.
Incorporating culturally flexible bereavement support as part of an organization's DEI+B strategy builds a culture of care for all. Ultimately, our greatest opportunity to show compassion and support is in times of loss.
Putting it into policy
Facilitating a sense of belonging through diversity, equity, and inclusion does not mean crafting separate approaches tuned to each employee's needs. Instead, a critical first step is to create a singular and highly adaptable policy. One that expands the definition of family, extends greater leave time and benefit offerings, and integrates into employee resource groups is an example of how companies can ensure equitable and inclusive bereavement responses.
How can employers meet these varying needs? Start with an open dialogue between managers and their employees, and encourage employees to discuss cultural differences that may otherwise be seen as taboo. Even if no one in the company is actively grieving when these conversations happen, getting to know the beautiful cultural tapestry that makes up any workplace will give company leadership a genuine, empathetic understanding of how to support their people when the time comes.
As leaders, working hard to foster an environment of belonging requires hearing from our teams that they are comfortable and able to feel and receive support, especially when they need it most. In the end, our greatest opportunity to show compassion and care is when we provide support in their times of loss. It is in these moments that true leadership is felt and remembered.
---
Paurvi Bhatt, MPH, is a healthcare executive and care economy leader. Paurvi uses her lived experience, health systems, and leadership expertise to help ensure greater inclusion of women of color and immigrants in strategies that enable health and care at home for the elderly. She is an advisor to Empathy, a tech company helping families navigate the emotional and logistical challenges of loss.